We independently select these products — if you buy from one of our links, we may earn a commission.
Bean Box Coffee Subscription Review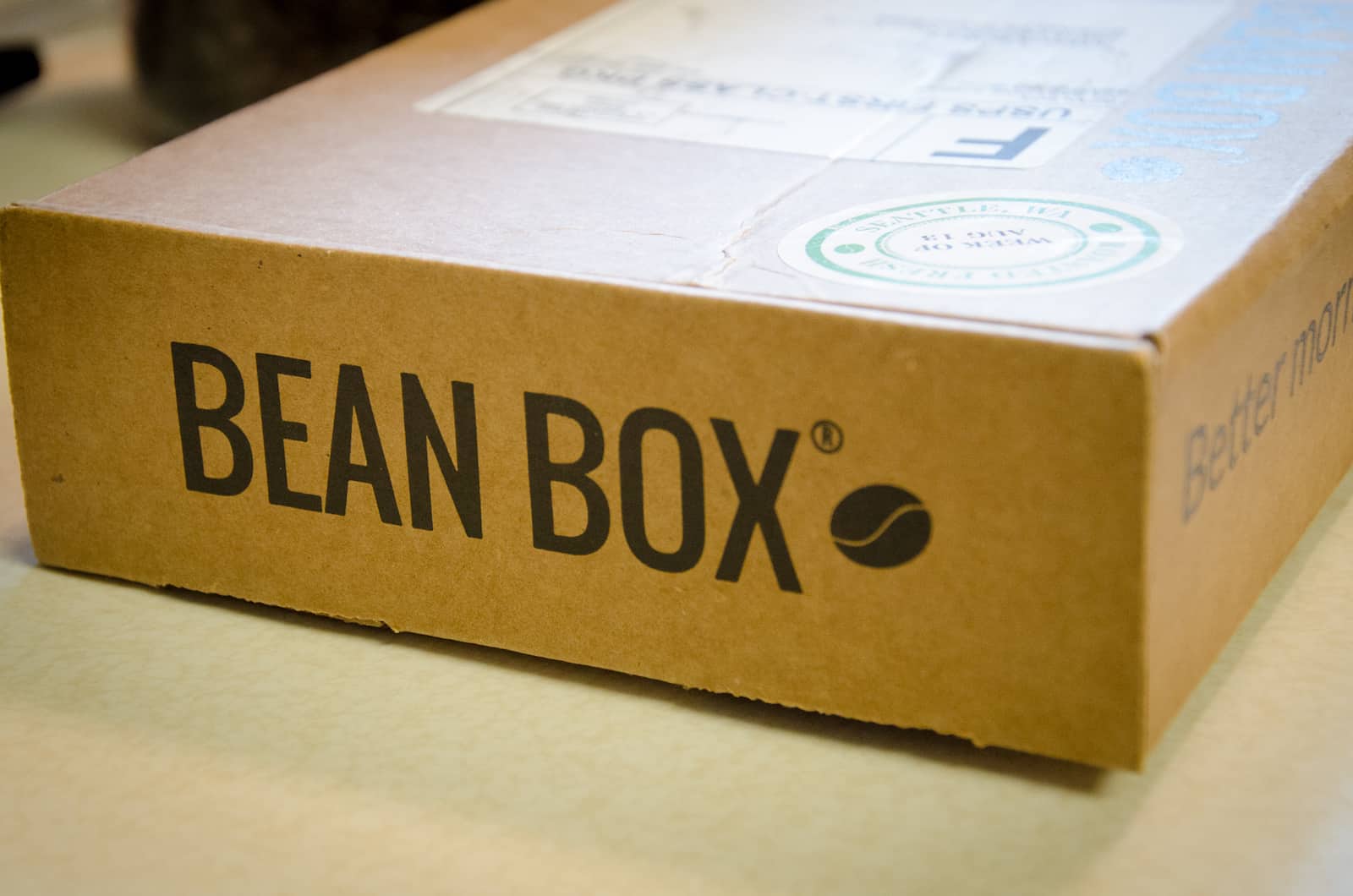 If someone mentions coffee and Seattle in the same sentence, you might expect to hear Starbucks soon after.
But the home of the Space Needle has a rich history with coffee that goes beyond the mega-giant coffee chain, and the Bean Box subscription helps you explore some of its finest independent roasters.
Bean Box selects from among Seattle's (and Portland's) thousands of gourmet, small-batch roasters to send you the best coffee beans you can find in the Pacific Northwest.
Their coffee subscription box helps you explore new flavors through fresh roasts that arrive on your doorstep.
Buying from Bean Box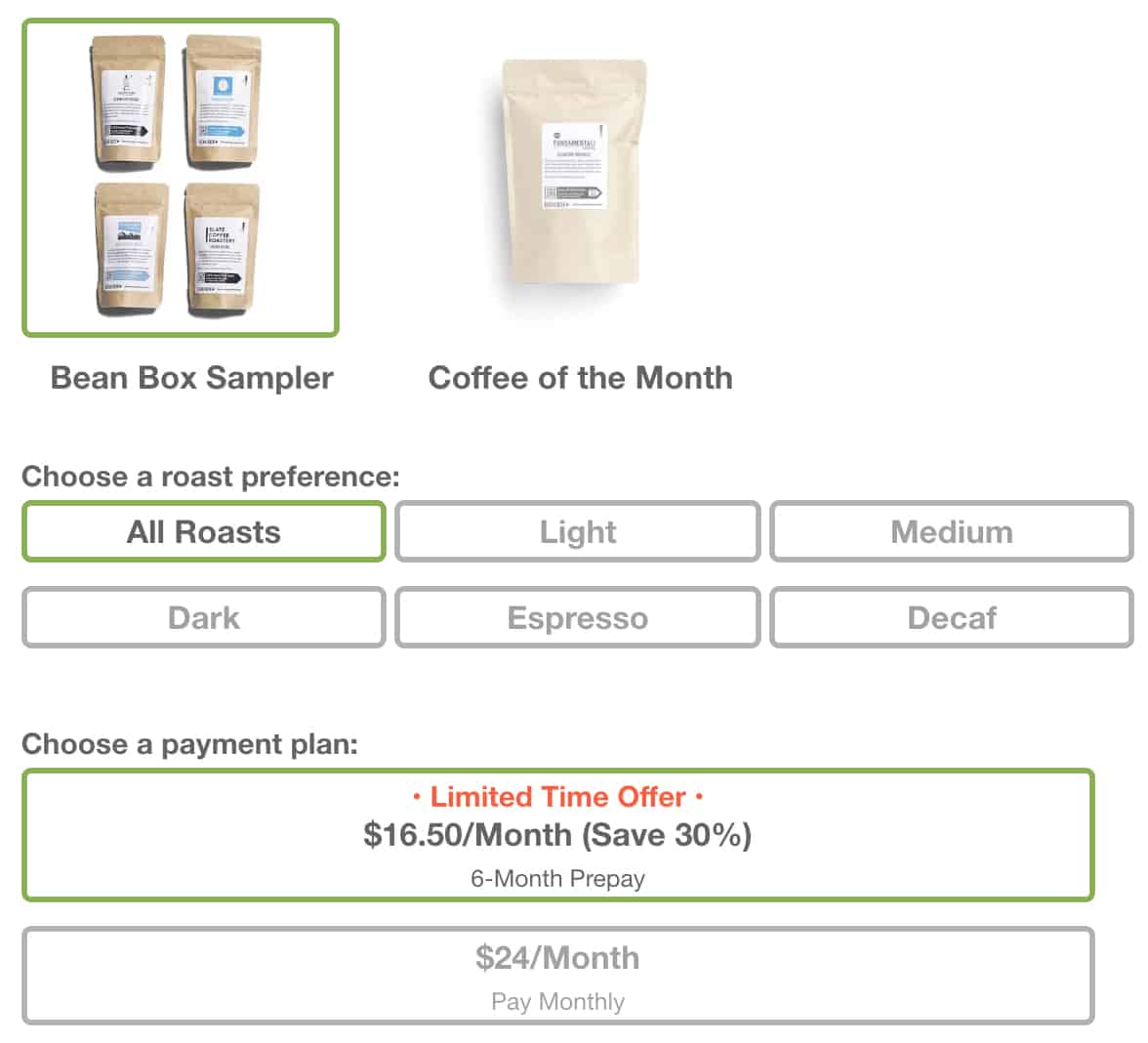 The process to start sampling some of Seattle's best coffee is simple from beginning to end. Bean Box offers two main options: Bean Box Sampler and Coffee of the Month.
Choose Your Size and Roast
With the sampler, you receive 4 different roasts, each with 1.8 oz of coffee. Bean Box suggests that pairs well with 3.5 cups of water, but it really depends on the water to coffee ratios you use and your brewing method. For the Coffee of the Month option, you receive just one roast, but you get a 12 oz bag to provide a larger sample.
With each, you can choose your roast preference. For the sampler, you can choose All Roasts, Light, Medium, Dark, Espresso, or Decaf. If you opt for the 12 oz monthly bags, you also get the option of Light+Medium or Medium+Dark.This finer-tuned option is probably to get closer to your preference since you're getting an entire bag of the roast.
Choose Your Frequency and Payment Plan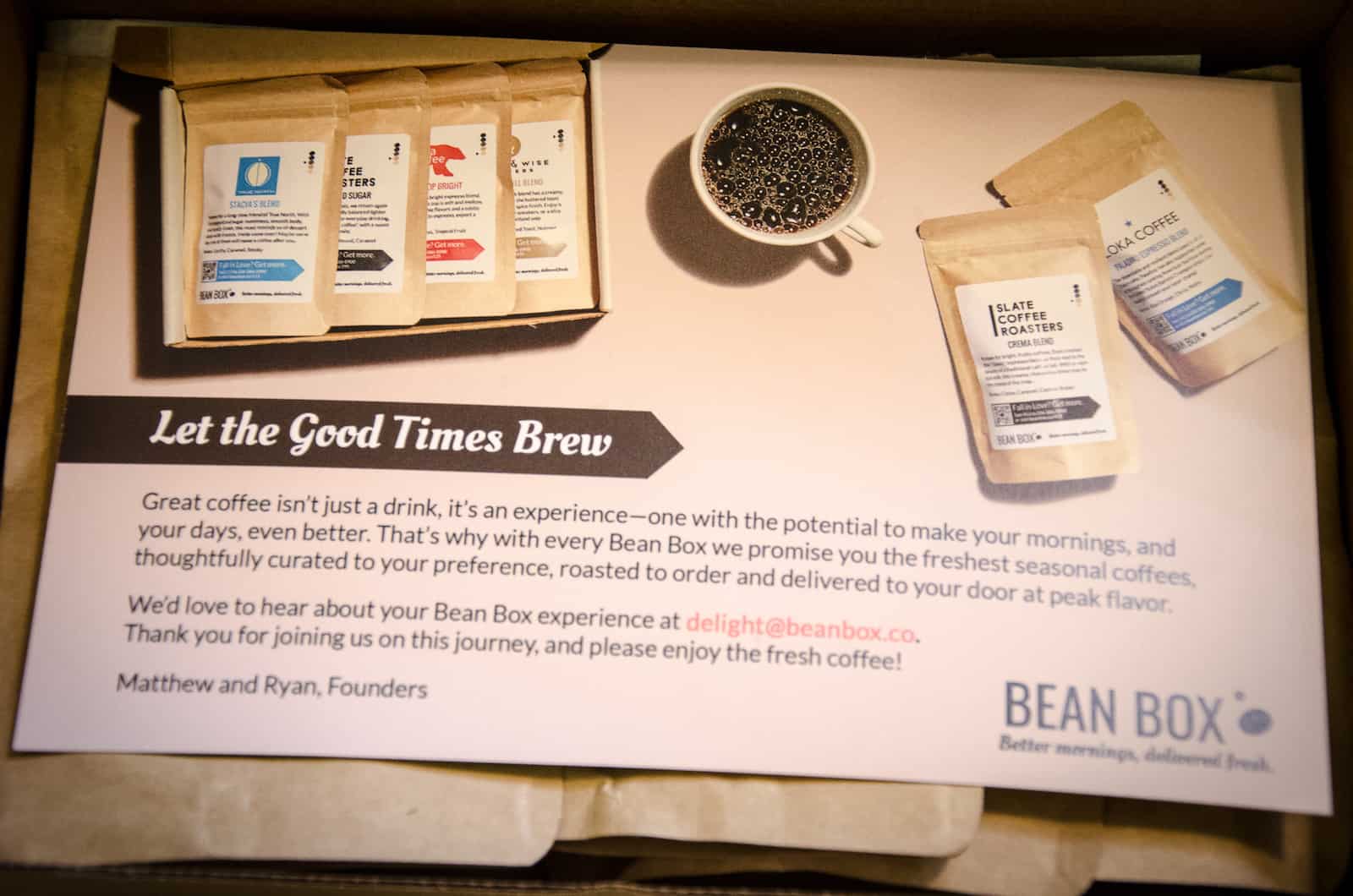 For the Coffee of the Month option, you can choose how often you want a new bag of coffee. You have the option of monthly, every two weeks, or weekly. That option doesn't appear for the sampler, which is a bit disappointing if you want to try lots of new coffee in small batches.
Next, you choose your payment plan. You can stick with monthly just to try out the service, but you will pay a bit more per shipment.
By choosing the 6 month or 12 month (not available for the sampler), you can save quite a bit.
Sampler Plan – [4 bags x 1.8 oz]
$24/Month (Monthly Payment)
$16.50/Month (Prepay 6 months)
Coffee of the Month – Delivered Monthly – [12 oz bag]
$26/Month (Monthly Payment)
$24/Month (Prepay 6 months)
$23/Month (Prepay 12 months)
So it's easy to see why the 6 month prepay is the most popular option.
Also, all prices on the site include shipping/handling, so no need to worry about quantity.
Ground Coffee
There is also an option for ground coffee, but that is limited to the sampler style and comes with 4 "single brew" pouches. This is a great option if you don't have a decent grinder but still want to sample artisan coffee.
Unfortunately, you don't have that many options when it comes to the grind itself. While you can select your brew method, your only options are either drip/pour over or French Press.
Check Out
Once you've made your choice, you can start the trial. Before you enter payment and shipping information, Bean Box offers a variety of coffee related snacks and desserts. I didn't try any, but they look like they fit with the general artisanal style of Bean Box.
Overall, the process is straightforward. You don't really have a lot of control in what is sent to you aside from your roast preference. This is actually great for the sampling idea, though, because it allows you to be surprised by coffee you might not have tried otherwise.
Once you checkout, you can expect all the standard emails, including an expected ship date. And you should receive a tracking number soon letting you know how quickly to expect your coffee (usually within just a few days).
Unboxing Bean Box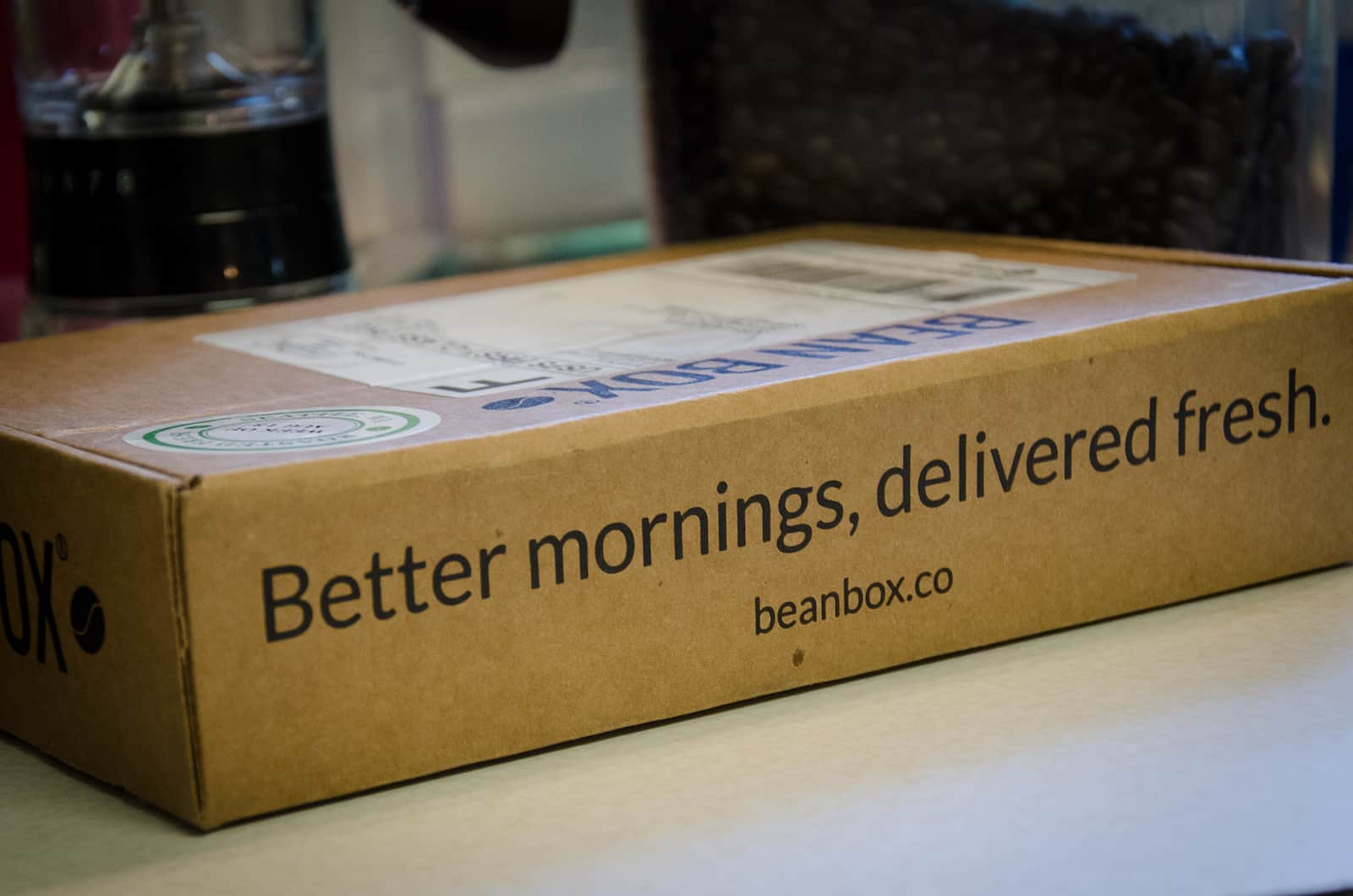 If your neighborhood has a problem with caffeine-fueled porch thieves, you'll want to be on the lookout for your package because it is attractively labeled, including a sticker that lets you know what week your batch is from.
Packaging
The good news is that Bean Box doesn't waste turns of cardboard or packing material. Instead, the boxes are made to fit the contents pretty well.
The entire package is nicely wrapped in tissue paper. Inside, you'll find a greeting from the founders and an insert with nifty information about coffee and tips on brewing great coffee. Mine had instructions on making coffee soda.The underside of the lid is also printed with a Seattle skyline just in case you forgot what this box was all about.
Coffee Pouches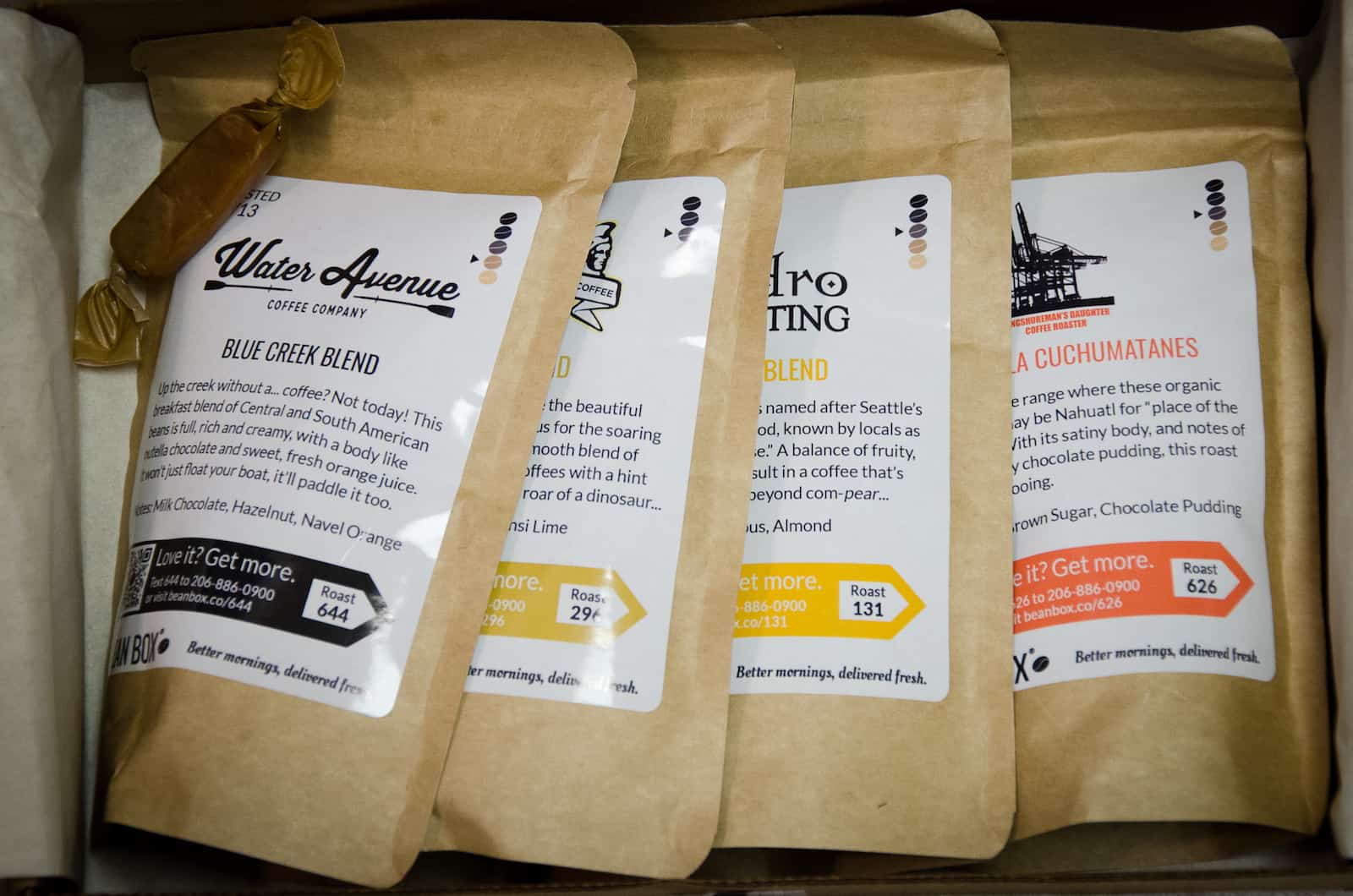 And inside, the coffee. While each pouch is branded with Bean Box, it really features the roaster with their logo. There is also a roast indicator, which is especially useful if you choose the All Roasts option. A description on the label provides information about the coffee's origin and clues you in to what flavor notes to expect from the roast.
Just below that, you'll find a QR code and a roast number. If you decide you really like a particular roast from your sample, you can use this information to order 12 oz bags weekly, monthly, or every two weeks.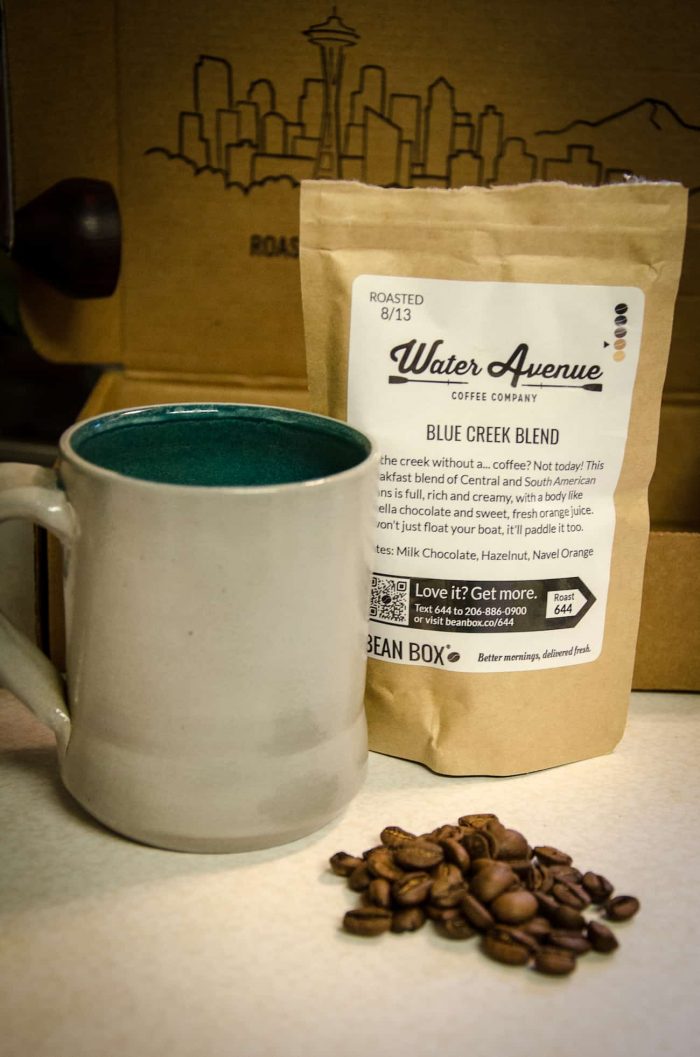 Each pouch is sealed, of course, but they also have a zipper lock to keep the beans fresh if you're not planning to brew the entire pouch. I find this particularly useful for pour overs because I could sample and compare without feeling like I needed to brew the whole bag at once.
From the boxes to the colors of the pouches, everything in the Bean Box sample fits well together with a very earthy feel. It definitely has a Seattle coffee vibe to it.
Tasting Bean Box Coffee
I ordered a medium roast sampler and received four great pouches: Guatemala Cuchumatanes from Longshoreman's Daughter Coffee Roaster; Blue Creek Blend from Water Avenue Coffee Company; Fremont Blend from Ladro Roasting; and Na Pali Blend from Keala's Coffee.
The Beans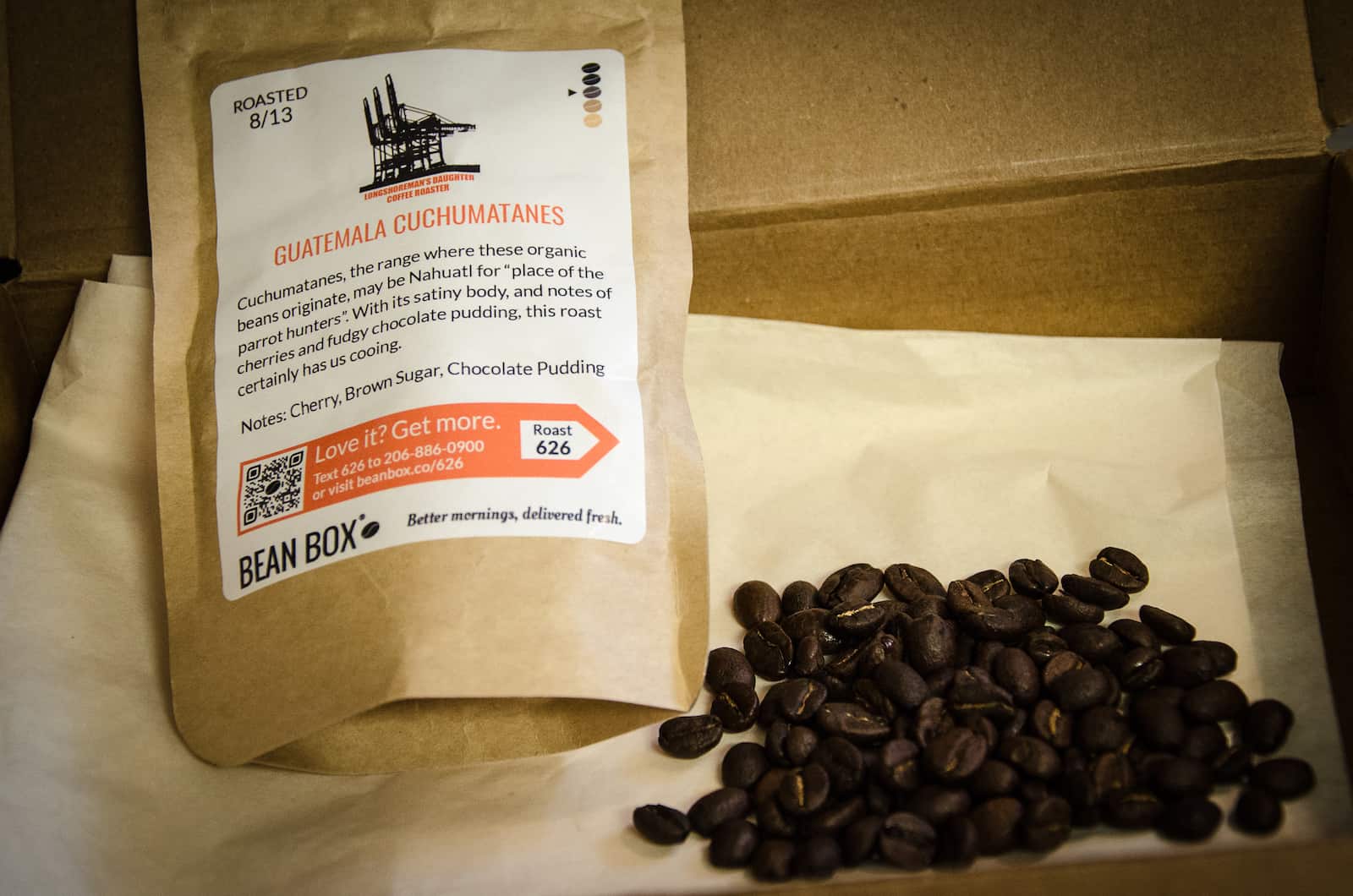 While there was a little variation in the roast darkness, they all fell comfortably with the medium range as you would expect. They were all quality beans with very few fragments or particles, and the pouches seemed to keep them protected and fresh.
Each pouch has a roasted on date. Mine were all roasted on the same day and were delivered in less than a week after roasting. You can smell this freshness when you open the bags and taste it in the final results.
The Brew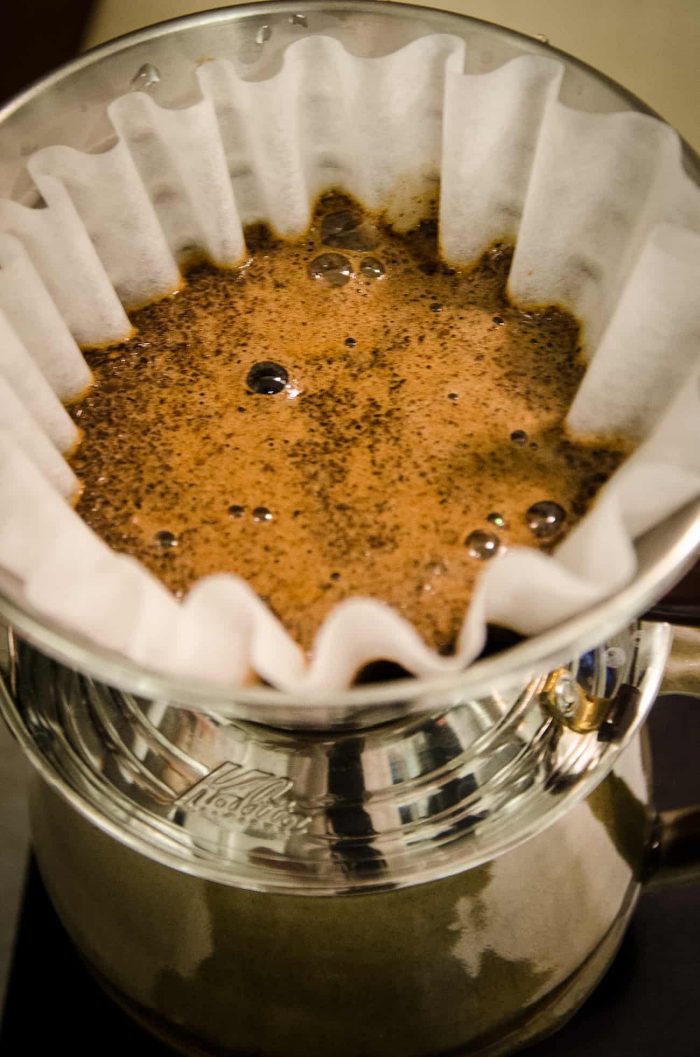 For this batch, I brewed everything with a Kalita Wave 185 pour over set up. I used an electric Bonavita Kettle to keep my temperature accurate and the pour precise. I also did a manual grind with the Handground Precision grinder.
Each coffee reacted as you want in a pour over. The blooms rose well and released a great aroma, each different from each other.
The Taste
Every pouch label has a short description of the roast and highlights the notes you can expect from each brew. I found these to be a great guide, and the coffee delivered what you want from artisanal coffee.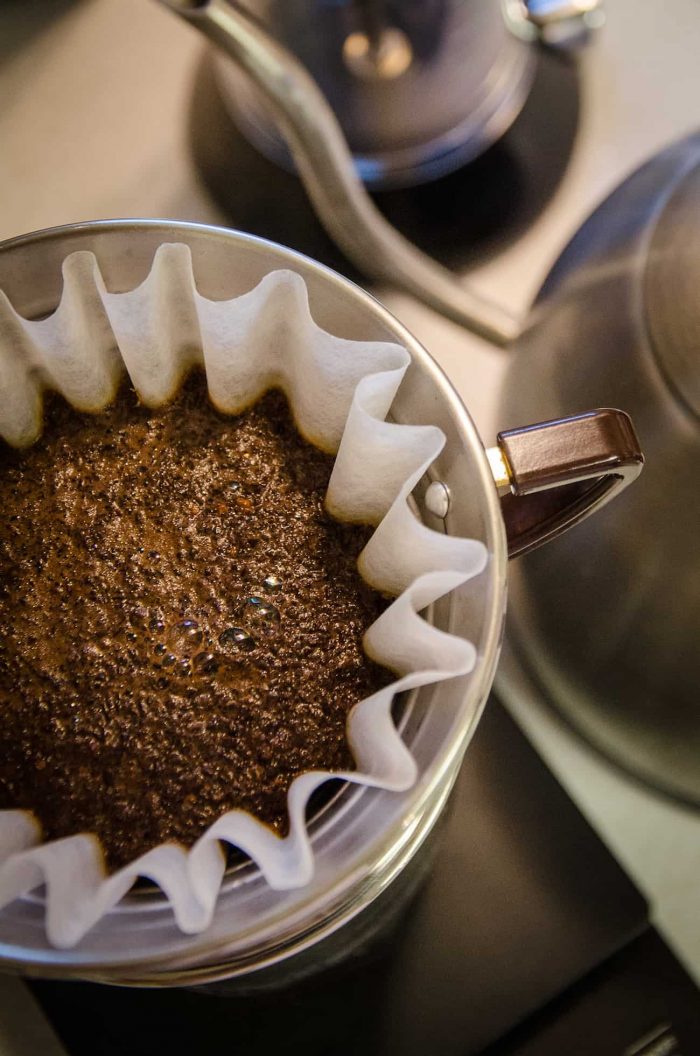 The tastes were complex, providing a varied flavors throughout the experience. I found many of the notes too subtle right after brewing, but they often came out after the brew cooled a bit.
I think my favorite from this sample was the Na Pali Blend from Keala's Coffee. The citrus notes of Calamansi Lime really stood out and brought an interesting note to the blend from Kauai and Central America. (Roast 296 if you're interested)
Overall, every roast brought something new to the table. The sampler pack is a great introduction to tasting.
What Sets Bean Box Apart
There are plenty of coffee subscription boxes to choose from. Assuming you can't just subscribe to all of them, here's why you would want to choose Bean Box.
Regional Roasters
One of the big draws of the Bean Box subscription is that it focuses on a very tight niche. You aren't taking a tour of the world through coffee here. Instead, you're getting a peak into what life might be like (at least your coffee life) if you were transported to Seattle.
With dozens of roasters and over a hundred coffee roasts, you'll still get lots of variety. And if you find a roast that you really love, you can order it directly from Bean Box in 12 oz bags.
Fresh Roasts
Unless you're picking up a bag of coffee from your local roaster on the way home from work, it's hard to get coffee much fresher than what Bean Box offers. They coordinate with roasters to maximize freshness and typically ship on Wednesdays. That usually means you'll get your coffee by Friday, just in time for a weekend tasting.
No Frills
Aside from the additional items like biscotti or Jonboy Caramels, Bean Box is really all about the coffee. Although, they do provide some interesting gift options like a coffee / chocolate tasting box or a Coffee of the Month Club for Espresso roasts.
Their site provides some handy information about brewing and tasting, but the focus remains on small-batch roasters and the beans. The selection is hand curated, so you can expect a great selection with every box.
Takeaway
In the end, Bean Box is a great coffee subscription service. They promise fresh coffee and deliver quality beans that will help expand your coffee horizons. All at a reasonable price. At the very least, it's worth trying a single sampler box to see what Seattle and Portland have to offer.
---
---