Top 7: Best Airtight Coffee Canisters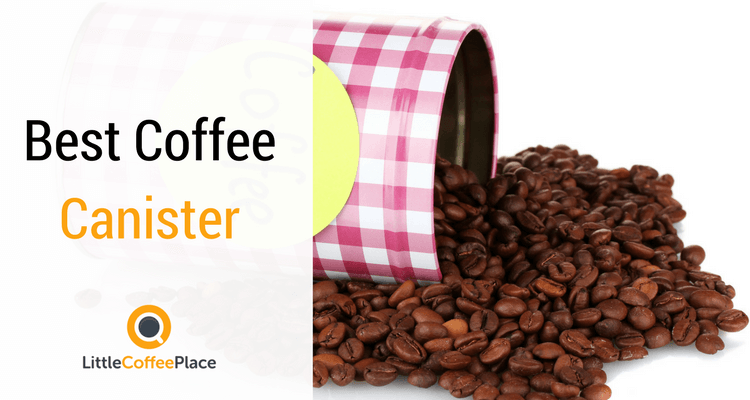 Where do you keep your coffee? The bag it came in? A fireproof safe? The freezer?
Whatever you are doing now, take a moment to consider whether it is the best option for giving you a flavorful cup of coffee. Because, as you know, a great cup starts with great beans.
And coffee beans are only great as long as they're fresh.
What You Should Know About Coffee Containers
Coffee storage isn't just a box with lid. Modern technologies work toward one very important objective: keeping your beans as fresh as possible for as long as possible.
Do You Really Need a Coffee Canister?
You might be thinking, "It comes in a bag. Why can't I just leave it in there?"
Imagine buying a Maserati GranTurismo and parking it out on the street, under a tree that drips sticky sap. And it has a bird's nest in it too.
Sure, your coffee isn't as expensive as an Italian sports car, but it certainly isn't worthless. You've spent time finding the perfect beans from your favorite roaster. But as soon as you open that sealed bag, the beans start to lose their freshness and aromatics, which leads to an inferior brew.
In an unsealed bag (and no, it isn't sealed no matter how tightly you fold down the top), the beans are exposed to all the elements that destroy freshness. So each pot you brew, each cup your pour over, is going to be a little less excellent than the last.
How Should You Store Your Coffee Beans?
Once it's been roasted, your coffee has four enemies: air (specifically oxygen), heat, moisture, and light.
Oxygen: This is the biggest cause of stale coffee, in part because it's so difficult to combat. Exposing your beans to oxygen can cause them to go stale in just a few days.
Heat: Yes, heat is applied for roasting, and you'll likely brew your coffee with hot water. But in between those times, you want to keep it in a cool environment. Not cold like the refrigerator, though. Just cool like the cabinet.
Moisture: A little bit of moisture can ruin your coffee almost instantly. Condensation on the cold beans prematurely releases their oils. This is why you want to keep it out of the fridge.
Light: Specifically direct sunlight. UV rays can cause the beans to oxidize faster. The most damaging effects happen directly after roasting, which is why your roaster isn't shipping your beans in a clear bag or container.
So for the freshest coffee, you want to prevent exposure to these four enemies, which is why you need an airtight coffee container.
A Quick Note On Grinding
Just as a reminder, the freshest coffee comes from grinding your beans right before you brew. If you grind ahead of time (or buy your coffee pre-ground), it dramatically increases the surface area of the coffee susceptible to the freshness destroyers above.
If you have to grind ahead, you should still follow the same rules for storing whole beans. Just know that there is little hope for maintaining flavor.
What About The Freezer?
Many people think storing coffee in the freezer is an easy way to avoid the four enemies of freshness. While that is true, it doesn't mean you the freezer should be your default storage place.
The problem is three-fold.
You'll want your beans to come to room temperature before brewing, which means you'll need to set them out ahead of time.
Constant temperature changes are not good. Taking the coffee in and out of the freezer will cause it to degrade.
​Coffee will absorb the smells/flavors of the other food in your freezer, which compromises the flavors your roaster so carefully crafted.
Storing beans in the freezer can keep them fresher for an extended period. So if you've stocked up on your favorite beans while they're on sale, you can keep a few bags in the freezer. Just make sure they're in airtight containers or bags.
And for your daily-use coffee, just keep it at room temperature.
How Do You Choose a Coffee Container?
It's just a jar, right? How complicated can it be?
Yes and no.
Your coffee canister doesn't need to be high tech. It needs to keep out air, heat, moisture, and light. So any sealed container will be a step above the bag your beans came in.
Since you're buying a canister, you might as well look into one specifically designed for coffee. You'll want a container that has most, or all, of the following qualities:
Truly airtight
Opaque (to avoid light)
​Convenient to open/close
​Large enough to hold at least a pound of coffee (or whatever meets your needs)
​Attractive on the counter
Counter/cabinet friendly
A one-way valve for CO2 release
A Quick Note On Carbon Dioxide
Most bags from roasters have a one-way valve on them that allows carbon dioxide to escape without letting oxygen in. This is essential for freshly roasted beans because they release CO2 for a while as they outgas. If there was no valve, the bags could explode.
Some coffee containers have a similar valve to release CO2, suggesting that it causes stale coffee. The science is unsettled on that, however.
If you are roasting your own beans, a container with a valve could be a great idea. It will allow your beans to outgas without exposing them to oxygen. Otherwise, it probably isn't necessary, but it shouldn't hurt either.
So that's what you need to know before buying a canister for your coffee. Keep it in mind when searching for your perfect can. If you're looking for ideas, try one of these containers, which are some of the best-rated options for coffee storage.
Best Coffee Containers
Coffee Container

Capacity

Valve

Price

Friis Coffee Vault

16oz

Yes

Coffee Gator Canister

16oz

Yes

Planetary Designs Airscape

32oz / 64oz

Yes

Tightpac Coffeevac

16oz

Yes

​

BlinkOne Coffee Canister

18oz

No

Coffmax Airtight Container

16oz

No

OXO Grips Coffee POP Container

1.5 Qt

No
Takeaway
Whether you want a container that matches your appliances perfectly or just something you can keep in the pantry, the right coffee canister is out there for you.
It might not be the sexiest tool in your coffee preparation, but it can be one of the most important. As long as you remember that the main goal is preserving freshness for as long as possible, you won't go wrong.
If you find a coffee container that belongs on the list, I would love to hear about it.
---