Top 10: Best French Press | Stainless Steel & Glass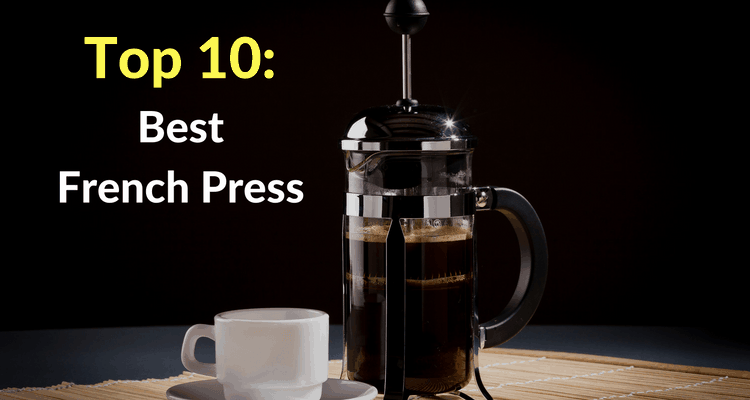 Coffee connoisseurs will swear that the French Press makes the best cup of coffee.
In fact, the CEO of Starbucks made a surprising comment in 2012, saying that the best cup of coffee was one that could be made at home by a simple French press.
Top Rated French Press Coffee Makers
French Press

Carafe

Double Filter

​

Frieling Stainless Steel

Stainless Steel

Yes

SterlingPro Stainless Steel

Stainless Steel

Yes

SterlingPro European Stlye

Stainless Steel

Yes

SterlingPro Glass

Glass

Yes

Bodum Chambord

Glass

No

GSI Outdoors
Java Press

Plastic

No

Le Creuset Stoneware

Ceramic

No

LeMeilleur

Stainless Steel

No

Grosche Madrid

Glass

No

Ritual Bamboo

Glass

No
---
French Press Coffee Makers
---
This is the best Stainless Steel French Press available today.
It comes at five different sizes (8oz, 17oz, 23oz, 36oz and 44oz) and two different styles (Brushed or Polished finish). This is something that we must point out since not many brands offer this kind of choices.​
The carafe is made of high quality 18/10 Stainless Steel and has a double wall construction that keeps the coffee warm for a long time (4 times longer than glass).
This also means that you can touch the exterior without burning your hand. It has a mirror or brushed finish outside (your choice!) and a brushed finish inside.​
The plunger is also made of 18/10 Stainless Steel and you can easily find replacement parts in the official Frieling website at a reasonable cost. It has a full-length handle that is very comfortable in the hand.
This French Press is much more durable than the ones with the glass carafe. The glass can break due to thermal shock, or if you drop it against the counter. This will never happen with steel. It's very easy to clean and is entirely dishwasher safe.
You may think that there are other stainless steel models that are as good as this one and that they cost half of what the Frieling cost, but I can assure you that what makes this French Press stand out from the rest is the quality and durability of it. Maybe you can't see it at plain sight, but believe me, is there.
The Frieling French Press is really easy to use. You can always get more out of it if you have some extra accessories, like a thermometer to control the water temperature and a scale to measure the amount of coffee and water.
To maintain the filter in optimal conditions for a long time, you have to clean it after you use it. If you wait for several hours it will be more difficult to clean and will require you to scrub it.
Finally, I have to say that the design of the Frieling is gorgeous. It has a classy look and the full-length handle is beautifully made. I personally prefer the mirror finish outside.
The Frieling Stainless Steel French Press is the best out there and one of the most expensive too.
But if you are willing to make the effort, you will have a beautiful and unbreakable french press that will last for a very long time.​
---
This French Press offers a great value for its price.
It's made entirely of 18/10 Stainless Steel and has a capacity of 34 oz. (1 liter) and has a double wall construction that keeps the coffee warm for a long time (4 times longer than glass). As with the Frieling, it's much more durable than the ones with the glass carafe.
Comes with a Double Screens System (with two extra replacement screens free of charge) that according to SterlingPro, works like this:
By adding the second screen, the primary screen will touch the wall more tightly and evenly. At the same time, the second screen will filter the tiny grounds which pass through the primary screen. No more grounds in your coffee by using Sterlingpro coffee press.
It's entirely dishwasher safe and very easy to clean.
As with the Frieling, this press pot is really easy to use. You can always get more out of it if you have some extra accessories, like a thermometer to control the water temperature and a scale to measure the amount of coffee and water.
This insulated french press may not be as beautiful or sturdy as the Frieling, but there's a big difference in the price.
So, if you want a great Stainless Steel French Press, and you don't want to pay more than 50 bucks, this is the best choice, no doubt about it.
---
This one is very similar to the SterlingPro Stainless Steel French Press but has a different style.
It's also made in Stainless Steel with a mirror finish outside and a brushed finish inside. It has a double wall insulated construction and has a capacity of 34oz.
As you can see, it has a more rounded design. It would look great in any kitchen.
If you are looking for an insulated french press with a classic design, this is the best option.
---
The SterlingPro French Coffee Press is a beautiful coffee maker. It stands out of the rest in terms of design. But since we are looking for a great cup of coffee, the design isn't all that matters. This French Press also delivers a great cup of coffee.
The carafe is made of glass. It's heat resistant (borosilicate glass) but is more fragile than stainless steel. You have to be careful with it. The lid has a plastic liner attached that keeps it from getting too hot.
This is important since the carafe will be very hot when we pour the water. A big difference with the metal french presses is that when you are brewing the coffee you can't touch the glass without burning your hand. In the stainless steel coffee presses, you have a double wall to keep the exterior cool while brewing.
It has a double screen system that is very effective removing the sediment (remember to use a coarse grind) and comes with two extra replacement screens free of charge.It holds up to 34oz of water (8 coffee cups or about 4 coffee mugs). Try not to fill it to the top, since the plunger needs some free space.
It's very easy to clean, the glass is dishwasher safe and can be easily removed from the stand, although is also very easy to wash by hand.
It's important that the carafe should not be cleaned until it cools sufficiently, this is due to the difference in temperature between the water and the glass. (It could break it).​
The design of this press pot is beautiful, SterlingPro has done a very good job here. Unlike the stainless steel Press, this glass carafe allows you to watch the entire process of the brew (Some people just love that) and also it's easier to notice if the carafe is a little dirty after you clean it.
The SterlingPro French Coffee Press is a great option if you prefer the glass carafe over stainless steel.
You have a beautiful french press from a great brand at a really affordable price. The double screen filter works like a charm and you can make a really tasty cup of coffee with little effort.
---
The Bodum Chambord is very similar to the SterlingPro glass French Press, but it doesn't have the "Double Screens System" that the SterlingPro has, and it doesn't come with the extra replacement screens.
The carafe is also made in heat resistant borosilicate glass and comes at three different sizes: 17, 34, and 51-ounces.
The Bodum and the SterlingPro are very similar. The Bodum is a bit more expensive and doesn't come with the double screen system. Either one of them is a good choice if you prefer the glass carafe
---
Having coffee while camping used to mean settling for instant brew or a percolator type setup, but the GSI Outdoors Java Press Coffee Maker makes it easy to have French press style coffee while outdoors or on the go.
The carafe is made of resilient plastic that's BPA free, and the plunger mechanism contains a silicone ring.
This thermal french press is insulated and lightweight, so you can easily put it in a backpack without worry of it shattering.
The included EVA sleeve can also be removed for easy, convenient cleaning.
One of the great things about this french press coffee pot is it has a 50 ounce capacity, meaning you can make coffee for a crowd no matter where you are.
Another plus is the filter on this model, which works effectively to prevent gritty or muddy tasting brew.
Whether you prefer coarse ground, standard drip size, or finer grounds like espresso, you'll get delicious results with the Java Press Coffee Maker.
Using this unbreakable French press is easy, and as long as you don't put boiling water in it the plastic will remain crystal clear.
If you want a versatile insulated coffee cafetiere that you can use at work, home, or while you're camping, this one will fit the bill.​
---
If appearance is as important as function to you, one of the top high quality french press models to consider is this one from Le Creuset.
It's a stoneware press that mirrors the profile of the brand's iconic Dutch ovens, including rich glazing. This particular model comes in a deep cherry red color, Cerise.
The plunger is made of stainless steel, and the filter on this model is made of durable mesh that does a great job at keeping grounds out of the finished coffee.
Because it has a strong enamel glaze that's high fired, this French press is durable and non-porous.
You won't have to worry about it staining, cracking, chipping, or holding onto stale coffee odors, which is a definite plus. It's also dishwasher safe, which is convenient and unique for a high end model made of stoneware.
Most appealing about this coffee plunger is its look, which is refined, chic, and would perfectly coordinate with Le Creuset's other kitchen ware in the Cerise collection.
If you're aiming to buy a coffee maker that will impress and look stunning on your counter, this is an excellent pick.
It would also make a wonderful gift for any coffee lover or someone who prefers using a press to make their brew.​
---
Most French presses have a glass carafe, which looks nice but can easily break. If you want a good french press that's shatterproof and sleek, the LeMeilleur French Press Coffee Maker is well worth considering.
It's made of polished stainless steel that's rust resistant, and it will look gorgeous sitting in any kitchen.
That's one of the top side benefits of a stainless steel press: it can easily complement any decor style from contemporary to modern, traditional, or even rustic.
Looks aside, the LeMeilleur French Press has double wall construction to help facilitate consistent brewing. If you want to travel with it or you need a model that can go from work to home and back, this will serve you well.
Along with having double walls on the inside of carafe, this large french press has a double screen filter.
If you've ever had to deal with a press that let coffee grounds into your cup, you'll appreciate that this model prevents grit to ensure a smooth tasting brew. It's easy to use and works just like any other high quality model.
This coffee maker is also dishwasher safe, and it's versatile since it can be used to brew your favorite loose tea.​
---
When it comes to presses made of tempered glass, Schott-Duran Borosilicate is tops in terms of durability and clarity.
The Grosche Madrid French Press Coffee Maker has a high quality glass carafe as well as a unique chrome cage around its exterior. It serves as a protective barrier, but it's also artful and attractive in its own right.
If you like the idea of a French press but want one that looks more upscale and distinctive than the typical model, this one will likely pique your interest.
Its look is decidedly modern with a minimalist edge, but the way that you use it is much like any other plastic free french press.
In addition to its sophisticated look, the Grosche Madrid works well for making coffee or tea. Simply use your preferred amount of loose leaves or coffee grounds and you'll get a great result every time.
The quality of glass used in this model helps keep the temperature steady for optimal flavor extraction during brewing, and when you pour yourself a cup your drink will still be hot.
Being so well constructed means you won't have to worry about the carafe of this press sliding around and getting chipped or broken, as the chrome cage keeps it secured and in place.​
---
This French press from Ritual looks beautiful and high end, but it's surprisingly affordable. What makes it stand out among the crowd is the integration of bamboo wood into the top and handle of the pot.
Combined with crystal clear tempered glass and a stainless steel cage, its appearance is modern and worthy of being displayed on any counter top.
This isn't just a French press that you'll be glad to use each day, it would also be ideal for gift giving to anyone that's a fan of the press pot.
Aside from looking great, this French press has a host of excellent features.
The base of it contains heat resistant silicone that can withstand temperatures of up to 400 degrees Fahrenheit, which means your table and counters will always be protected.
Its carafe is comprised of thick glass that's tough enough for commercial use in a cafe, highly durable, and resistant to chipping and cracking.
The filter in this French press is also notable for its design, which will give you smooth coffee that's grounds and grit free.
You'll get years and years of use out of this model, as it can make coffee or tea and turn out delicious beverages no matter which option you choose.​
---
French Press Buyer's Guide
One of the great advantages of the French Press is that allows you to have more control over the process of making a good cup of coffee.
You can vary the taste of the cup according to your preferences. You can control the temperature, the steep time and the "coffee to water ratio".
The French press preserves the natural oils in the coffee that get filtered out by other methods, like the drip.
This is because methods like the drip use paper filters. As a result, the French Press Coffee is much more intense and has more body. But this also means that you have to be careful with the grind size.
For this brewing method, you need to use a coarse grind, if you make it too fine there will be a lot of sediment in the cup. And we don't want that.
If you want to take full advantage of it, you'll need a burr grinder. It's not necessary to have one, but you can tell the difference in taste.
One other distinct advantage of this coffee maker that is not often mentioned is its portability.
Because the simplified beaker into which the grounds are placed does not have electrical connections, it is small enough to be placed and carried in a hiker's bag. Water can be heated over a campfire to pour into the press.
Different materials​
As for the three primary types of materials, glass tends to be the favorite of those who like the look of a traditional press that's dishwasher safe.
Plastic is better if you tend to break glass items in the kitchen, or if you want an option that's easy to tote around from home to work and back.
Stainless steel is the alternative for those who want something that won't break, but looks more upscale than plastic. The drawback to it, however, is that you won't be able to see the coffee as it brews.
How It Works​
Now that you know the different types of French presses available, understanding the way it's supposed to work will help ensure the model you pick is a good one.
There should be several components to a decent French press: the carafe, which holds the water and coffee, a plunger and top, and a filter screen to keep the grounds out of the finished brew.​
Using any French press should be a simple affair, although you'll need to play around with the ratio of water to coffee to get the strength that pleases your palate.
Once water is heated between 195 and 210 degrees Fahrenheit, it's poured over coffee grounds in the carafe and allowed to sit for as few as three or as many as eight minutes. The plunger and top are then put into the carafe and pushed down to keep the grounds separate from the coffee.
Whether you choose to bloom, or briefly wet, the grounds or stir during brewing is up to you, and the type of press you're using won't have an effect on either technique.​
What to Look For​
No matter what it's made of, a French press that has a secure top and comfortable handle to facilitate no-mess pouring is ideal.
Here are some other things to keep in mind:​
It's best to find a model with a screen filter that can be taken off the plunger for thorough cleaning and then screwed back on.
Should you decide to go with a glass press, make sure it's tempered glass so it will be more durable.
If you find yourself on the go more often than not, opt for a dishwasher safe French press to make life easier.
How to Make French Press Coffee