We independently select these products — if you buy from one of our links, we may earn a commission.
Crema.co Coffee Subscription Review
"Get to know the people who grow and roast your coffee." That is the pitch from Creama.co, a subscription service that offers single origin beans from small-batch roasters.
They are on a mission to shift the thinking about coffee from commodity to community.
Luckily for us, they making great strides in that mission. Their coffee box service provides plenty of excellent choices and lets the subscriber call the shots.
Buying from Crema.co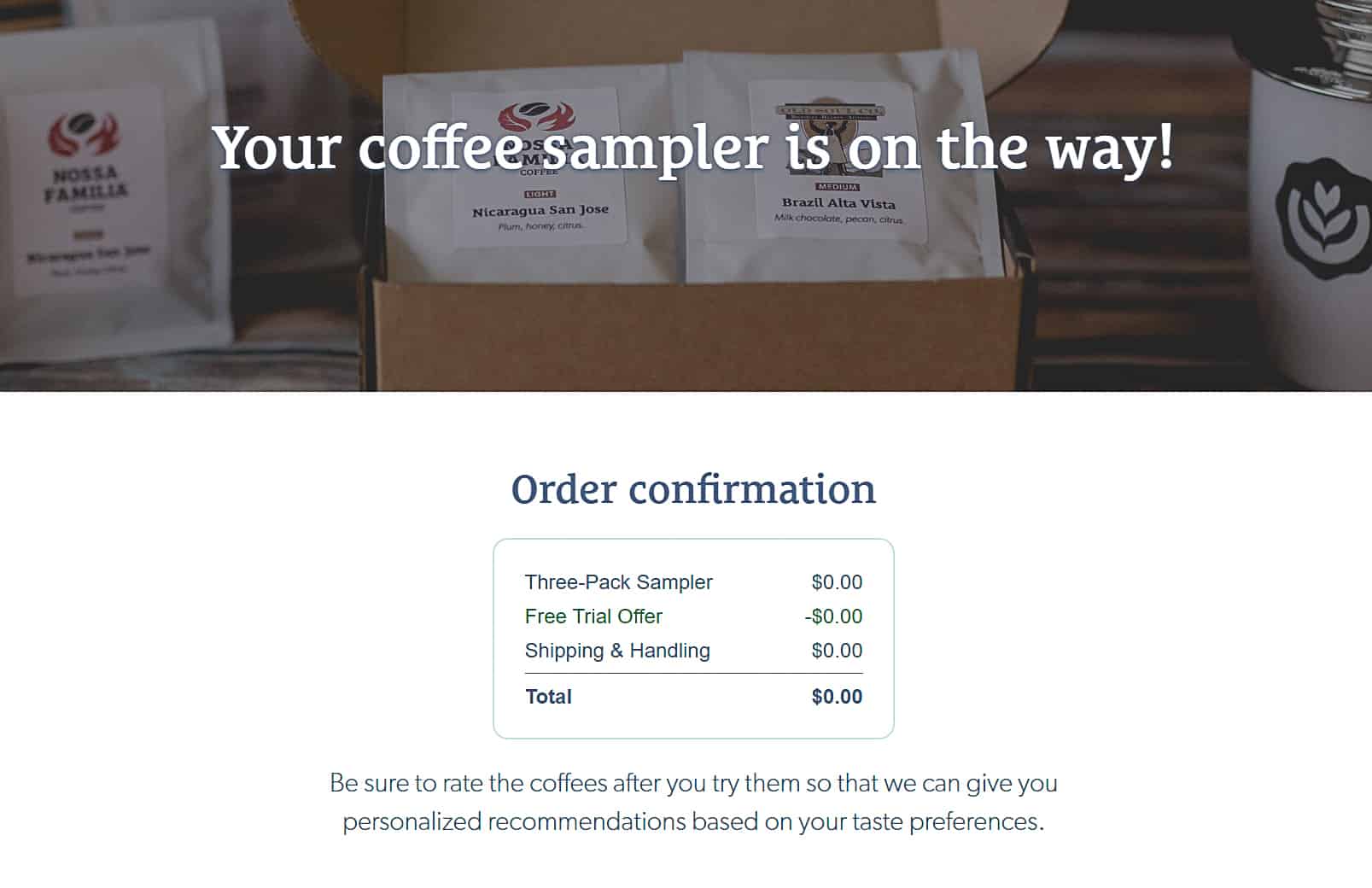 While you can dive right into a subscription by describing your preferences and building a coffee playlist, I think the best way to start with Crema.co is with their sampler pack.
The Sample
The Three-Pack Sampler includes around 2.5 oz each of a light, medium, and dark roast selection to let you establish your coffee preferences. You will have to create an account to receive your sampler, but the process is straightforward. Even though you have to include a credit card, they will only charge shipping and handling for the sample order (and many locations receive free S&H).
Once you have created your account and ordered the sample, you'll have access to the full range of options for your subscription. Of course, you could skip the sampler altogether if you know your preferences and would rather jump into a full subscription right away.
Start Building Your Coffee Playlist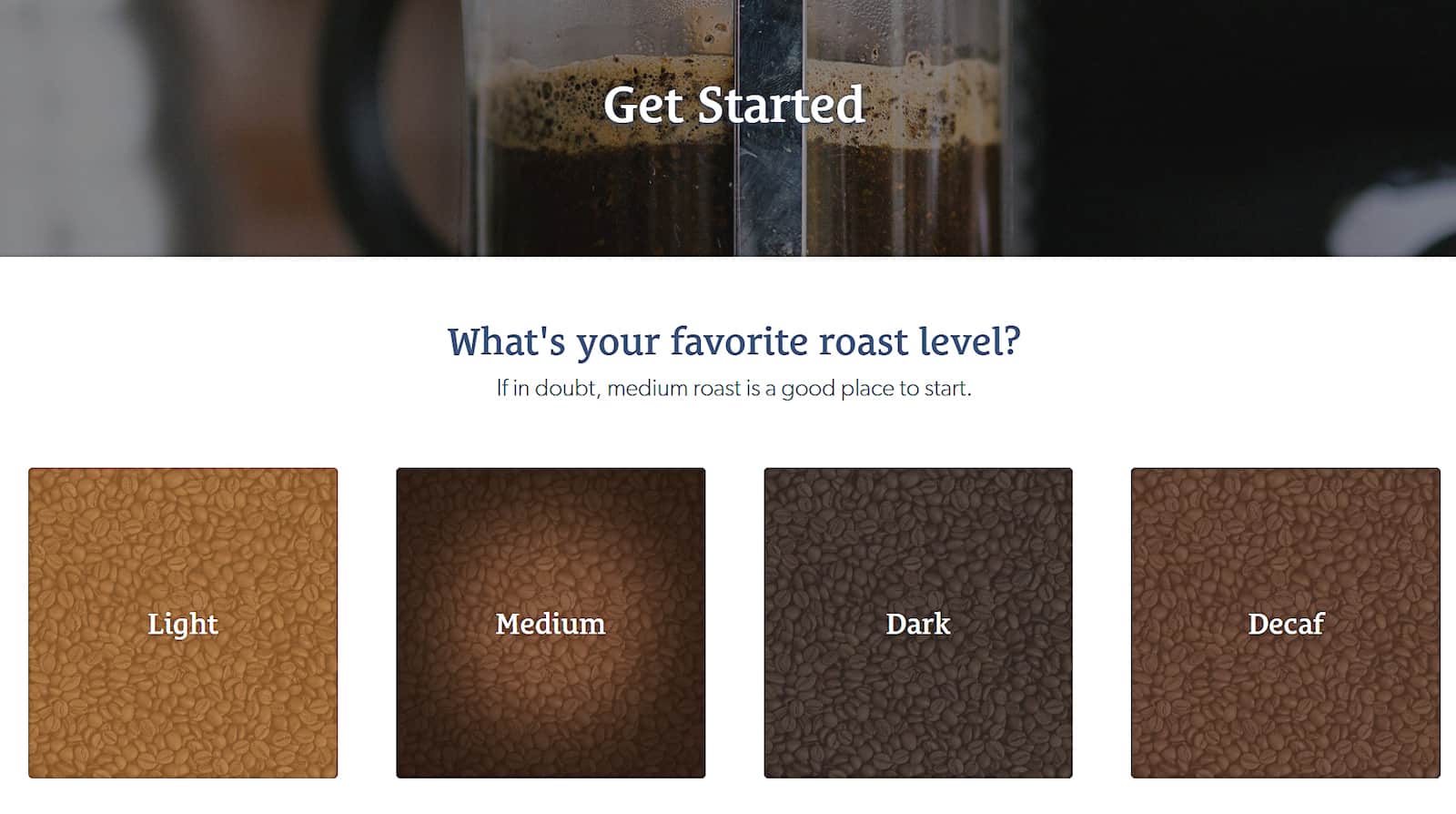 Unlike many subscription services, you don't need to select a bunch of different options to get started with Crema.co. Instead, you'll create a coffee playlist that will run your subscription for you.
If you ordered the sampler, you can wait until that arrives and rate the coffee. Recommendations will automatically be generated for you based on your review.
You can also select your preferences for roast and flavor profile. You will receive recommendations for that as well, and your playlist will become more accurate over time.
Rather than tie you to a particular frequency and size like most coffee subscription boxes, you just change your frequency with Crema.co. All you have to do is go to your playlist and select the dropdown menu for "Ship Every" to see options for:
3 Days
5 Days
1 Week
10 Days
2 Weeks
3 Weeks
1 Month
For each shipment, you'll get 12 oz of the next coffee in your playlist. You can also pause your playlist there if you are travelling or just want to take a break.
Check Out
Since you added your credit card information to create an account, there isn't really much of a check out process. Your account will start with an every 2 weeks subscription, and you can change it from there.
When your coffee ships, you'll receive an email letting you know and providing tracking information.
Unboxing Crema.co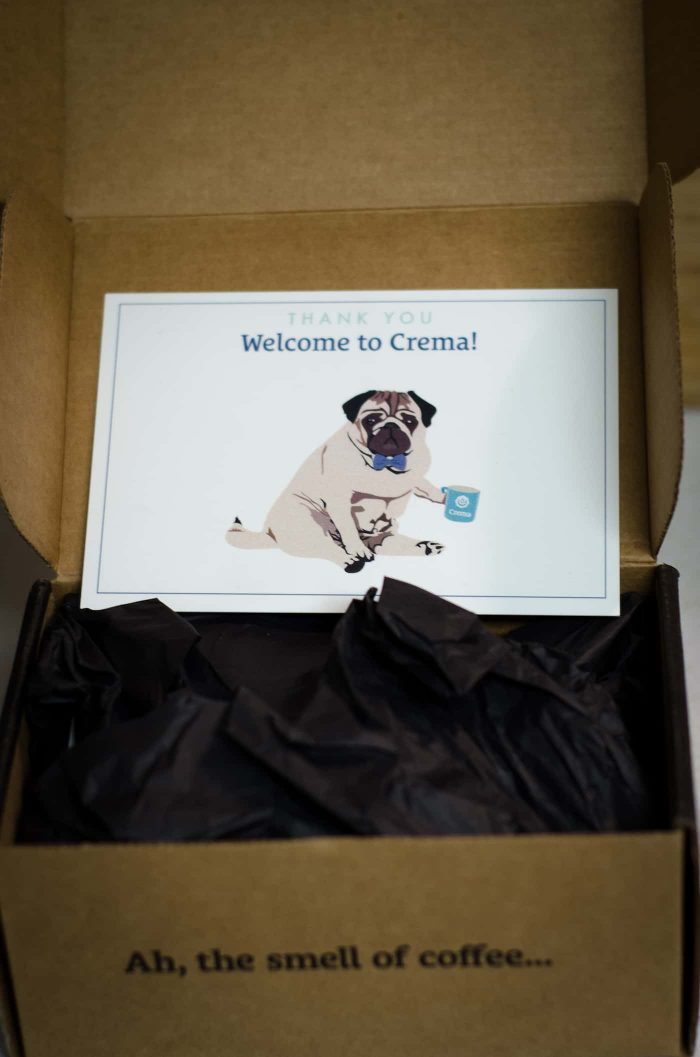 The sampler pack came quickly, less than a week after being ordered. And it was a great selection to give a sense of what you can expect from Crema.co.
Packaging
The shipping box claims, "Your day just got even better." And it's hard to argue with that when you've got fresh coffee in the mail.
The packing is simple and doesn't contain a lot of frill or extra goodies. There was a welcome card (with a cute dog/coffee combo) and tissue paper wrapping the coffee.
Coffee Pouches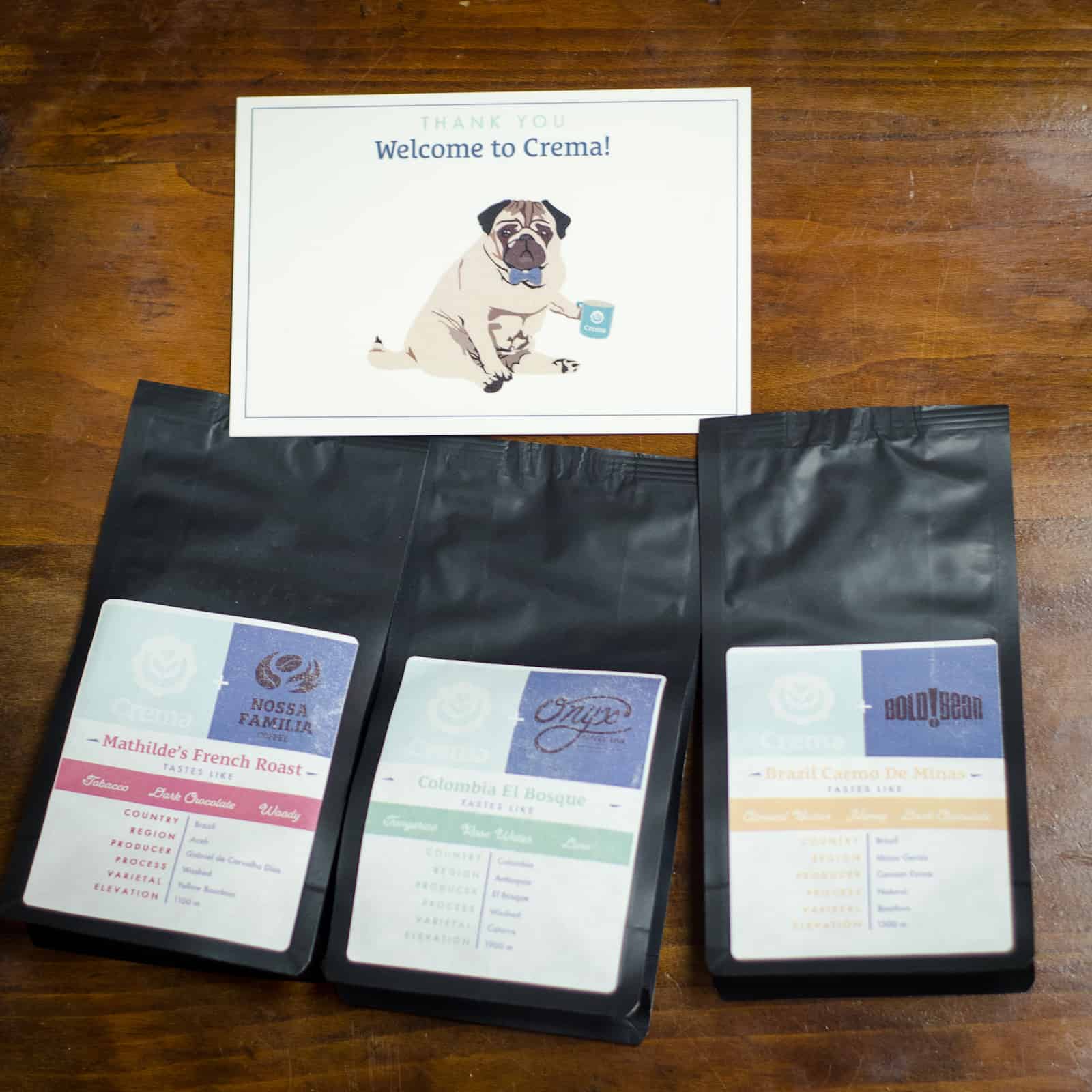 The sample pouches are all black with labels on each side. On one side, you'll find tasting notes and a brief description of the selection, including information like the region, producer, elevation, etc. On the other, you will see a note from the roaster and more information about the producer.
This information helps keep you connected with those responsible for making the cup you're about to brew possible.
The pouches are sealed, but they do not have a resealable zipper or ties or anything. You'll have to cut the tops off when you use them then store them if you don't plan to brew the entire pouch. If you're  making a full pot, that won't be an issue, but keep it in mind for pour overs, Aeropress, etc.
Once you start receiving your regular shipments, the packing will depend on the individual roaster a bit more since you are getting one coffee at a time. The box should be the same, which is nice because it ships without any extra packing materials.
Tasting Crema.co Coffee
So, what about the coffee? Great news here, as the coffee was exactly what you would expect from a company focused on connecting drinkers and producers.
The Beans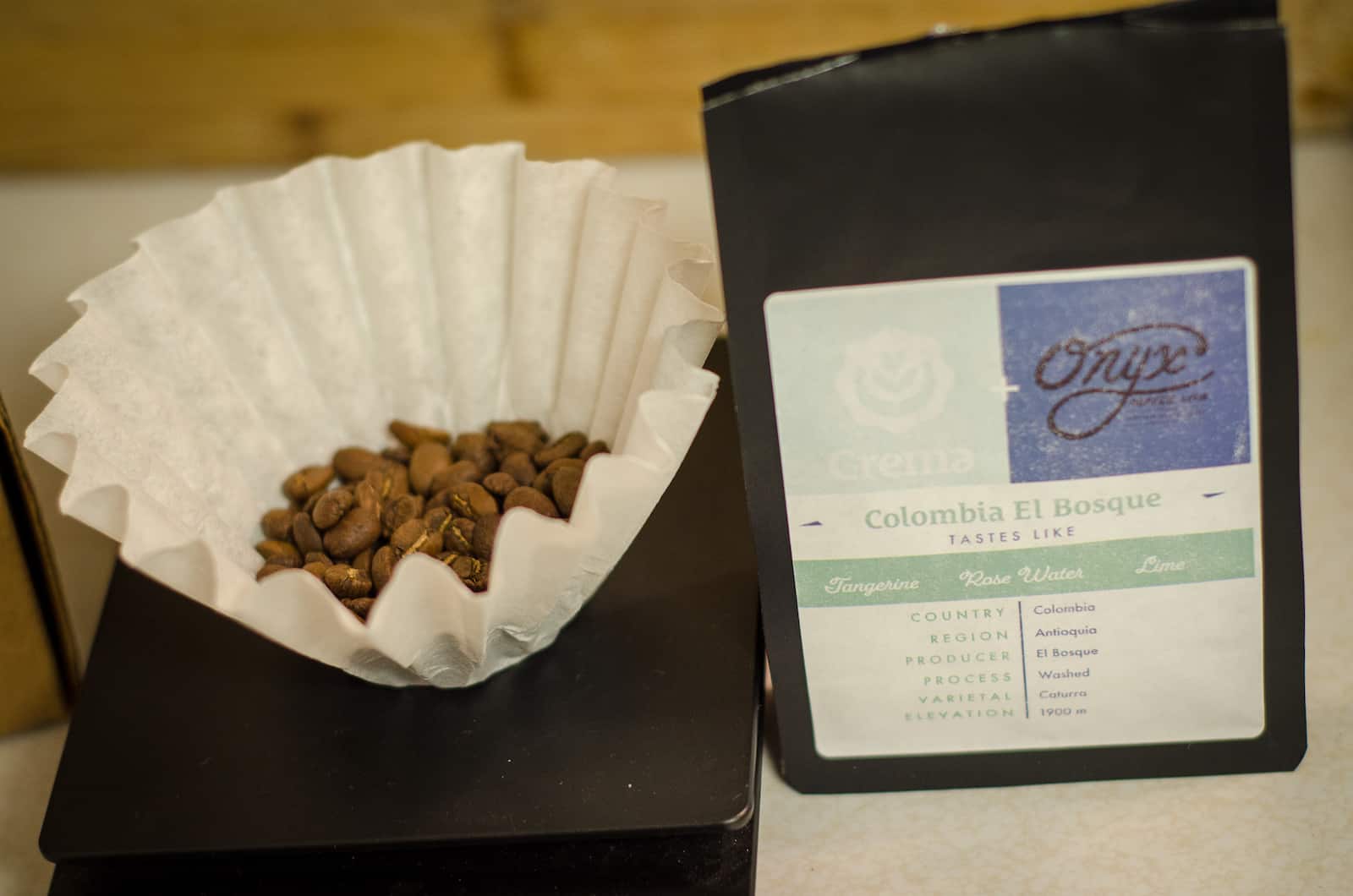 High quality beans in each selection. The range from light to roast was typical without any burned or poorly-processed beans. Each roast had a terrific aroma, and they were all in great shape without defects.
The Brew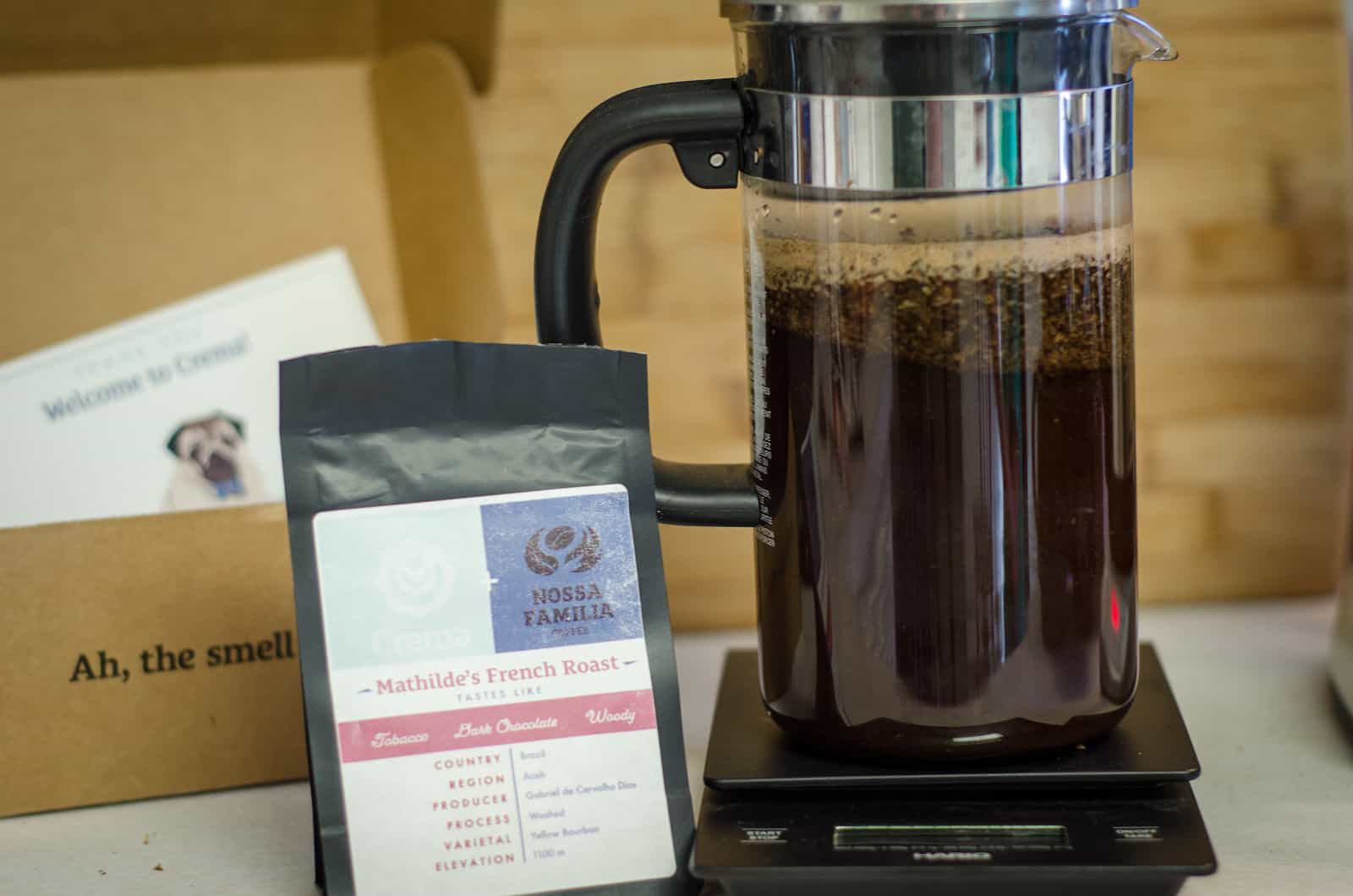 Since the sample included different roasting profiles, I went with a little variety in the brewing. (Although, I tried them all as a pour over as well.) The trusty Precision Hand Grinder worked well even though the grind was a bit tough on the lighter roast. I also used an adjustable temperature Bonavita Gooseneck Electric Kettle for pouring.
For the pour overs, I went with the Kalita Wave 185 to try to get them as close to each other as possible. On the darker roast, I also tried a Bodum French Press brew to test out a fuller cup.
The Taste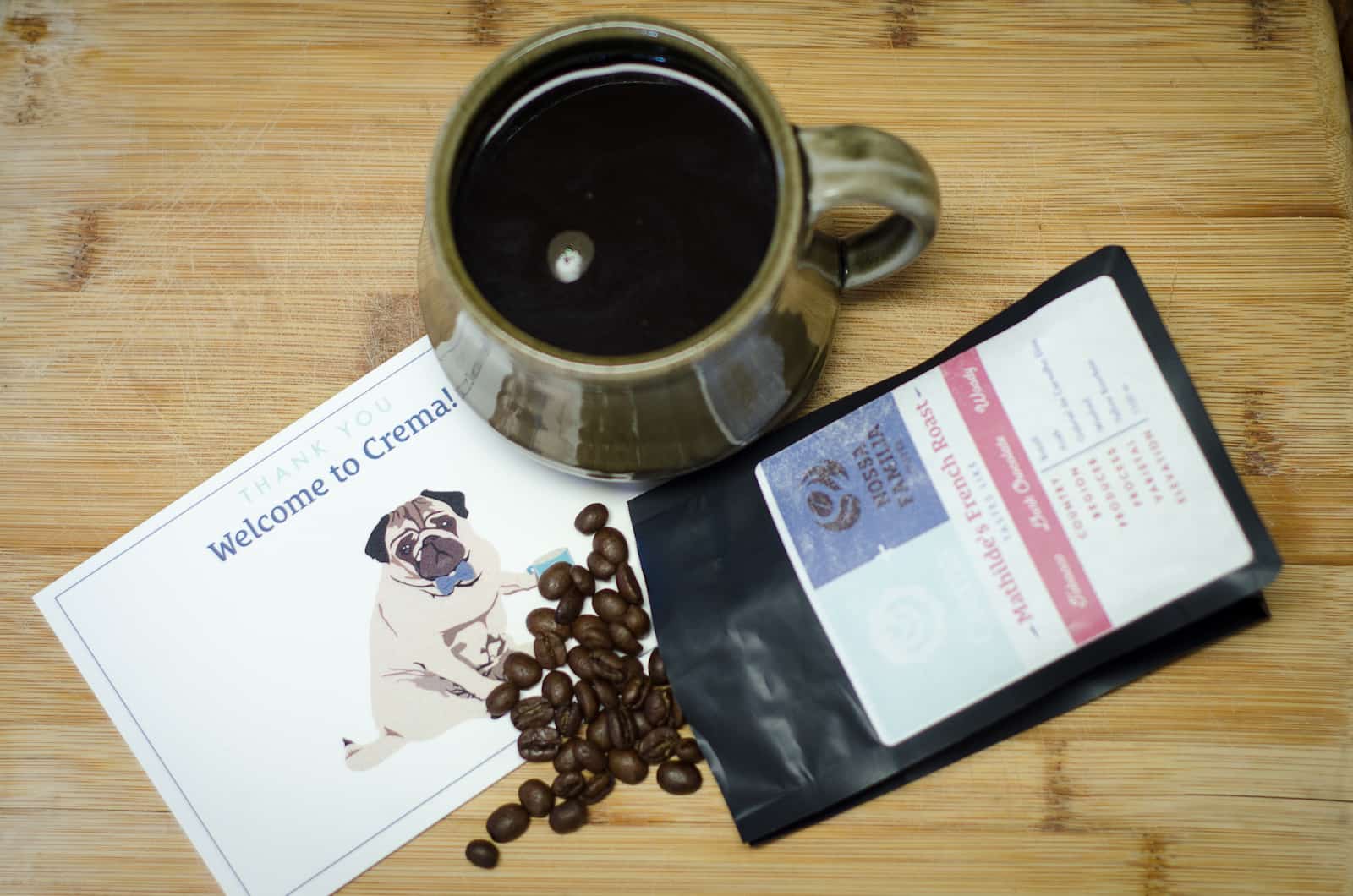 From the bloom to the pour, I could tell that these coffees were fresh and complex. While I didn't always get the same notes as the flavor profiles listed on the pouches, I did find plenty to like about each of them.
I thought each roast brought something interesting to the table. I especially liked the Colombia El Bosque from Onyx. The floral and citrus notes were a great combination. The great news about any roast from the sampler pack, though, is that it will help determine what you receive next.
Reviewing the Coffee
The review process for Crema.co reminds me a lot of Netflix. It's simple and gets better over time.
Rating the Coffee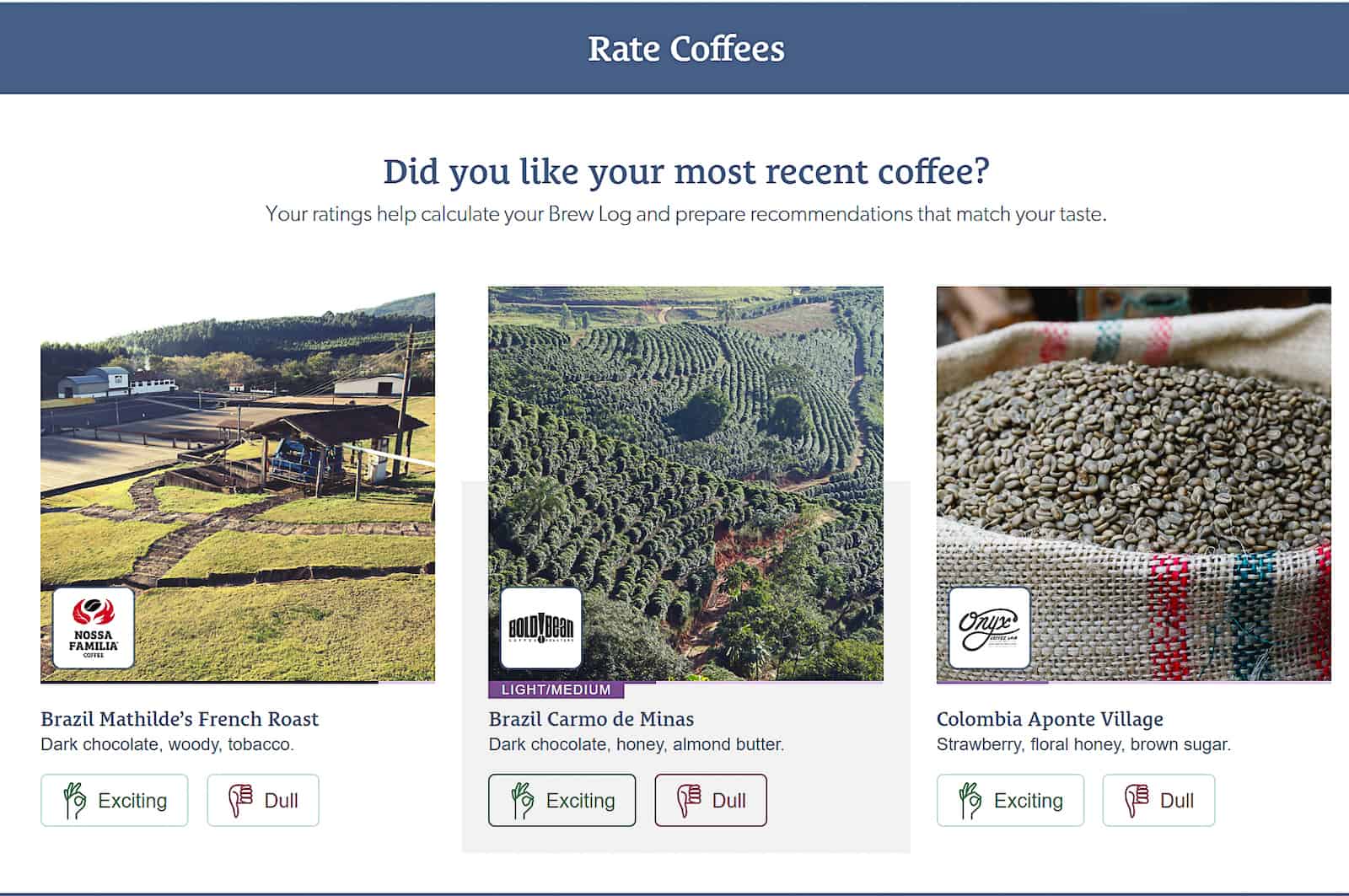 For the rating process, Crema.co is not expecting you to perform a professional cupping and produce a flavor profile. Essentially, you give each coffee a thumbs up or down by saying whether you were excited by it or found it dull.
Build Your Playlist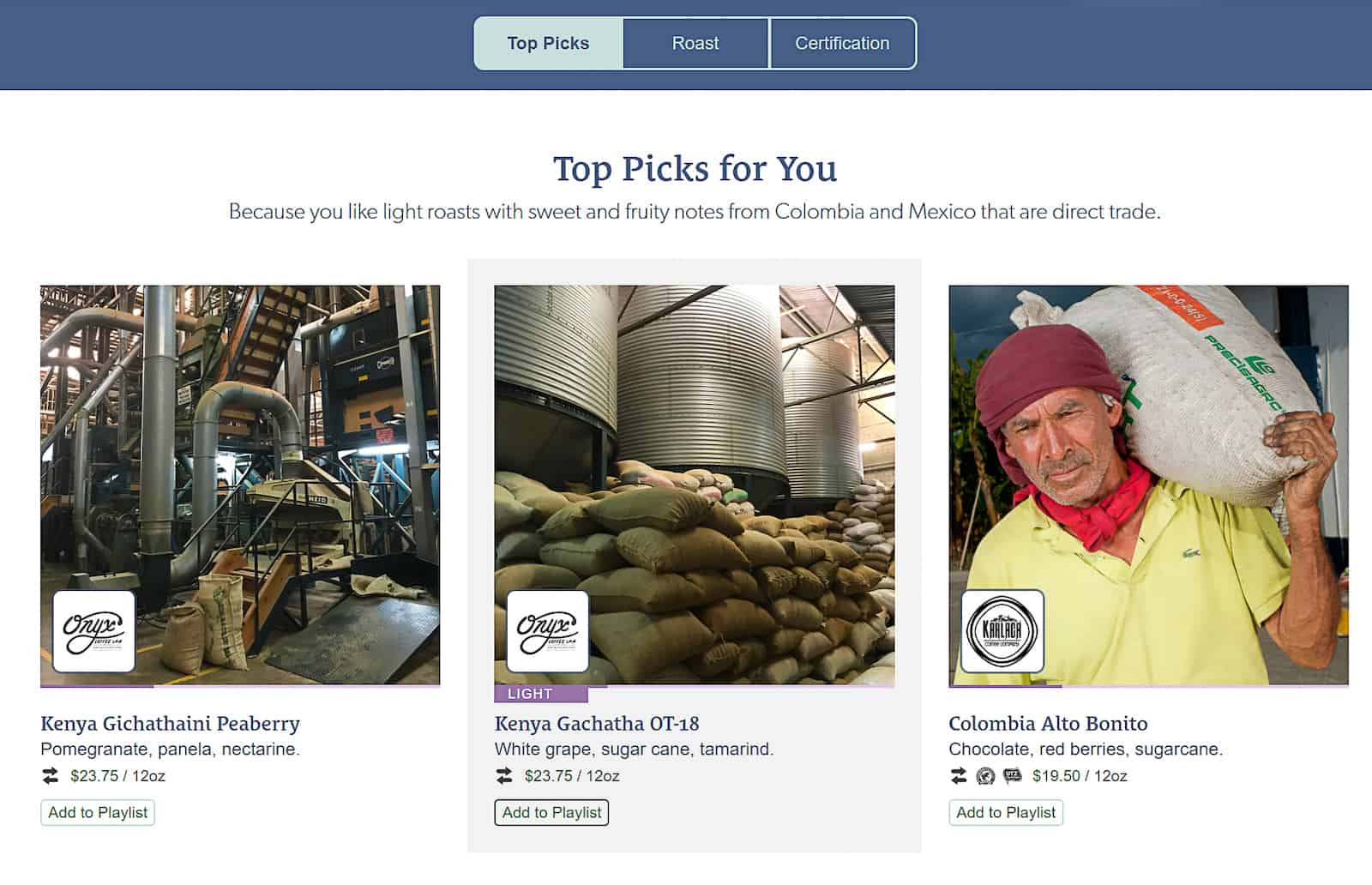 With this little bit of information, the site will start to make recommendations for you to add to your playlist. You can rely completely on these recommendations or ignore them completely. You have control over the order and selection in your playlist.
Brew Log

The real power in your playlist comes through the brew log, which unlocks after you have received and rated three full shipments. This tool helps you keep track of your preferences and provides insights into what kind of coffee you really love.
What Sets Crema.co Apart
It is clear from the site to the selection that this is not "just another coffee subscription service." Crema.co clearly wanted to do something bold and different, and I think they're succeeding for the most part.
Customized Playlist
The playlist allows you to maintain control even as you receive recommendations tailored to your preferences. You can choose when to stick with an old favorite or branch out for a new discovery. And I really like the idea that you aren't tied to a certain frequency for your subscription. You can easily adjust how often you receive new coffee depending on your needs.
Different Pricing for Coffee
That customization and flexibility also means a little less consistency with pricing. One shipment might cost you $16 for 12 oz, and the next could be $22. There are no surprises, though, as the prices are listed in your playlist and with the recommendations.
It might take a little adjustment, but this variable pricing is actually an indication that Crema.co is connected with its producers. Rather than force everyone into a particular price, they allow the individual roasters to determine what their product is worth.
Learn about the Farmers and Roasters
The Crema.co website is absolutely full of information about the farmers and roasters who put so much into making great coffee possible. They fully embrace the idea of connecting the end consumer with the entire process, not just the end result.
With details about roasters, producers, regions, and flavor profiles, you can easily lose track of time browsing the site.
Education
In addition to all the information about how the coffee is made, Crema.co also provides great guides about how to make the coffee. They have educational articles and videos about roasts, brewing, processing, and specific brew guides. When you receive your first full order, you'll also get a handy pamphlet, "Coffee: A Handbook" with lots of great photos and information.
Takeaway
A coffee playlist might sound like a gimmick, but don't let that throw you. With Crema.co, you'll find a quality coffee subscription box that offers flexibility, variety, and excellent hand-crafted coffee.
Whether you are just getting started with gourmet coffee or looking for a new source for beans, Crema.co is worth a try. Especially since there are no contracts or long-term commitments.
---
---