We independently select these products — if you buy from one of our links, we may earn a commission.
Driftaway Coffee Subscription Box Review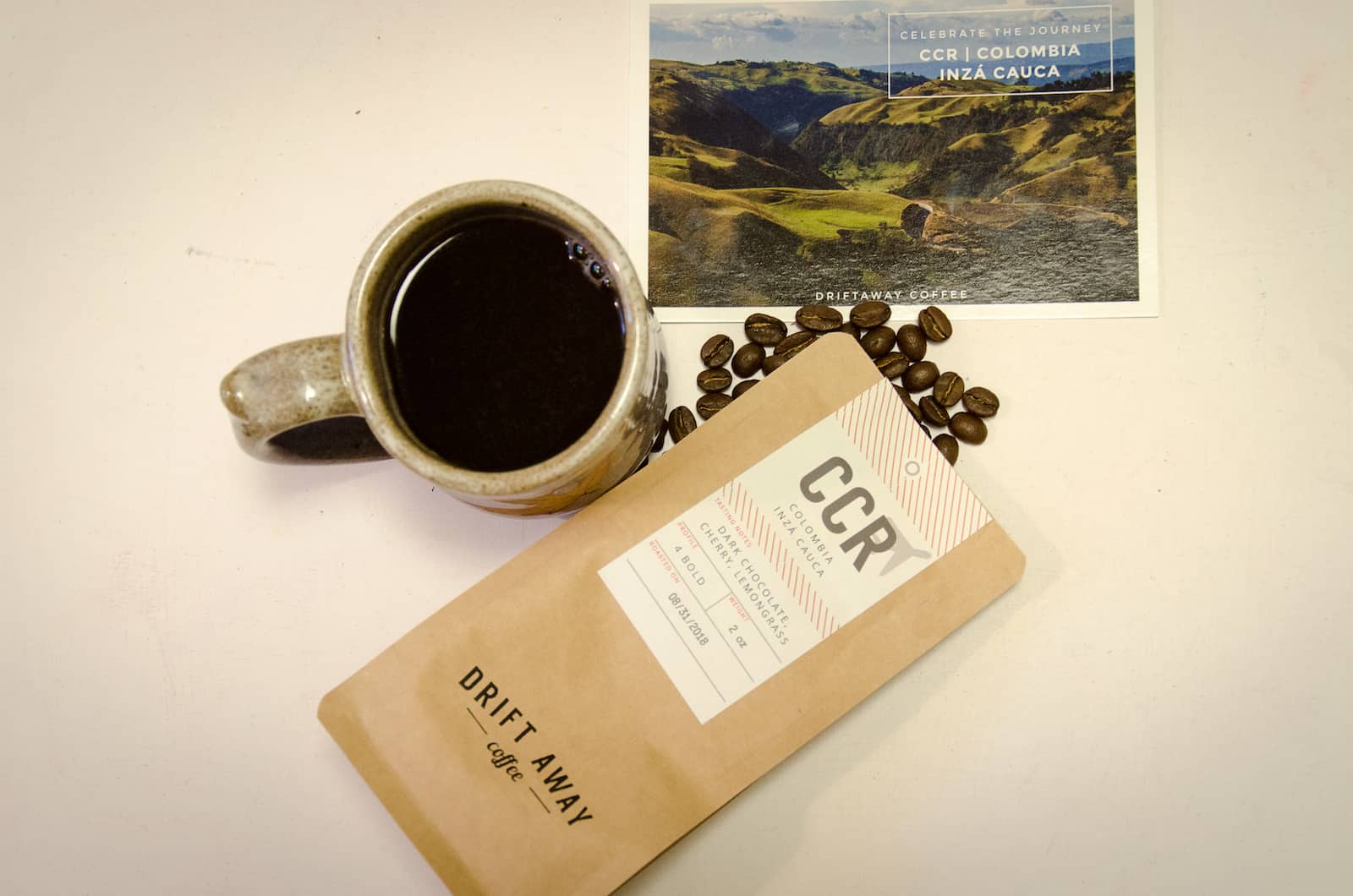 We can easily talk about coffee gear, brewing recipes, and the newest technology for hours on end. But we sometimes forget about what makes a truly great cup of coffee: the beans.
Driftaway Coffee wants to remind you of that by connecting you to the farmers who make you morning brew possible.
This customized coffee subscription keeps the coffee center stage while sending you freshly roasted beans from small farms around the world.
Buying from Driftaway Coffee
When you buy from Driftaway Coffee for the first time, the process is straightforward and uncomplicated.
For You or a Friend?
First, you'll need to decide if you're sending a gift (lucky friends) or signing up for your own subscription.
With the gift option, you can customize your order much like with signing up for your own subscription. The main difference is that you will pay for the entire order up front. For the rest of the review, I'll assume that you're buying for yourself, so double check prices if you're treating a friend.
The Tasting Kit
With Driftaway Coffee, you don't actually make any choices about roast at the beginning. Instead of having you decide upfront, they want to hear what you like after sampling the coffee.
This is where the tasting kit comes in. Your first shipment will include four samples of single origin coffee in a range of roasts. These basically go from light to dark and include:
#1: Fruity Profile

#2: Classic Profile

#3: Balanced Profile

#4: Bold Profile
Some people probably already know their roast preference and might not appreciate this tasting step. I think it's a great way to try something new and be sure that your tastes haven't changed.
Choose Your Quantity and Frequency
Since Driftaway sends whole bean coffee only, you won't need to worry about grind size. Instead, you'll choose how much coffee you want and how often. The most popular option is selected by default, but you do get some choices here:
For quantity, you can choose:
Solo ($10.29 per shipment): this option provides a 7 oz bag per delivery.

Doppio ($13.71 per shipment): this is the most popular option, and it provides an 11 oz bag, which Driftaway says is good for 22 cups.

1 Pound ($18.86 per shipment): as the name indicates, this option is for a 16 oz bag.

2 Pounds ($29.47 per shipment): this option gets you two 16 oz bags per shipment, and is a great way to keep you caffeinated while saving a little money per pound.
You can also choose your frequency:
Weekly

Every 2 Weeks

Monthly (the default option)
An interesting note here is that the monthly option is actually the cheapest per shipment. The weekly and bi-weekly options are slightly more.
You can also select whether to pay per shipment or prepay for 6 months. The amount you saves by prepaying ranges from $12 to $136 depending on the size and frequency you choose.
Shipping Speed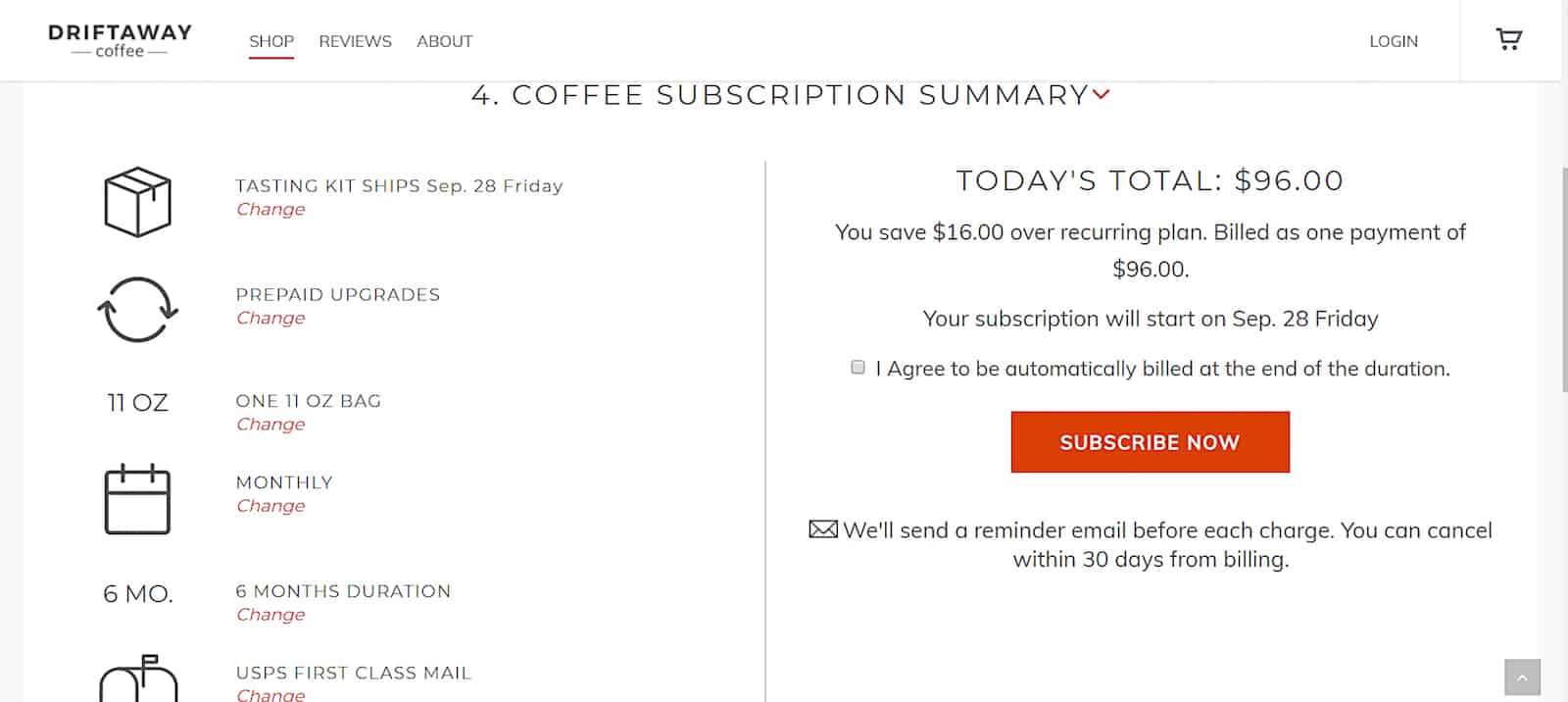 Since Driftaway wants you to get the freshest beans possible, all orders include First Class shipping via UPS or USPS. This gets most folks their beans within 3-2 business days.
For the 1 and 2 lb quantities, you also get a free upgrade to priority, which means 1-3 days guaranteed delivery.
Note: Driftaway does offer free shipping for international customers as well, but the subscription prices will be higher to adjust for higher shipping costs. You also won't get your coffee quite as quick outside the US.
Check Out
Once you've made your selection, you will need to create an account to proceed to check out. Then enter your shipping, billing, and payment information. You're all set and ready for your tasting kit.
---
Unboxing Driftaway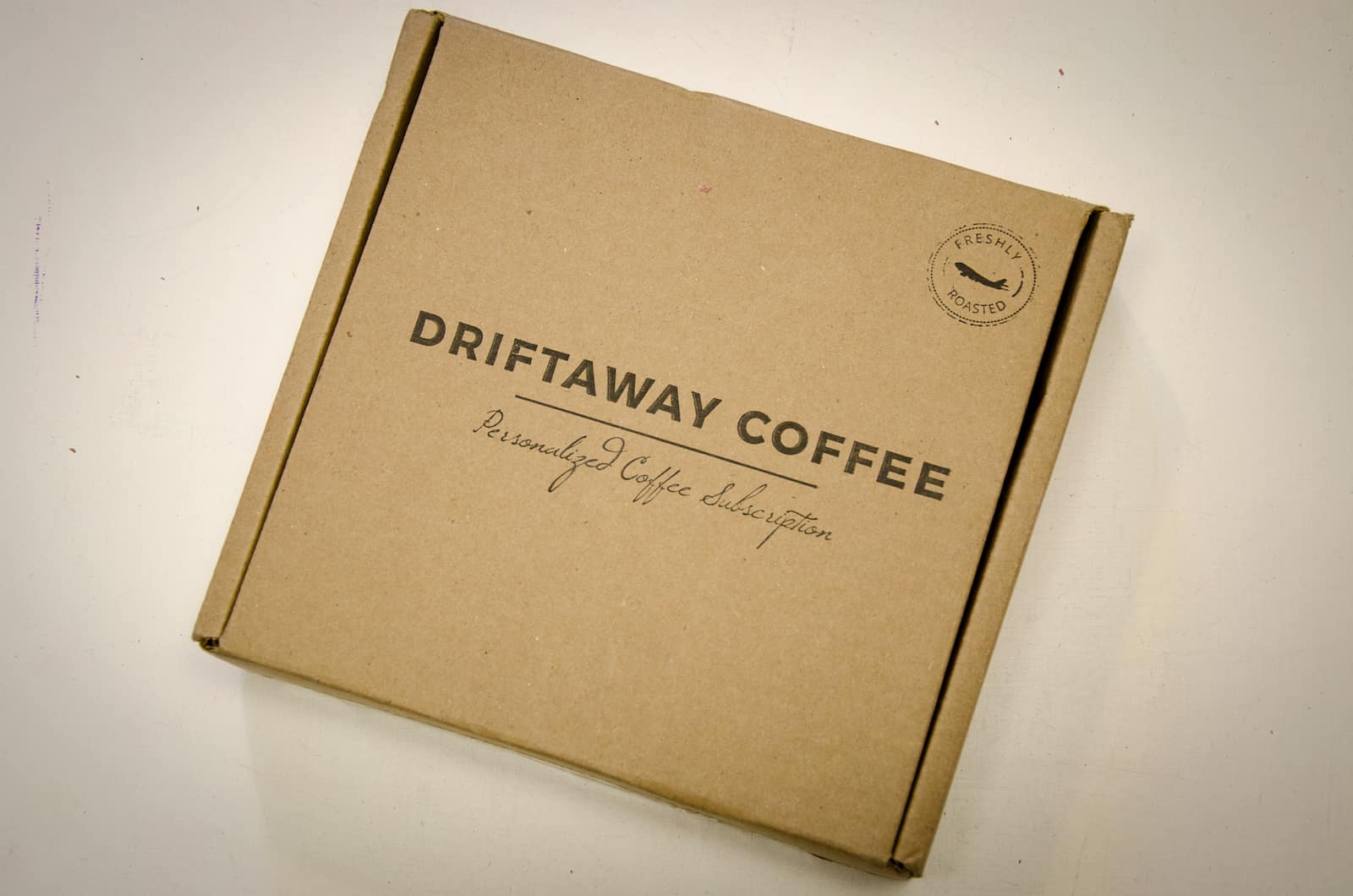 When your box finally arrives (it will feel like forever even though it's just a few days), you'll be greeted with a lovely cardboard box that promises beautiful mornings for the next week if you can get it to last that long.
Packaging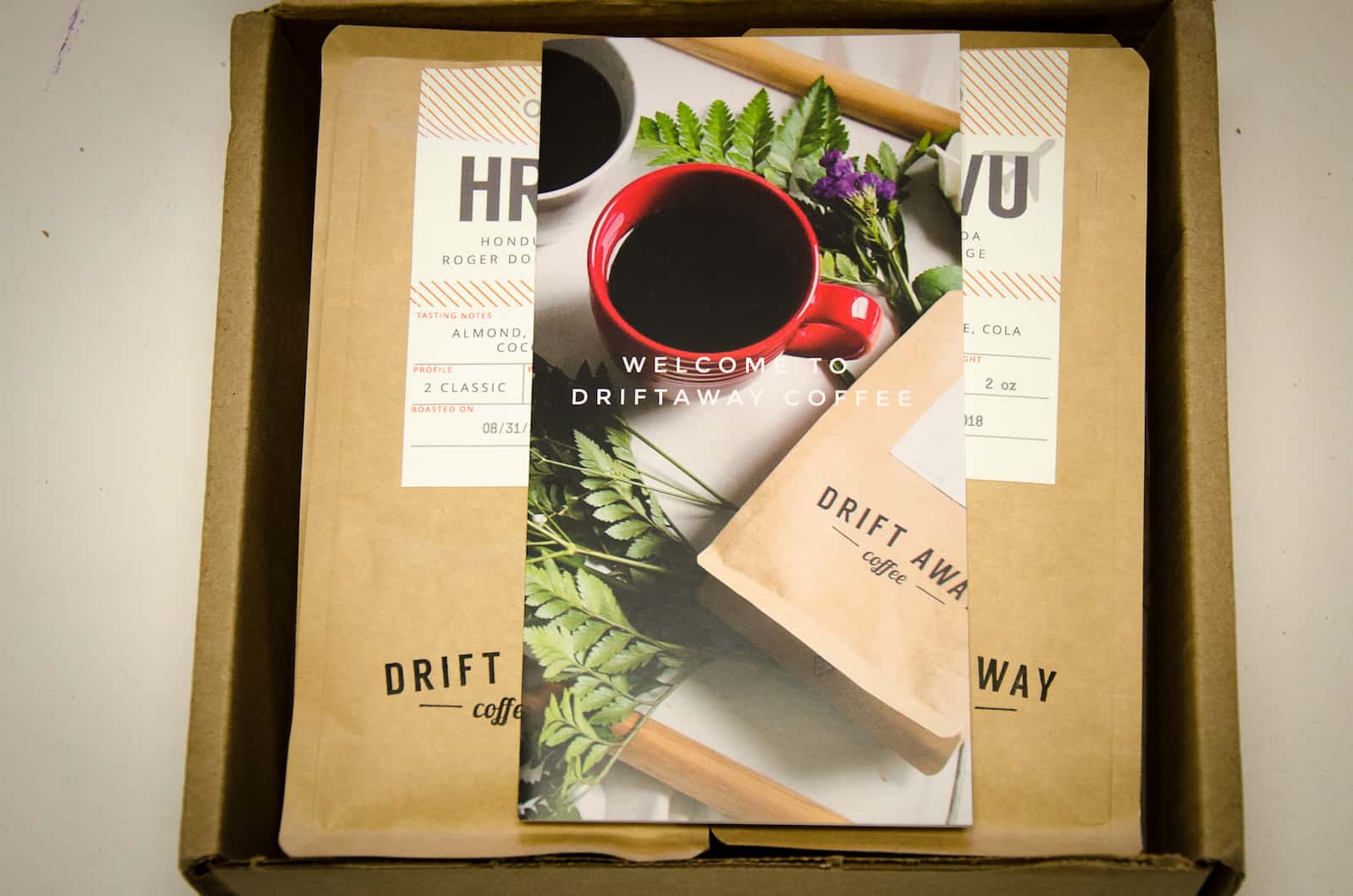 As we've established already, Driftaway wants the coffee to be the star. That is apparent even in their packaging, which is simple and practical.
Your kit comes with a nicely designed guide to provide basic information about brewing and the essentials about their brewing profiles. It also explains the process of the subscription box, which is especially handy if you're sending a subscription as a gift.
Coffee Pouches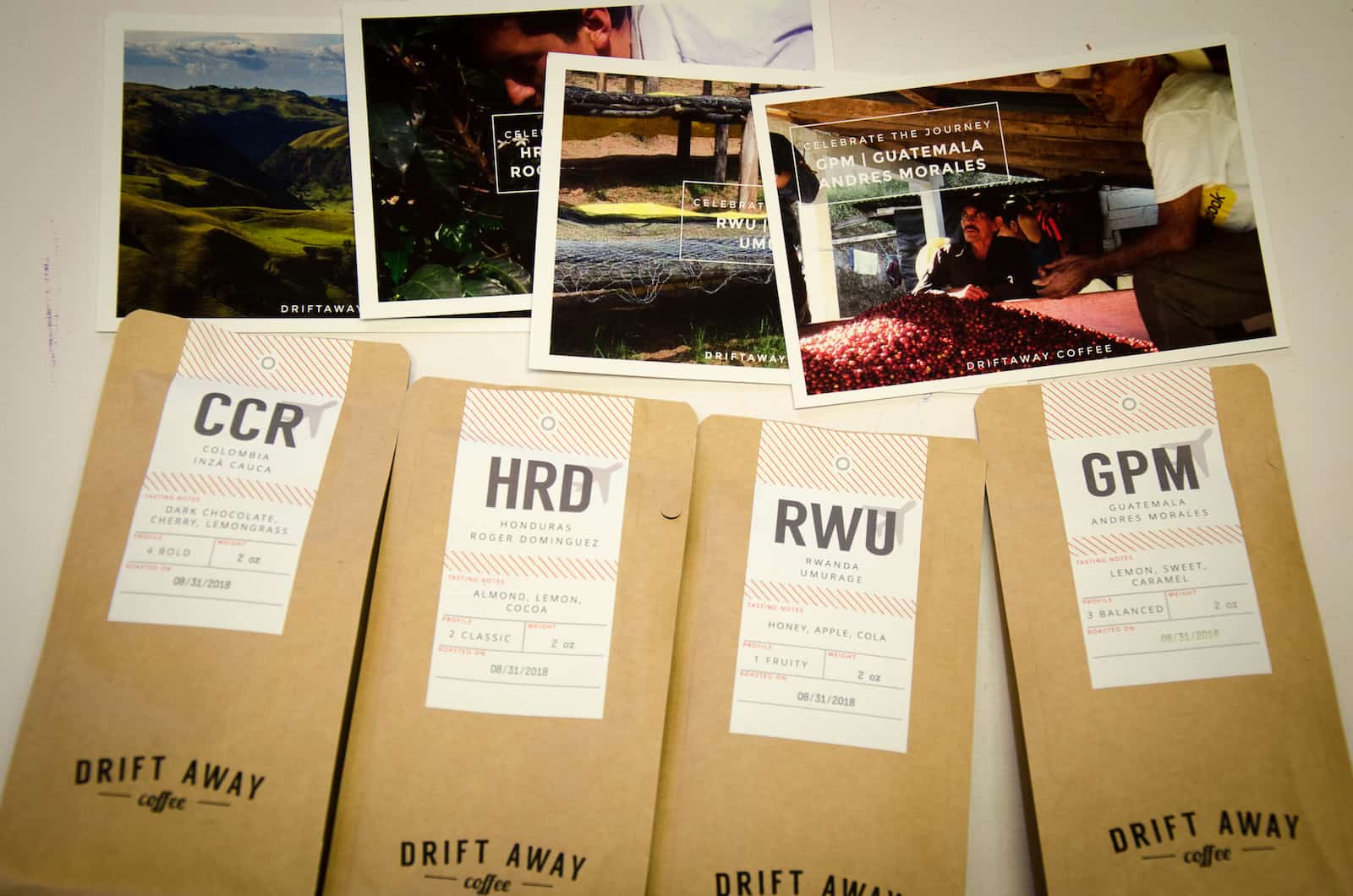 The pouches themselves are simple and clean. The brown bags have Driftaway branding, and each has a label that tells you where the beans are from. It also includes flavor notes, the roast profile and the roast date. All of my coffee made it to the door within a week of roasting, which is great.
The pouches are also resealable and can be opened with a handy tab on the back. It's a small detail, but one that will help keep your coffee fresh.
They are also recyclable, according to Driftaway's site, which is a real bonus for the environment.
Producer Postcards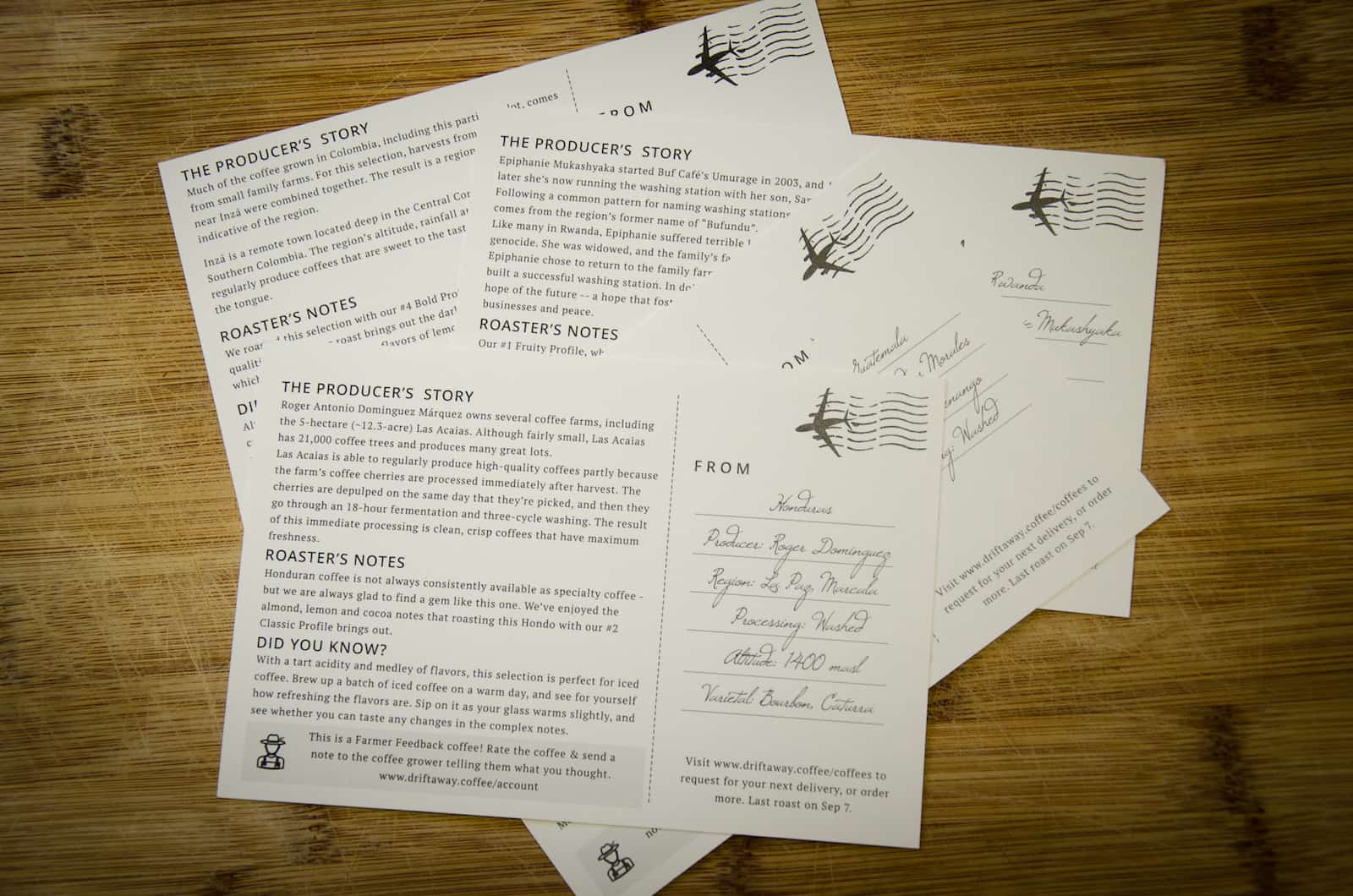 Also included is an postcard style information card for each roast. On one side, there's a photo from the particular farm or co-op who has grown your coffee. On the other, you'll find more information about the producer's story and the roast itself.
These cards are well-produced and can serve as a great reminder of your coffee journey. Make a coffee tasting scrapbook/photo album or hang them on the wall. They're just about frame worthy.
Tasting Driftaway Coffee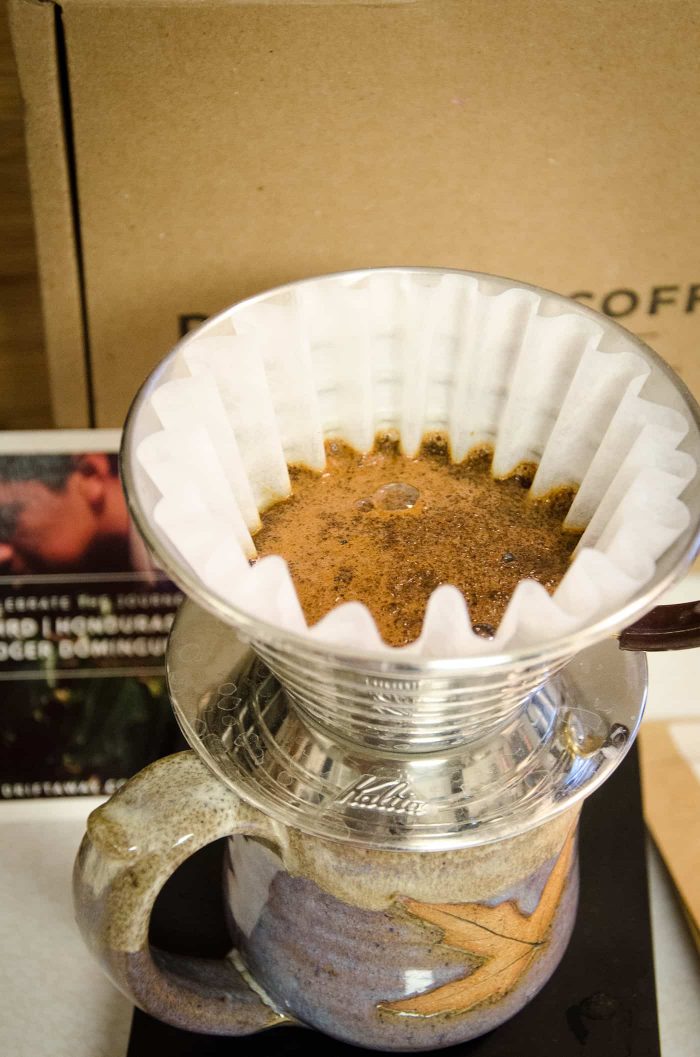 The nice thing about the tasting kit is that you get a little variety. You have 2 oz of each roast profile to sample, which should help you determine your flavor preferences.
The Beans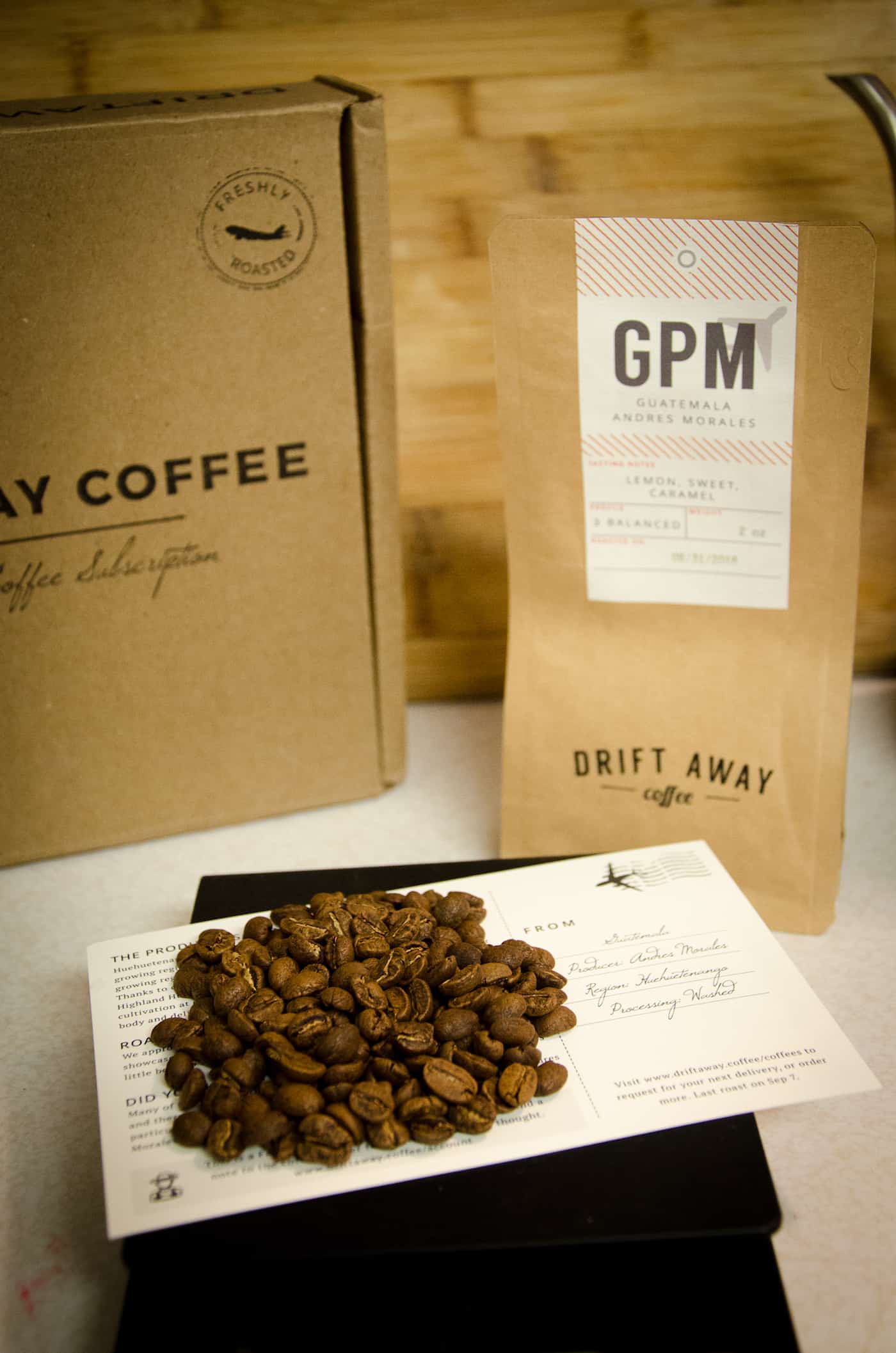 I was happy with the quality in every sample. The beans are all in great shape and relatively uniform. As expected, the roasting profiles each showed a slight difference in the level of roast, from light to dark.
If you are looking for blends or variations from independent roasters, Driftaway might not be the subscription box for you. Instead, they offer a limited variety of roast options, but this allows for a consistent experience regardless of the beans you get.
The Brew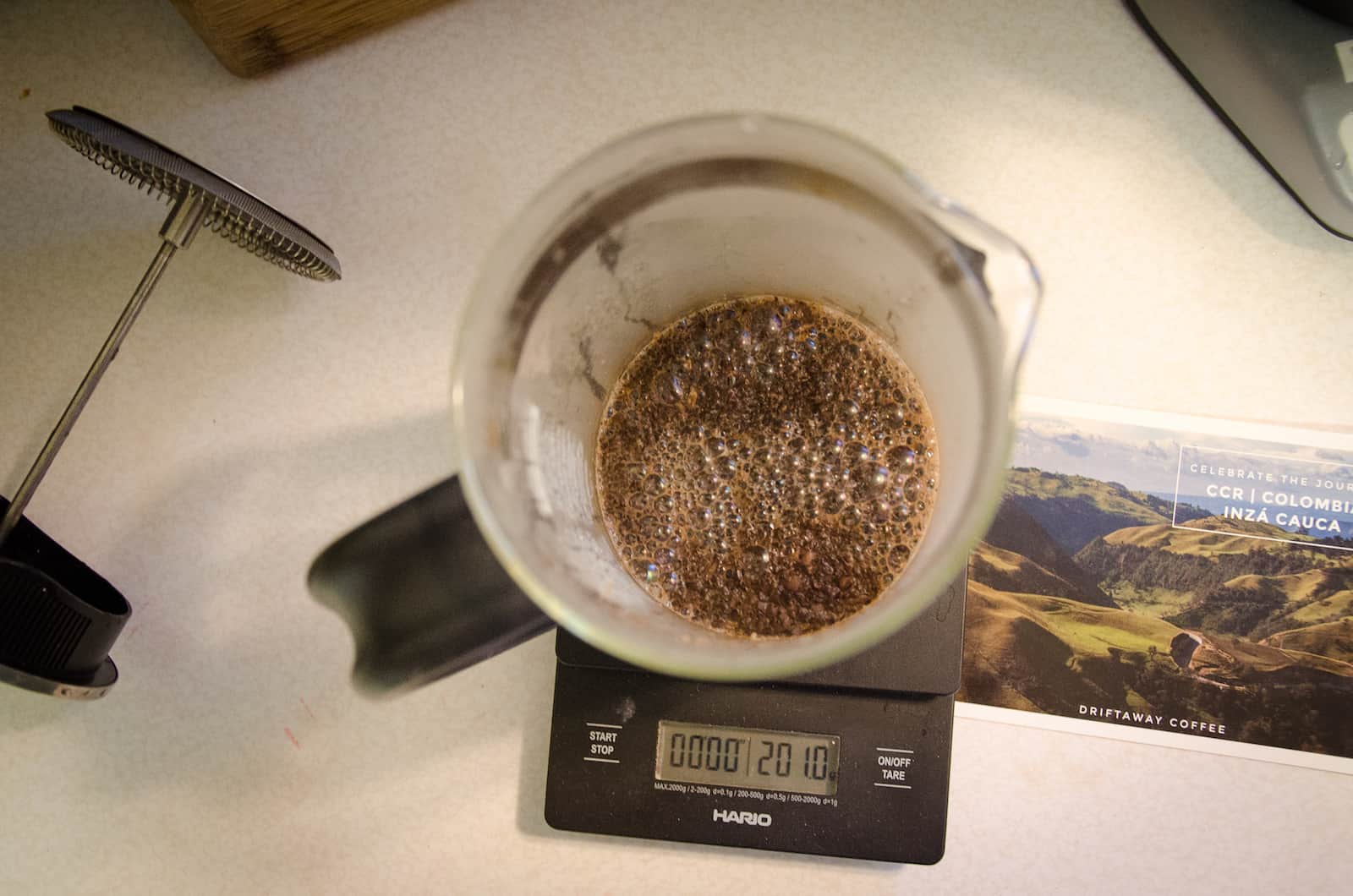 I used a couple different brewing methods with the sample. I did a manual grind with a Precision Hand Grinder and kept the water consistent using a Bonavita Gooseneck Electric Kettle.
With the Kalita Wave 185, I managed to make some great pour overs brews. I also used a Bodum French Press on some of the darker roasts, which provided a nice variety and bold brews.
The Taste
I was happy with all the sample coffees, which included beans from Rwanda, Honduras, Guatemala, and Colombia. They were each distinct, which is what I like to see from coffees that have a different roast profile and that come from different regions.
If I had to choose a favorite, I might say the Bold Colombian roast that I made in the French Press. While I enjoyed the fruity and balanced flavors of the lighter roasts, I appreciated that the dark roast wasn't burnt. It was actually sweeter than I expected and offered more nuance than many dark roasts provide. Many dark roasts are used to mask uneven quality, but I didn't get that impression with this coffee.
Rating the Coffee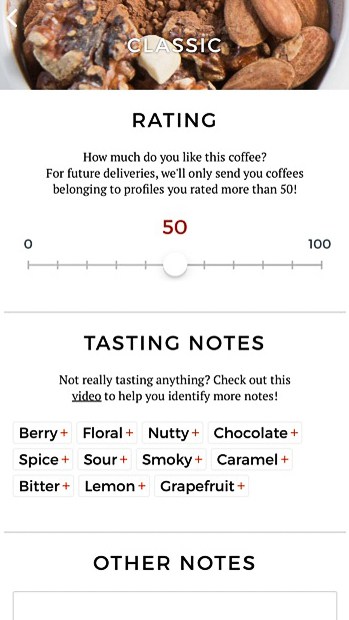 One of the major benefits for Driftaway is that you can customize your future orders by rating the coffee you receive.
After you've tasted some of the sample roasts, you can log on to the website or use the app to send feedback.
Feedback on the Website
In the Taste Profile section of your account, you can record flavor notes as well as your overall satisfaction level with the coffee. In addition to the tasting notes available, you add flavors and provide additional notes.
(There's also a nice video on tasting to help you identify flavor notes in your coffee.)
There is space to rate the body and acidity as well.
These ratings will then help determine the coffee selection that you receive in your next shipment. After the tasting kit, you'll receive a single bag of coffee (the size you chose when ordering), that matches your profile.
The notes also get combined into a report that Driftaway sends to the farmers. That provides an even deeper connection where you can let the producers know how much you love their product.
Feedback on the App
Much like with the website, you can quickly rate the coffees from the sample kit. You can simply choose a heart or no heart for a quick evaluation. Or, you can rate the coffees in more detail like with the website.
One cool thing about the app is that it then gives you a "Coffee Personality" based on your choices. It's a cute description of what kind of coffee drinker you might be. It also has great tips on how to get the most out of your experience and even includes ideas on what to order the next time you're at the coffee shop.
While much of the app looks like it's simply a mobile version of the website, it is quick and nice to have on the go. Plus, you have your account information and order history at your fingertips.
What Sets Driftaway Coffee Apart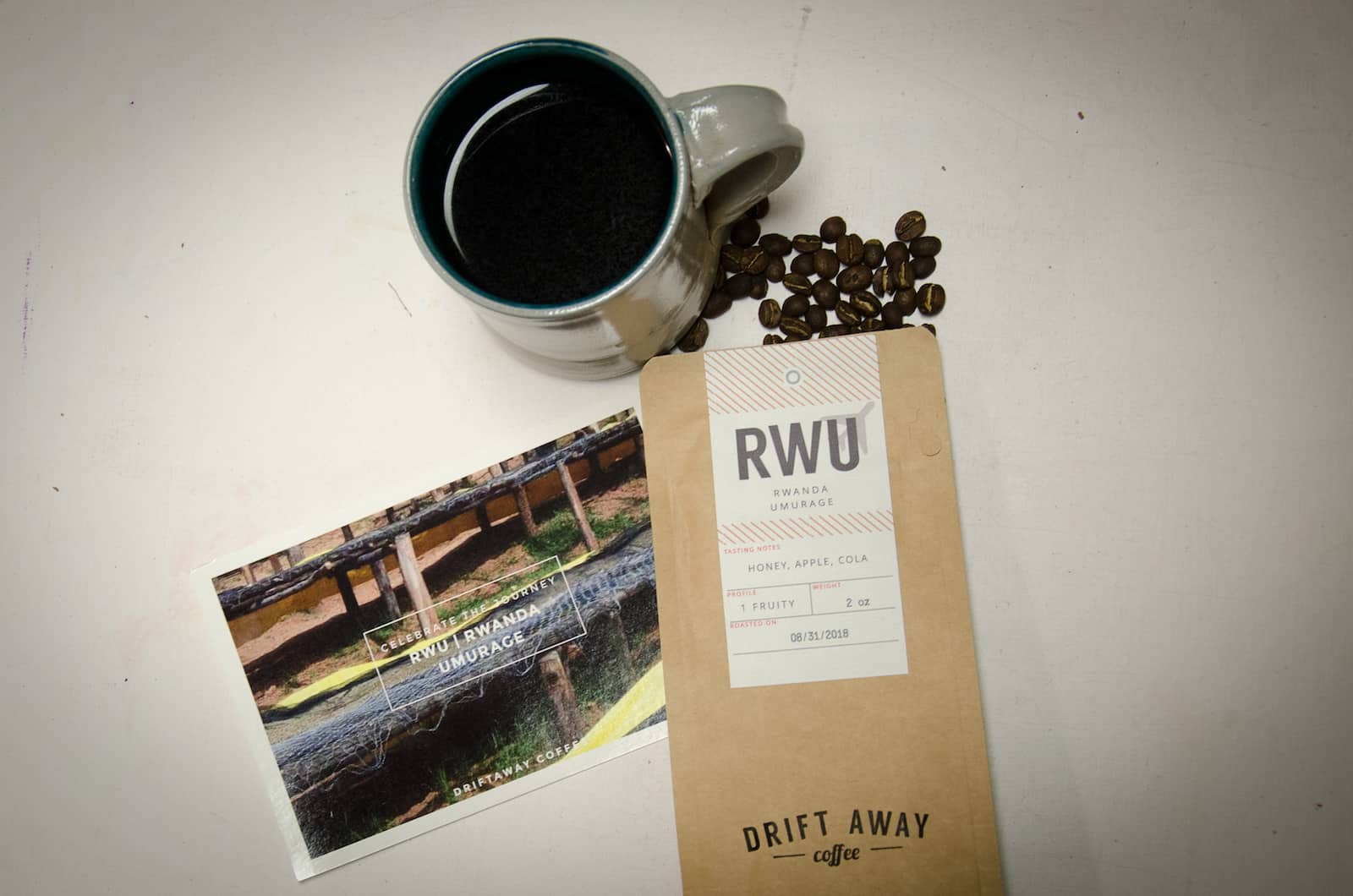 Driftaway Coffee offers a few features that help make it a unique and worthwhile experience.
Customized Coffee
While many coffee subscription boxes let you choose your roast preference, Driftaway personalizes your selection as you go. From your reviews, which start with the tasting kit, they try to ensure that you are receiving coffee you'll love with each shipment.
Connection to the Farmers
As I mentioned before, great coffee starts with the farmers. Driftaway emphasizes this by including information about the individual producers with each bag you receive.
They also send feedback to the farmers because they know that the producers are interested in hearing how happy their product makes people from around the world.
Focus on the Coffee
If you're into fancy packaging or flashy boxes, Driftaway might not be for you. Instead, they keep their design minimal to put the spotlight on the coffee itself.
This begins with the fact that Driftaway roasts all the beans themselves according to their four roast profiles. That reduces the variables in the process and ensures that you get an excellent result each time.
Education and Exploration
For folks just getting into the gourmet coffee scene, Driftaway provides a great resource in their Coffee Academy (available on the website and in the app). It will help you learn more about how to make great coffee.
Even more importantly, the experience from Driftaway is a great way to explore coffee from different regions on your own. It can help you find what you love and what you prefer to have in smaller quantities.
Bean for Bean
They also give back. For each pound roasted, Driftaway donates five cents to the World Coffee Research. These donations help ensure that quality coffee varieties can be grown around the world while supporting small coffee farmers.
Takeaway
While there are plenty of coffee subscription services available, not all of them offer the fast shipping, fresh coffee experience that Driftaway Coffee does. If you are looking for lots of variety from multiple roasters, they might not be the best choice.
For someone still determining what they want in a great cup of coffee, Driftaway provides personalization while keeping you connected to the origin story of your brew.
---
---