We independently select these products — if you buy from one of our links, we may earn a commission.
Handground Manual Coffee Grinder Review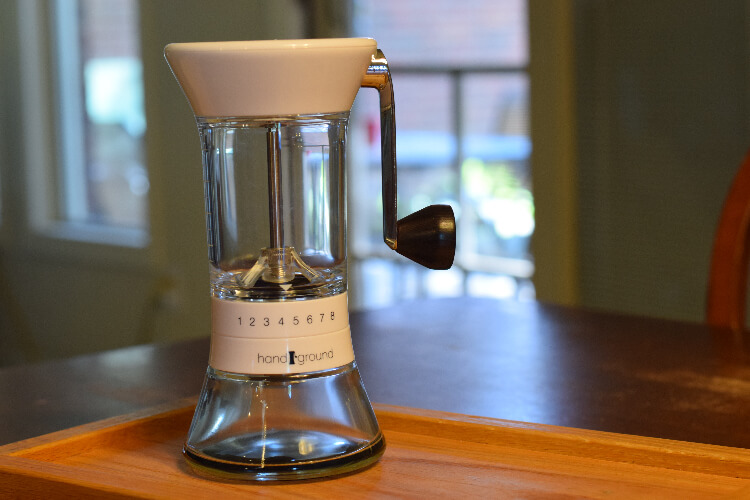 Coffee grind consistency is perhaps the paramount parameter in coffee brewing.
Other than coffee quality, coffee grind size is the most efficient way to make or break a cup of joe. Good hand grinders are hard to find, which is why we are excited about the Handground!
Handground hit the coffee world by storm. In the midst of coffee Kickstarter revelry, this grinder stuck out.
Why?
Because it claims to abide by SCAA particle size distribution standards. Handground supposedly counters the status quo of hand grinders being the dregs of the coffee realm.
Today we find out.
The Hand Grinder Dilemma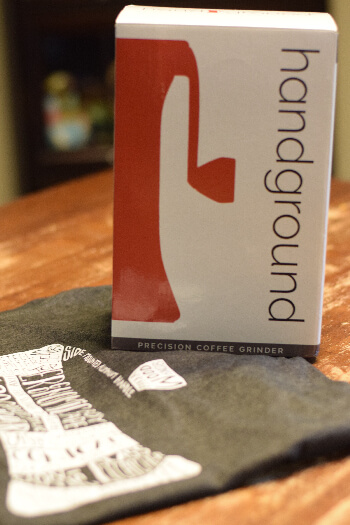 Unlike the thousand dollar electric grinders found in specialty cafes, hand grinders have problems maintaining an acceptable particle size distribution.
Particle size distribution is how different the coffee grind particles are from one another. Significantly larger grinds – called boulders – promote under extraction. Adversely, very dust-like smaller grinds – called fines – can make coffee bitter and over extracted.
Good displacement of coffee particles depends on the grinder's burrs, axle and burr wobble, micron sizes, and stability.
Chaotic particle size distribution is the vice of the hand grinder. Other hand grinder issues include design, performance, and ease of use.
The Handground is unique. It was specifically designed to counter the issues that make hand grinders unappealing!
Handground Particle Size Distribution
Good particle size distribution is one of the centric elements of the Handground.
We tested the Handground to its limits, and it surprised us. It's a grinder worth its salt.
The Handground has 15 total grind sizes. Each size is 125 microns coarser than the one before. Unfortunately, we don't have a microscope to measure whether or not the size difference is accurate. We can, however, roughly gauge the particle size distribution just by sight.
Up until around size 4, there are few boulders and fines in the grind mix. After 4, the grind size gets a bit inconsistent.
It's not necessary to go over the 4th setting for most brewing methods, so this shouldn't be that big of an issue for most users.
The Handground still provides an easy grinding experience for all sorts of brew methods.
You can use these settings as a guideline:
French Press: 4
Pour Over: 2.5
Aeropress: 1.5
Espresso: 1
Decent coarse grind settings are a common issue with hand grinders. Just because the Handground doesn't have incredible coarse settings, doesn't mean it's a bad grinder.
Overall, the grinder has an even displacement of coffee grind particles – much better than most hand grinders!
Design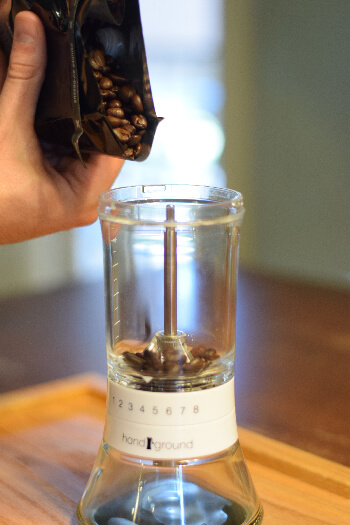 The Handground is an ergonomic haven.
Almost every negative characteristic found in hand grinders was remedied in the Handground's design.
The 100g bean capacity eliminates reloading your grinder for large batch use.
The bottom catcher and locking top easily are easily removed with a quarter twist. No more twisting and turning to load or unload coffee.
The super sticky grip at the bottom of the grinder allows for easy, no slip grinding.
The solid aluminum hand crank is ON THE SIDE! It now feels natural to crush and destroy coffee beans.
Handground is a breeze to clean. A thumb nut at the bottom of the mechanism can easily be removed. Once the nut is taken off, the burrs and grinder can come apart for cleaning.
Some of these features described may seem trivial.
But believe us; if you've used hand grinders before, these added features make a world of difference.
While many hand grinders feel like cheap and brittle plastic, this device feels like a durable war machine, destroying all in its path. The grinder is so well put together that all fears of breaking it are put to rest.
Everything from the easy 15 size grind adjustment selector, to the pakka wood knob on the grinder is intentional. This grinder was built FOR and BY the home brewer.
Say goodbye to turning an arbitrary grind selector to determine grind size. Relinquish your fears of dropping and shattering your means of grinding coffee.
The Handground is your new reliable and loyal partner in crime.
Performance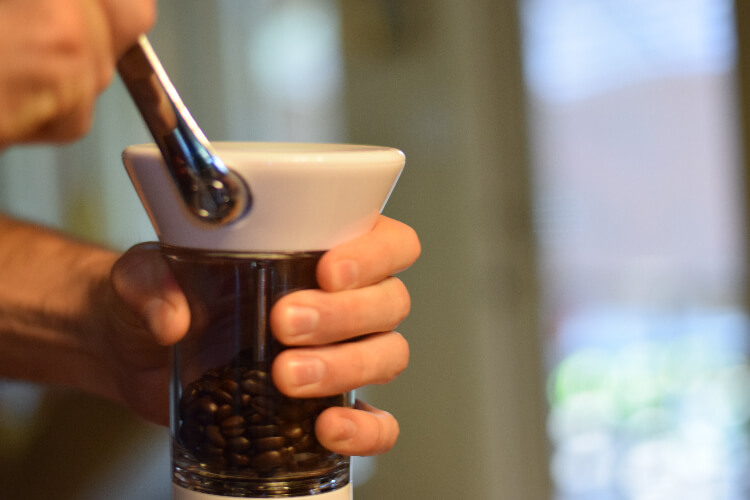 The innards of this grinding mechanism are quite impressive.
It incorporates a triple axle design in an attempt to eliminate axle and burr wobble.
On their website, Handground states that "each axle is milled on a 5 axis CNC that maintains tolerances of 0.004 inches. The combination of added stability and razor thin tolerances allows Handground to achieve a consistent grind, every time."
For the most part, they are right!
As you can clearly see up to grind size 4, the axle design is indeed effective. After size 4, particle size distribution goes downhill.
But remember that for most brewing methods, anything above setting 4 isn't necessary.
Nevertheless, the Handground takes out all the stops to ensure a ridiculously even grind for a hand grinder.
Handground uses 40mm conical burrs made from alumina ceramic. These burrs will stay sharp for a LONG time. They have high wear and tear tolerance, they're heat resistant, and they are durable. You could grind for days with these burrs.
Grind Adjustment and Grinding Speed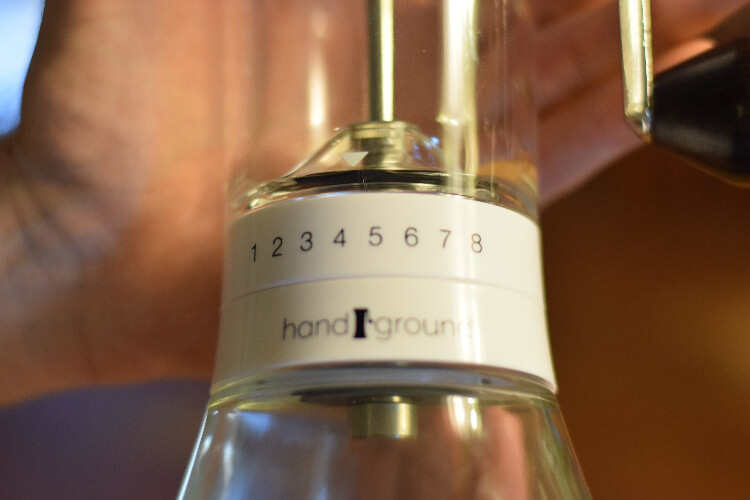 As stated before, the burrs change on demand in increments of 125 microns. To operate the grind setting, the user can simply rotate the grind selector.
Most hand grinders need to be taken apart to change grind size. The Handground's settings can be changed on the fly.
​Regarding grinding speed, this is the fastest manual grinder that we ever tested.
According to our tests, to grind 20 grams of coffee it takes:
Coarse: 30 seconds
Fine: 50 seconds
If you're grinding for a large batch, this could be a significant advantage.
Conclusions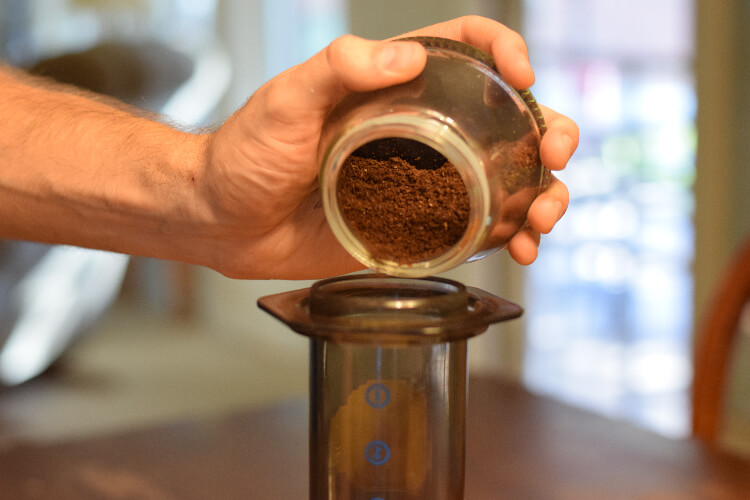 For the price range, this grinder outperforms almost any other on the market.
The Handground feels good, grinds well, and it looks good in your coffee gear arsenal.
It's a priceless grinder choice for the avid home barista!
Pros
Better particle size distribution than most hand grinders.
Extremely ergonomic. It's comfortable to hold and operate.
Grind size selector can be accessed without taking apart mechanism.
Parts are durable and made with integrity.
Fast Grinding Speed
Cons
Coarse grind is a bit inconsistent.
Expensive for the new barista.
---