Little Coffee Place is reader-supported. When you buy through links on our site, we may earn an affiliate commission.
Top 5 Manual Espresso Machines – Review and Buyer's Guide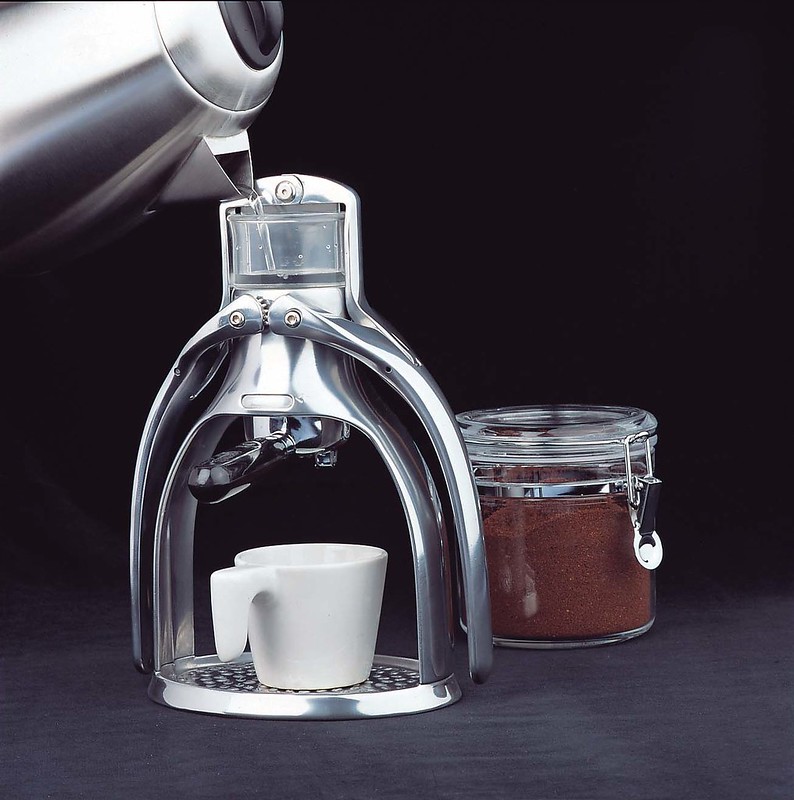 Espresso machines come in many forms. The original shape, with a long lever jutting out of the machine, to physically pull a shot of espresso, has been largely superseded by a more compact machine with buttons and an LCD screen.
Most espresso machines are fully automatic these days, but some maintain the old design. Those are manual espresso machines.
Yes, there are people making espresso manually, by using their arm strength. Pushing the hot water through the portafilter with ground coffee and making awesome espressos this way.
Electric vs Manual
Automatic espresso machines automate the whole process, from grinding coffee to tamping it.
Semi-automatic makers leave the grinding and tamping part to the home baristas. They also have to calculate the coffee to water ratio and accurately and fill the portafilter for the best coffee extraction.
Manual espresso machines give even more power to the user at the price of less convenience. They come in two main types: electric and fully manual. Electric espresso machines have a water reservoir where the water is heated before brewing. This can produce steam and, if equipped with a steam wand, froth milk.
The barista only has the process of grinding, tamping and pulling the espresso shot. Water and pressure is made by the machine, which eases up the manual work.
Fully manual espresso machines instead use no electricity whatsoever. They tend to be very light, portable and cheap machines. They're very durable, having no piece that is heated or any engine that can break.
The human control on the espresso brewing is in total: you need to grind and tamp the coffee, heat the water and pull the shot with the lever. 
Every step is manual, which means that not only you need a separate grinder but also a water boiler. Thus you aren't actually brewing coffee without using electricity at all, just the manual espresso machine doesn't need an electric plug or a battery.
Choosing a Manual Espresso Maker
It's not easy to choose the right espresso machine on the market for your needs. It's even more difficult when talking of manual ones. If you need to have a portable one, and one that can work almost anywhere, provided you have other ways to grind the coffee and heat the water, a fully manual espresso machine is for you. 
Otherwise, you can prefer to give up some control by gaining in convenience and ease of use. An electrical manual espresso machine can be the best choice for your needs then.
Both types have a direct advantage over automatic espresso machines: durability. Many manual espresso machines last decades. Some vintage ones are available to buy, still working after many years of daily use. That's because there are fewer components that can, for whatever reason, stop working.
If you're looking for an investment in the quality of your coffee that won't need to be replaced in a few years, consider a manual espresso machine (electric or not). Opt for metal, mostly stainless steel, machines for best durability.
Check the size of the water tank. Some won't have any. Others will have small ones, which can be great for a few espressos per day but will need refilling if you drink larger drinks often, like a cappuccino.
Make sure that the manual espresso machine of your choice has a way to check the pressure, measured in bars, so you know how much you're applying.
How to Use
If you opt to buy a manual espresso machine then, learning to use it properly will be your main task. Its mechanics aren't much different from an automatic machine.
Grind your coffee as fine as to make an espresso (thus, quite). Heat the water to between 195-205 °F (that's what most coffee experts consider the ideal temperature range).
Electric manual espresso machines will have to tamp the coffee in the portafilter as you would with any espresso machine. And pull the lever with adequate force to make it go through the coffee at the right rate for optimal extraction.
That's about it, basically. 
Mastering this process will take months or years though, and it's what differentiates coffee amateurs from true baristas. A manual espresso machine will allow full control on the extraction of coffee, and lets you experiment with different grind sizes, ratios, water temperatures and pressures.
There aren't that many brands making manual espresso machines on the market. The largest share of the espresso machine users opt for automatic or semi-automatic ones. Yet it is important to pick a reputable brand, with a design that is known and appreciated by experts. We have selected a few models that fit both parameters.
Flair Signature Espresso Maker (Pressure Kit, Black)
One of the most original-looking espresso machines on the market, the Flair Signature Espresso Maker, looks like a fruit squeezer and its working principle isn't that dissimilar. Designed and launched by a Brazilian engineer in 2016, it became known to the coffee world through a successfully funded campaign on Kickstarter.
The Flair Signature Espresso Maker works by pulling the lever as you would with any other manual espresso machine. This pushes the hot water through the portafilter and in the cup underneath it. Fully manual, it doesn't require much strength or thinking than any other espresso machine. It is very portable, light and can be cleaned in a just a few minutes.
---
La Pavoni PC-16 Professional Espresso Machine, Chrome
For those wanting more, the La Pavoni PC-16 Professional is the bigger brother of the Europiccola. Larger, sturdier, with a bigger boiler that can produce up to 16 shots on a single tank. It is still a quite small espresso machine, as usually the manual ones are. The PC-16 adds a pressure gauge so you can check how much actual pressure you're applying while pulling your shots, something that the EPC-8 doesn't offer. It's definitely an upgrade, in size and features, over the basic model from La Pavoni.
---
Elektra - Microcasa a leva Espresso
The Elektra Micro Casa Lever may look strange at first sight. It's based on the very first espresso machines made by the company in the 1940s, with the typical eagle on top and a look that lends to nostalgia. Only the exterior looks old. The interior has the same technology and quality of materials that you would expect from a family-owned company of Italian coffee experts.
It comes in chrome and gold, for those looking to make an impression on guests with a great manual espresso machine that looks like no other.
---
Handpresso HPWILDHYBRID Coffee Machine
Launched in 2008 in France, the Handpresso doesn't look like an espresso machine at all. More like a bicycle pump. The Handpresso HPWILDHYBRID has convenience and portability as its main advantages. It's light, small and extremely easy to pack in a bag and bring with you anywhere. It is not only a manual espresso machine for ground coffee but works also with E.S.E. coffee pods. These are a worldwide standard and many companies sell their coffee in.
The Handpresso can reach up to 16 bars of pressure and comes with a manometer to inform you of the pressure's level. The water tank is small but enough for a few shots while traveling or when you don't have the time to use a more complicated machine.
---