Ninja Coffee Bar System Review

On weekdays, you need hot coffee in a travel mug to wake you up as you rush off to work. Saturday evenings you like to treat yourself with a sweet macchiato that's more dessert than breakfast. And over a slow Sunday morning, you enjoy an entire carafe as your kids watch cartoons and you catch up on the news.
If you need this kind of flexibility in your coffee making and you don't want a kitchen full of machines, you should check out the Ninja Coffee Bar System.
What to Consider Before Buying
It's hard to beat the simplicity of a well-designed pour over system or a finely crafted espresso. But these brewing methods are meant to do just one thing. What if you need more options in your kitchen?
If you believe that variety is, in fact, the spice of life, you don't want to tie yourself to a single brew method. But you also don't want coffee gadgets occupying every drawer and cabinet in your kitchen.
With the Ninja Coffee Bar, you don't have to choose between convenience and options. You can brew your favorite beans one cup at a time. Or you can brew a half carafe or a full. And you get to choose what style you want in the process, even if you long for foamed milk layered with rich, dark coffee.
Hot brews, iced coffee, black, au lait. All are possible with the Ninja Coffee Bar, and you don't have to be an aspiring barista to have a decent cup of coffee.
Ninja Coffee Bar Basics
While Ninja stepped into the coffee arena a few years ago, their newest generation brewer is their most ambitious so far. Taking a Swiss Army Knife approach to coffee, the Ninja Coffee Bar System attempts to address most brewing needs in a single unit.
There are settings for six different sizes (from single cup to full carafe), so you're bound to find one that finds your needs. And with five different "richness" settings, you have a variety of options, whether you want a classic brew, iced coffee, or a specialty drink.
The glass model comes with a 10-cup glass carafe, scoop, permanent filter, and removable water reservoir.  The machine also comes with a built-in frother for creating lattes and other espresso-style drinks.
It's a great system for the coffee drinker who loves variety or a household that has lots of different tastes and limited space (or budget) for coffee gear.
Pros
Brews a variety of coffee styles
Brews different sizes, from single cup to full pot
Allows you to use coffee from your favorite roaster
Environmentally friendly with pod-free system and permanent filter
Inexpensive compared to multiple systems
Cons
Doesn't brew quite as hot for some single-serve options
Doesn't deliver a true espresso
Requires counter clearance because of its height
---
What Makes The Ninja Stand Out
Ninja claims that the Coffee Bar can provide an experience that is "better than a coffeehouse." And while Sofia Vergara (the official celebrity spokeswoman) agrees, most baristas would likely take issue with the claim.
What is does, however, is provide a convenient and versatile option for brewing excellent coffee at home without the expense of high-end equipment.
So why should you try the Ninja Coffee Bar? Ultimately, because of its rich set of features.
Auto-iQ One-Touch Intelligence
The beauty of the Ninja system is that you don't have to deal with a bunch of complicated settings. Instead, you choose your size with the selection knob. Then push the appropriate style button.
The Auto-iQ system brews with an appropriate amount of water and actually varies its process depending on what style you choose. That means that you can have true diversity from cup to cup.
Here's a rundown of the different styles the Ninja offers.
Classic Brew: This is the typical coffee you would expect from a drip machine. It's smooth and balanced but not overpowering.

Rich Brew: With more intense flavors than the classic brew, this rich option can hold its own when paired with milk, cream, or flavor add-ins.

Over-Ice: If you like iced coffee but have been disappointed with the weak, somewhat bland results of pouring hot coffee over ice, this option could be your favorite. The Over-Ice style brews a stronger concentrate that is designed to drip over ice, instantly cooling it and leaving you with a refreshing, bold coffee.

Cafe Forte: For roasts that feature rich flavor combinations, like chocolate and citrus, the Cafe Forte option extracts maximum flavor without giving you a bitter or sour drink.

Specialty: This option delivers an espresso-like concentrate that is particularly well-suited for blended drinks. These will not be exactly like your coffeehouse favorite, but they do come close. And you can make them hot or cold.
Pod-less Brewing
For many coffee drinkers, the convenience of pod systems like Keurig and Nespresso is countered by the expense and waste involved. With the Ninja, you can brew a single cup of your favorite coffee without feeling guilty or going through the entire pour over process.
It's not quite as convenient as dropping in a pod. But it's close. Especially since you can use #4 cone paper filters to make cleanup simple.
If you prefer a more sustainable option, the permanent filter works well too. (Although, it can let some grounds slip through.)
And since you are using your own coffee, you can grind it just before brewing, which provides maximum freshness and flavor.
Built-in Frother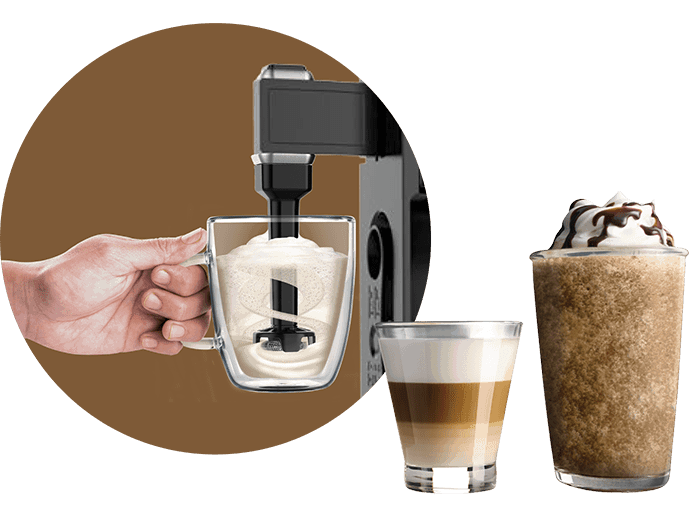 If you've ever attempted a homemade latte without a frother, you know what a disappointment that hot milk concoction can be, especially if you love foam art. Ninja has addressed this problem with a handy built-in frother.
With an easy-to-use wand, you can add air to hot or cold milk, giving you a light and pleasant foam. Note that it does not use steam, so it won't heat the milk as it froths. Instead, you'll need to zap it in the microwave first or heat it another way.
This means that the froth is not exactly the same quality as steamed milk, but most people won't notice the difference. It also means that you can froth cold milk, which provides an airy quality to iced drinks.
Multiple Brew Sizes

Six to be exact. And that's a lot of options, from a standard mug up to a 50 oz. carafe. So you can brew a full pot in the morning and a single serving of decaf in the evening without switching up equipment.
For single-serve options, the multi-serve platform pulls down so you can brew a single mug without splashing. And if you want to drip directly into your travel mug (including an option for extra large travel mugs), you can raise the platform and place your favorite mug under the basket.
The best part is that you don't have to measure water for any of the different sizes. Instead, the system uses the proper amount of water from the removable water reservoir. Note that you'll want a full reservoir if you're brewing an entire pot.
Programmable Delay Option

If you need a cup of coffee before you can think straight enough to brew a cup, then you'll appreciate the delay brew. You can get everything set the night before and wake up to a hot, aromatic mug in the morning. (Of course, grinding your coffee the night before means you won't have the absolute freshest cup.)
Warming Plate
If you opt for the Glass Carafe model, you'll appreciate the warming plate that automatically adjusts depending on what size you brew. So you won't scorch a half pot, and the two-hour auto shutoff prevents the burnt sludge that is the bane of so many office kitchens.
Drip Stop
So many drip coffee makers claim that they have a drip-free system to let you pour a cup before the brew is finished. And so many of them end up making a mess in your kitchen.
The Ninja drip stop lets you manually interrupt the flow of coffee into the carafe, allowing for a clean pour mid-brew. It also has a handy indicator light to let you know that the drip has been stopped. That way, you don't get coffee flowing the wrong way or spilling over the basket.
Clean Cycle Indicator
Particularly handy for those with hard water, the clean cycle indicator lets you know when the machine needs a descaling. This will prevent clogging and slower brew times. It will keep your brews pure, and it should prolong the life of your machine.
Smart Scoop
"Smart" might be overselling it a bit, but the included scoop does have convenient measurements for the different brewing sizes. Granted, if you want real consistency, you should be weighing your coffee. The scoop will give you a great place to start though.
---
Different Model Options
Since variety is at the heart of the Ninja Coffee Bar experience, you shouldn't be surprised to know that they offer multiple models with different features.
For those who don't need the built-in frother, there are two older models: the Ninja Coffee Brewer and the Ninja Coffee Bar. The first brews into a carafe, and the second is a single-serve system. They also don't have as many brewing options as the newest generation machines.
The Ninja Coffee Bar Single Serve System works if you know you'll never need to brew a full or half carafe. This model has all the features of the full system except for the carafe sizes. So you can brew Cafe Forte and the Specialty drinks, and you'll have the frother at the ready when you need it.
The final distinction comes with the Ninja Coffee Bar System, which can brew all styles and sizes. Two models are available: the Glass Carafe and Thermal Carafe. The latter features an insulated carafe that will keep your coffee warm for two hours without reheating it. The glass model includes the warmer plate instead.
And, depending on where you buy your system, there are multiple accessories that could be included with your kit. These range from travel tumblers to over-ice carafes. So be sure to pay attention to what you'll be getting when comparing prices.
How the Ninja Coffee Bar Stacks Up
Depending on what you consider to be its competition, the Ninja has a lot going for it. Since the single-serve option is one of the system's main benefits, perhaps to best comparison is to the machines from Keurig and Nespresso.
Ninja vs Keurig
Keurig has been a king of the pods for a while, and many users enjoy its convenience and speed. The Ninja meets the single-serve need while removing the reliance on pods.
With a reusable filter, you can brew your favorite coffee in a Keurig, but that option can get a bit messy, and the convenience factor certainly takes a hit. The newer models allow for a four-cup carafe, but the pods are better suited for the occasional cup rather than a whole pot.
The Ninja's biggest claim to victory is the large variety of brew options. With a single system, you can brew different sizes and styles, including choices that resemble espresso drinks and iced-coffee options.
For sheer simplicity, the Keurig wins out. But for variety, sustainability, and cost, the Ninja gets many more marks.
Ninja vs Nespresso
Another main competitor in the coffee pod field, the Nespresso systems face the same challenges as the Keurigs. However, they offer one key advantage: they brew a true espresso.
In fact, some Nespresso models come with an automatic or manual frother, so they are able to produce many coffeehouse style drinks to compete with the Ninja. If you need rich crema and an espresso-like concentrate just won't cut it, the Nespresso is a convenient alternative.
Again, for variety and ongoing cost, the Ninja stands out because you can get more for less. Just don't try to convince your diehard barista friends that you're making espresso for under $200.
Takeaway
Typically, when a product tries to be too many things at once, it ends up being mediocre at all of them. Fortunately, the Ninja manages to deliver a decent cup of joe that is convenient and diverse.
It won't measure up to a well-trained barista with professional equipment. But it won't cost as much either.
---