10 Best Drip Coffee Makers of 2020
These drip coffee makers combine aesthetics, versatility, programming features, and auto-start timers that let you set the machine the night before and wake up with a hot cup of coffee waiting for you.
The 10 Best Drip Coffee Makers
Drip Coffee Makers
Capacity
SCAA Certified
Price

OXO On Barista Brain

9 Cups
Yes

Bonavita BV1900TS

8 Cups
Yes

Moccamaster KBT 10

10 Cups
Yes

Ninja Hot and Cold Brewed System

8 Cups
No

Cuisinart DCC- 3200

14 Cups
No

BUNN Velocity Brew

10 Cups
No

Zojirushi EC-YGC120

12 Cups
No

Mr. Coffee Thermal

Coffee Maker

10 Cups
No

Hamilton Beach 49980A

12 Cups
No

Mr. Coffee DRX5

4 Cups
No
---
OXO On Barista Brain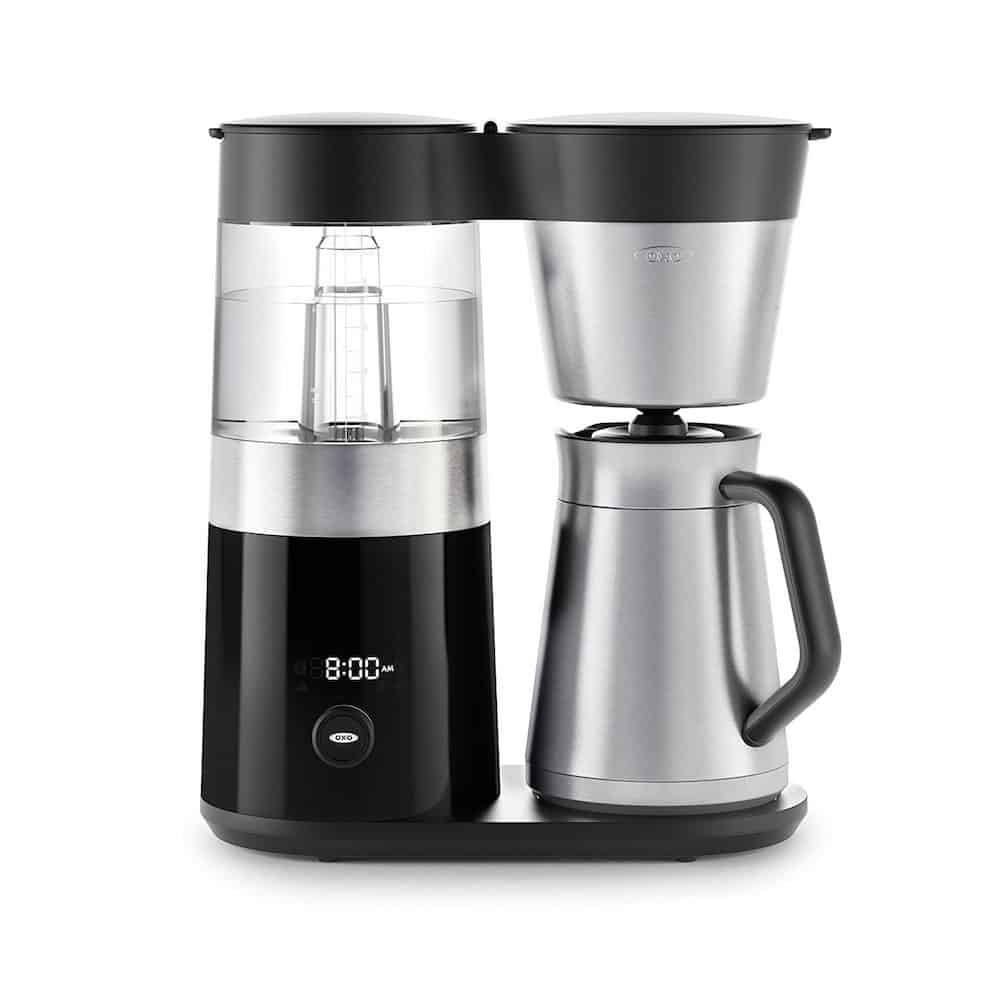 Combining craftsmanship with aesthetics, the OXO Coffee Maker has perfected the art of extracting flavors and aromas from your favorite coffee grounds, with precise temperature control that will heat up the water to optimum temperatures to help roast your coffee to its full, flavorful potential.
One of the many issues with other coffee makers is that the brewing process is inconsistent, with temperature fluctuations that can potentially affect the acidity, aroma, and final flavor of your beverage. The OXO On Barista Brain Coffee Maker is fixed with an intelligent microprocessor that monitors ambient temperatures throughout the brewing process.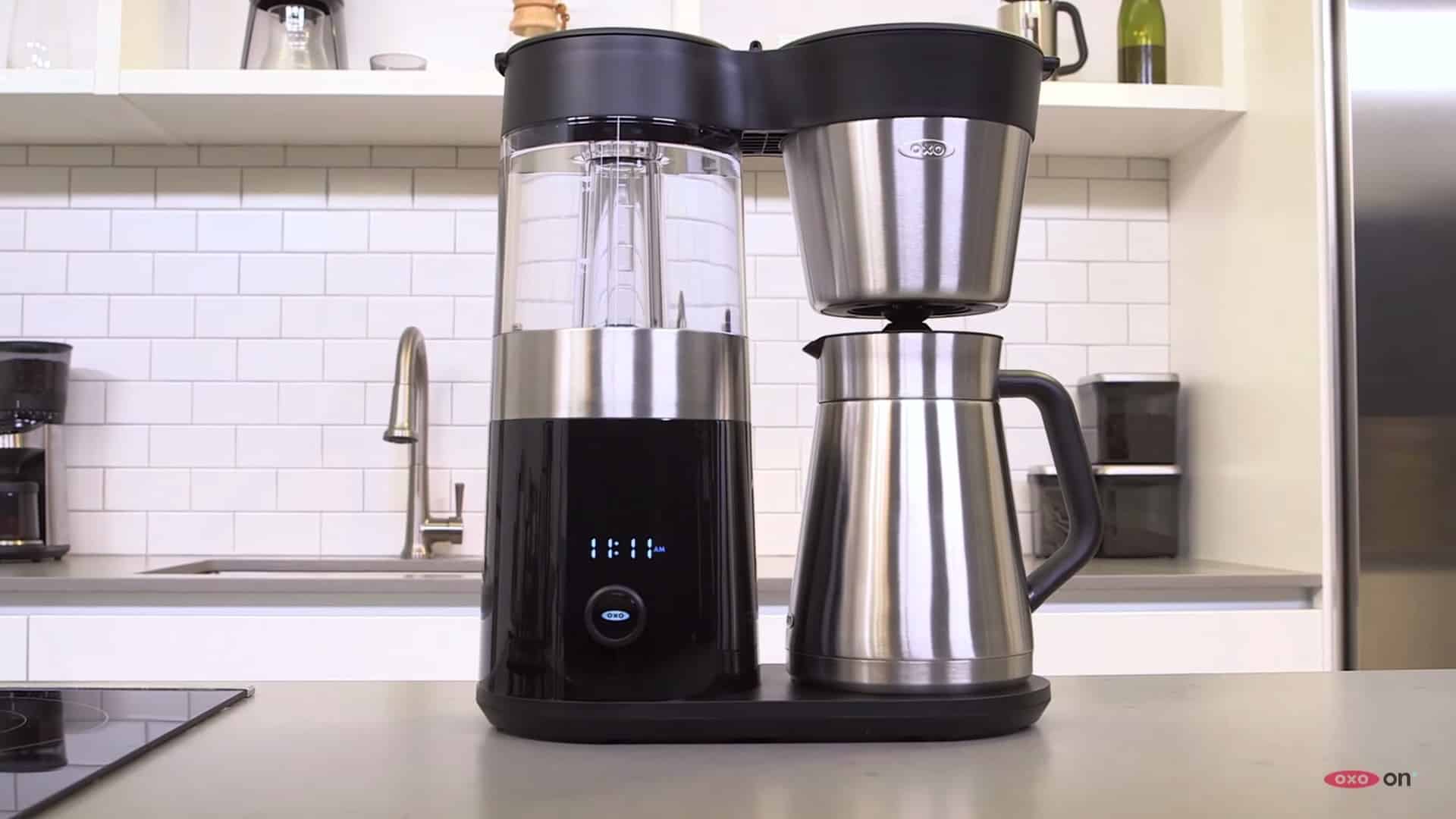 Heralded by the Specialty Coffee Association of America, the OXO Coffee Maker is revered by world leaders in the craft of coffee making. SCAA only certifies brewers that exceed their stringent standards, with the OXO Coffee Maker recognized for its ability to meet brew time, temperature, and technical standards.
The machine is intelligently designed, with a shower head that uses a series of hole patterns that disperses water evenly over the coffee grounds, ensuring uniform saturation for flavor extraction. Throughout the process, temperature control allows the chassis to heat up at the optimum temperature range between 197.6 and 204.8 degrees Fahrenheit.
It is also made with all the premium features that you expect from the Oxo brand, like a programmable timer, freshness countdown, and an easy to clean brew basket.​
Pros
Coffee pot with timer allows you to brew several cups of coffee at a time.
Sturdy construction when compared to similar coffee makers.
Stainless steel chassis makes the device a natural fit for any kitchen.
Optimal temperature stays true, with the water being noticeably hotter than previous models. This allows for better extraction of the naturally occurring oils and flavoring in the coffee grounds.
OXO paid attention to details, with a small amount of water dispersing from the shower head first soaking the ground coffee. After a short pause, it continues with the brewing process, taking less than seven minutes to make a full pot of coffee.
Cons
The spout of the carafe is easy to pour but can be annoyingly slow especially if you're serving separate people.
The last ounces of water can cause the machine to make a slightly audible sound.
---
Bonavita BV1900TS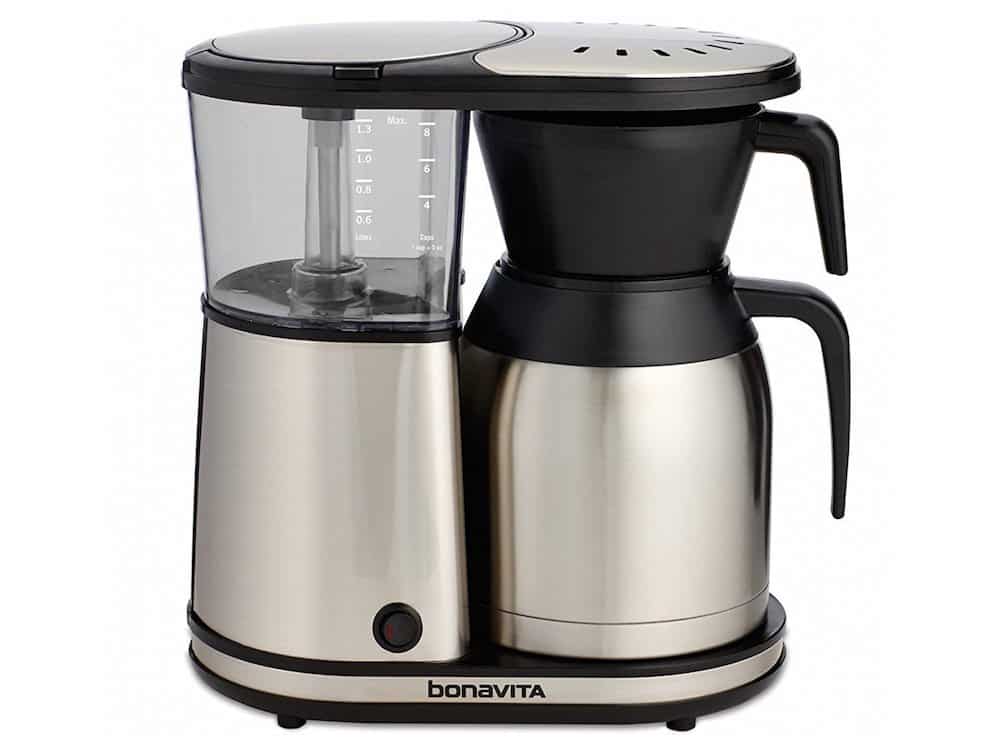 The Bonavita BV1900TS 8-Cup Carafe Coffee Brewer recognizes the value of simplicity, with the machine honing in on the essential elements for a consistent brew. Simple operations, large buttons, and a straightforward, programmable setting removes the complicated process of brewing your favorite coffee blends.
The 1500-watt heater powers the Bonavita Coffee Brewer, maintaining optimal water temperatures to ensure a well-balanced flavor profile. The efficient 1500-watt heater provides faster brewing and a delicious cup of coffee every single time.
Its straightforward ethos is conceptualized in the simple design and operations of the machine. You can conveniently pour up to 44 ounces or 1.3 liters of water into the water tank, then add spoonfuls of your favorite coffee grounds to the basket, and finally flip the switch and sit back as you see the water slowly travel from the tank over to the shower head
There isn't a grandiose preview of the brewing process – it's largely done under the hood. You know that the brewing process is underway with a red light on the power switch and the familiar sound of water dripping into the carafe.
The Bonavita Coffee Brewer performs stellar when it comes to coffee drip brewing, easily outpacing more expensive drip coffee makers. It'll take about six minutes to create 44 ounces of coffee. Brisk brewing has caught the attention of the Specialty Coffee Association of America, since it's threshold for recognition is a brewing time of fewer than eight minutes.
The brew basket heats up to a hot 200 degree Fahrenheit in about two minutes.​
Pros
Consistent temperature control from the shower head.
The container or carafe will keep your coffee hot for up to 4 hours.
There are hardly any moving parts to the machine. Easy assembly, cleaning, and maintenance.
The filter basket is flat, and the large shower head ensures that all the coffee grounds are saturated with the hot water for even extraction. Durable, stainless steel guarantees that your prepared coffee stays hot.
Cons
There have been reports of prepared coffee having a somewhat plastic taste to it. This tends to be a sign of rancid coffee beans or a symptom of a new machine. After making several cups of coffee, you'll find that any taste of plastic will dissipate.
After the coffee sits in the carafe for more than four hours, the temperature will decrease about 10 degrees per hour.
---
Moccamaster KBT Coffee Brewer with Thermal Carafe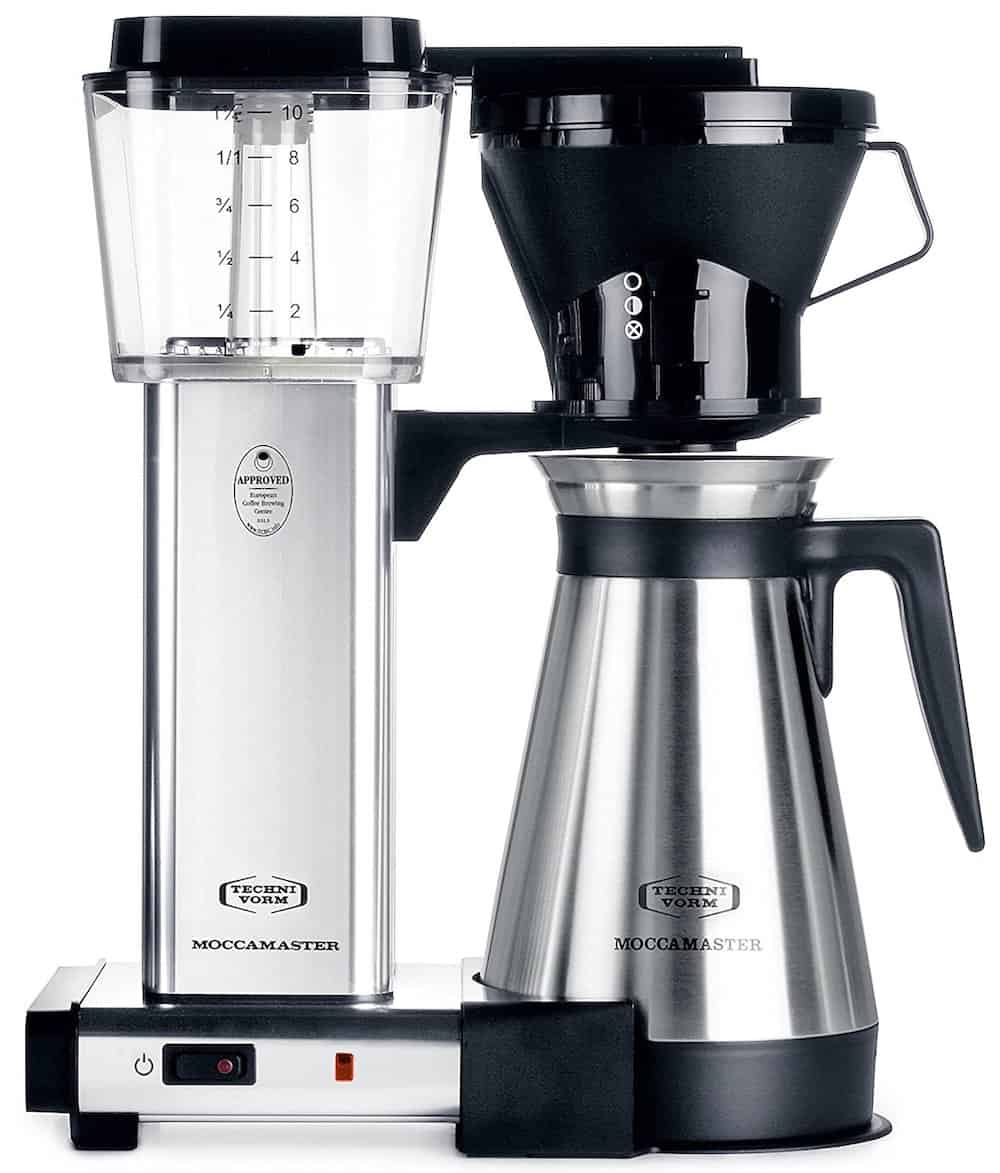 Highlighting the cultural value of premium quality coffee, Moccamaster is back at it again with its premium brewer that can produce 10 cups of hot coffee with the help of a thermal carafe.
Certified by the SCAA and SCAE, this automatic drip coffee maker exceeds the stringent quality control guidelines set forth by international coffee organizations. The inventor of this coffee maker, Gerard C. Smit has dedicated his life to creating coffee makers that do away with planned obsolescence, ensuring that this model – and every following model – is long-lasting, reliable, and energy-efficient.
The design of the Moccamaster Coffee Brewer focuses on clean lines, sharp angles, and an understated design that will fit almost any home. Using plenty of metal and clear plastic, the Moccamaster Coffee Brewer can easily be one of the more attractive coffee makers that you will ever own.
The tall tower is fixed on a rectangular base, with a water tank that looks something akin to a trapezoid. The hard plastic funnel allows your favorite paper filters to fit inside of it. It is recommended that you use type 4 paper filters, however. You also have the option to use permanent gold filters if you want to move away from reoccurring costs.​
Pros
Stainless steel, thermal carafe keeps your coffee hotter for longer.
It utilizes a copper heating element that will shut off after the brew cycle, removing the problem of burnt coffee.
You can brew a carafe full of coffee in less than six minutes, with many having the machine finish within 4. Brewing time will depend on the quality and ground size of your coffee.
The coffee is brewed at a consistent 196 through 205 degrees Fahrenheit. The Moccamaster Coffee Brewer uses a pulse action that perfects the art of the coffee bloom during extraction.
Cons
Some models may have quality control issues, with the water sometimes concentrating in the center of the filter basket. The outer edges of the coffee grounds are then brewed in the last couple of minutes, which can compromise the extraction process. This can cause an under extraction of the coffee.
---
Ninja Hot and Cold Brewed System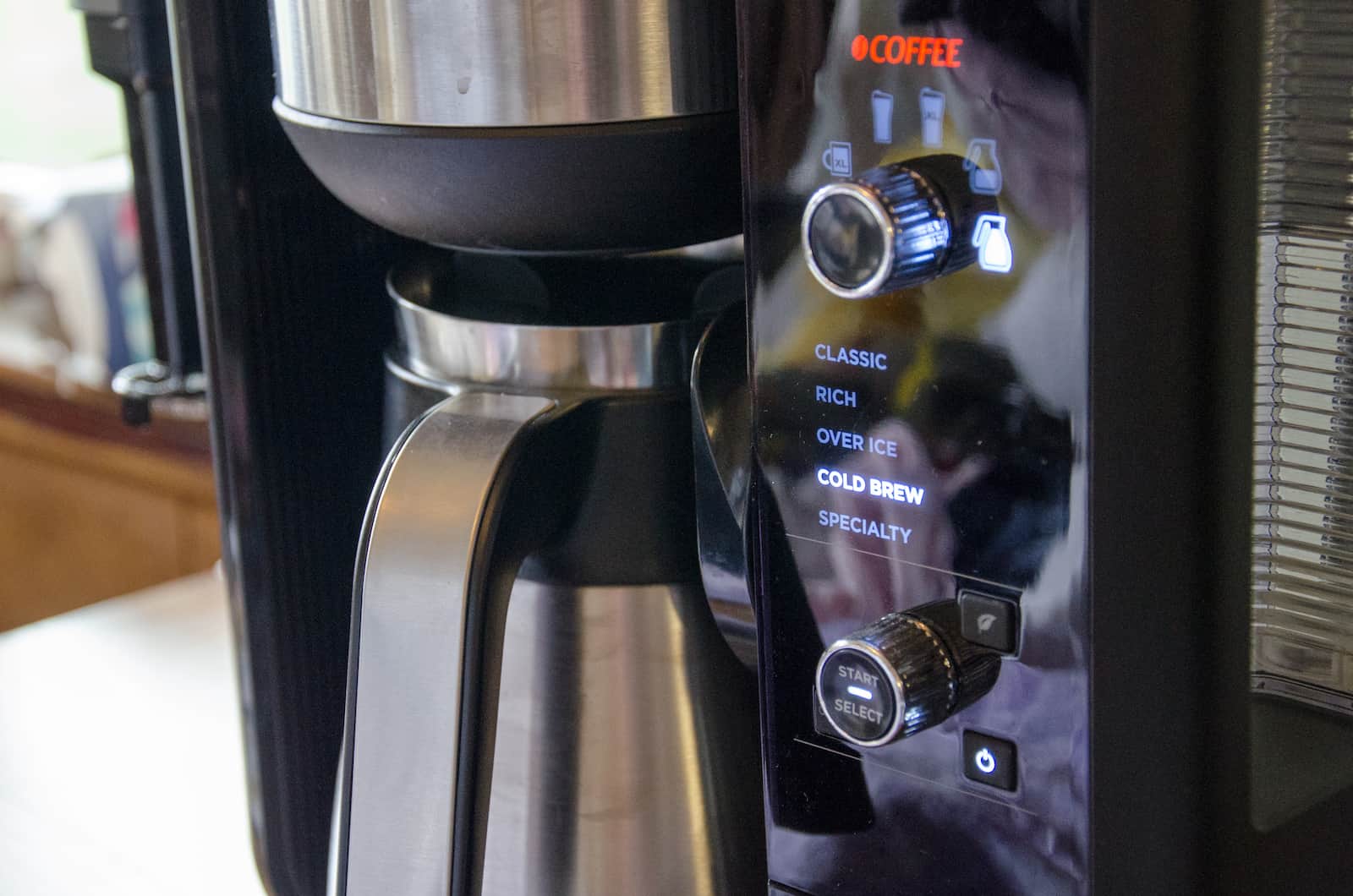 The Ninja Hot and Cold Brewed System is all about variety.
First, it provides multiple brewing styles, from regular drip to cold brew. It can also complete those different methods in a variety of sizes, from single serve to full carafe. And finally, it can do all that with both coffee and tea, from black to green and herbal to oolong.
So, if you like different brewed drinks from day to day or even at different times throughout the day, this Ninja model is a great option. It also works well for families or households that have multiple coffee drinkers who have different preferences.
One of the biggest perks of the Ninja is right there in the name: Hot & Cold Brewed System. Of course, there are cold brewers on the market, and many of them do a great job. But Ninja is unique in the way it combines both hot and cold brews.
First, we should acknowledge that the Ninja cold brew is not your traditional method. The first major difference is that it does not take hours.
Instead of immersing the coffee at room temperature (or even in the fridge) from several hours to a full day, the Ninja uses slightly warm water to brew something like a cold brew in just fifteen minutes. And it takes even less time if you just want a cup or two.
Pros
Provides LOTS of options
Simple to use scoop works great for beginners and convenience
Easy to clean
Great value for coffee drinkers who like variety
Single serve option with no pods
Cons
Some brewing methods (cold brew in particular) are louder than typical drip brewers.
On the tall side, so it might not fit under short cabinets.
---
Cuisinart DCC-3200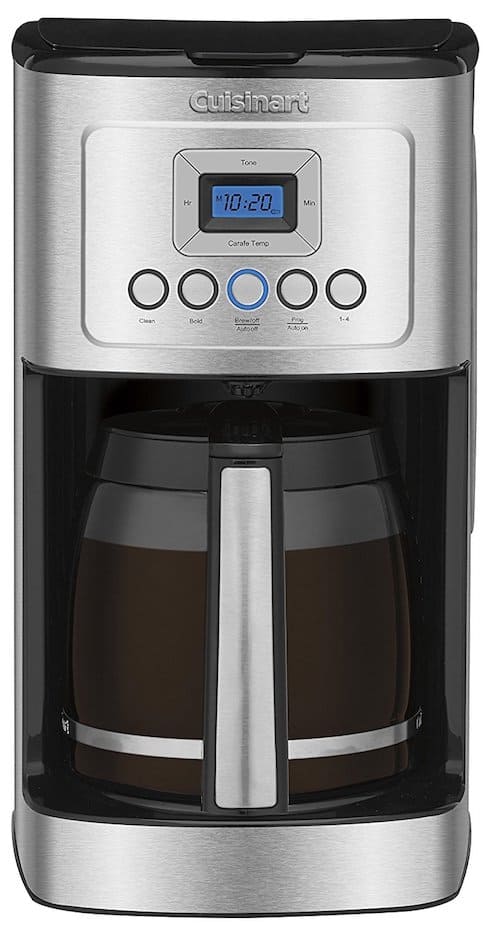 The Cuisinart DCC-3200 is a programmable coffee maker with cutting edge technology that will produce 14 cups of your favorite brew. You can use its regular or bold feature to customize the profile of your coffee, as well as the option to set the brew time up to 24 hours ahead of time.
A backlit LCD screen is easy to read on the Cuisinart coffee maker, with indicator lights that will signal when a brew is done as well as inform you when it is time to decalcify the machine.
The Cuisinart DCC-3200 may be small, but it can reach the optimal temperatures of 205 degrees Fahrenheit in under six minutes, which is the industry standard for the best extraction.
This automatic drip coffee maker is one of those kitchen accessories that makes sense in any kitchen– it doesn't have the advanced technologies that you may be looking for, but for those who only want to enjoy a delicious cup of coffee, Cuisinart DCC-3200 will that job very well.​
Pros
You can take the carafe out of the chassis and pour the coffee before the brewing process finishes. You can remove the carafe, momentarily halting the brewing process, with it continuing as soon as you place the carafe back on.
This model easily handles 14 cups compared to the previous model of 12 cups. You can brew coffee for the whole family.
Cuisinart DCC-3200 uses a series of charcoal filters. Charcoal is an activated carbon, which can trap carbon-based impurities, including compounds like chlorine. This will impart a fresh taste to the coffee, allowing the flavor in the coffee grounds to reach its full potential without the altering effects of by-chemicals.
The glass carafe is larger than previous models, allowing you to easily pour coffee with or without its lid.
Cons
There have been reports of overflowing during the brewing process and clogging due to coffee grounds. This was an issue in previous models, but it has mostly alleviated with Cuisinart DCC-3200 reiteration.
---
BUNN NHS Velocity Brew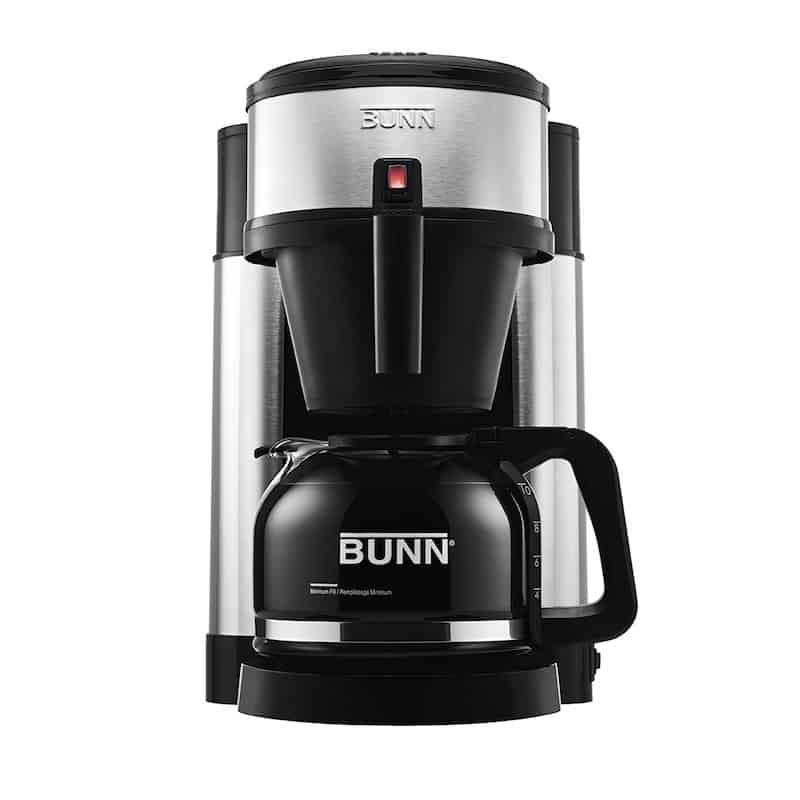 One of the best but easily overlooked features of the BUNN NHS Velocity Coffee Maker is its no drip carafe, delivering a clean pour regardless of how full the container may be.
It's proprietary lid and spout arcs just the right amount to reduce the problem of dripping that can quickly cause a mess all over your countertops. The multi-stream spray head saturates your grounds, regardless of how fine or coarse your coffee grinds may be.
Simply add your favorite coffee grounds, pour water in, and you'll have a pot of coffee within three minutes. Even with its specialty settings, cups of coffee are brewed and finished in less than six minutes. The water tank stays at an optimal 200 degrees Fahrenheit throughout the brewing process.​
Pros
It is one of the fastest 10-cup coffee makers, brewing a cup of coffee in about three minutes. This is well beyond the standards, with the BUNN NHS Velocity Coffee Maker leading the pack on efficiency.
The carafe is slightly arched, wicking away drippings back into the carafe.
Cons
There is no pause feature.
---
Zojirushi EC-YGC120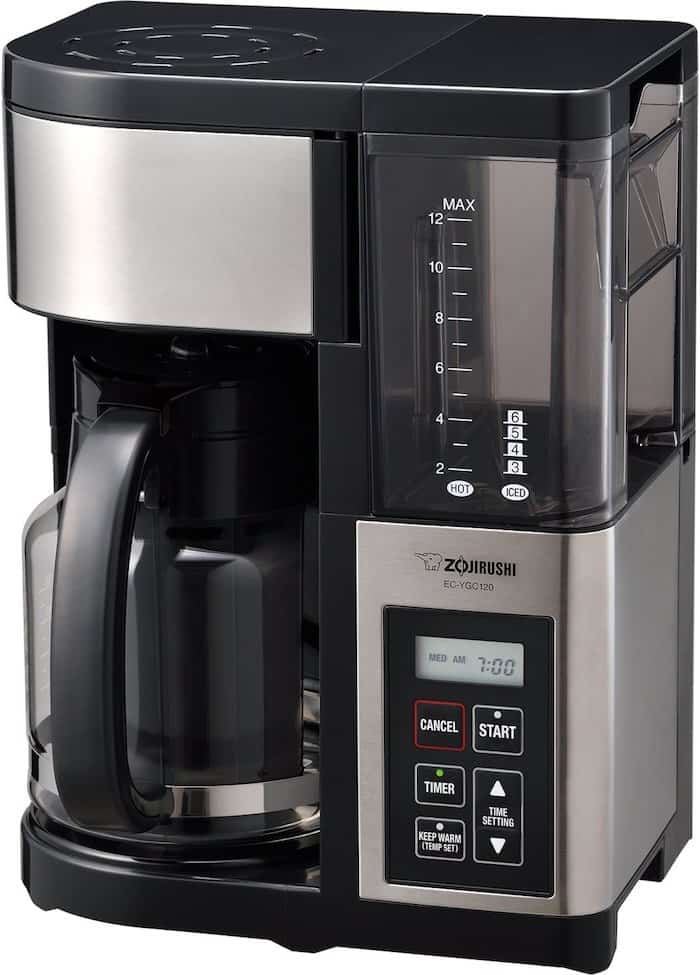 This 12-cup coffee maker allows you to brew hot or iced coffee in a truly beautiful machine. Unique designs and features include a convenient ice basket and measure lines. The coffee maker can produce 12 cups of traditional hot coffee or six cups of an iced beverage.
A warming plate keeps your coffee heated to your preferred temperature. Other coffee makers from a similar price point will keep your coffee warm, but at a temperature that you cannot customize. This home coffee maker recognizes that sometimes you want your coffee to stay warm or even cool, with a high, medium, low, and off option.
A 24-hour programmable timer also allows you to set the coffee to start brewing at a certain time. No worries as to when you need to clean or decalcify your coffee maker - indicators will alert you when it is time for you to clean the system.
It's a vocal machine, with alert beeps informing you when the coffee is made and when it needs a cleaning. Thankfully, warning beeps can be muted. All surfaces of the Zojirushi EC-YGC120 is BPA-free.
Hot water interacts with the flavor of the coffee, even after it has processed through the ground coffee. The Zojirushi EC-YGC120 tempers this by flash chilling it to lock the flavor. This will allow the flavor of the coffee to stay true for longer within the carafe.
Pros
The water tank is easily removable and washable.
The removable water tank has lines to mark the amount of hot coffee and cold coffee that it will brew.
The filter basket swings out, and it is removable.
Instead of a stainless steel carafe, Zojirushi EC-YGC120 uses a glass carafe for visible coffee brewing.
Cons
Its many features can be somewhat intimidating to the uninitiated.
---
Mr. Coffee PSTX91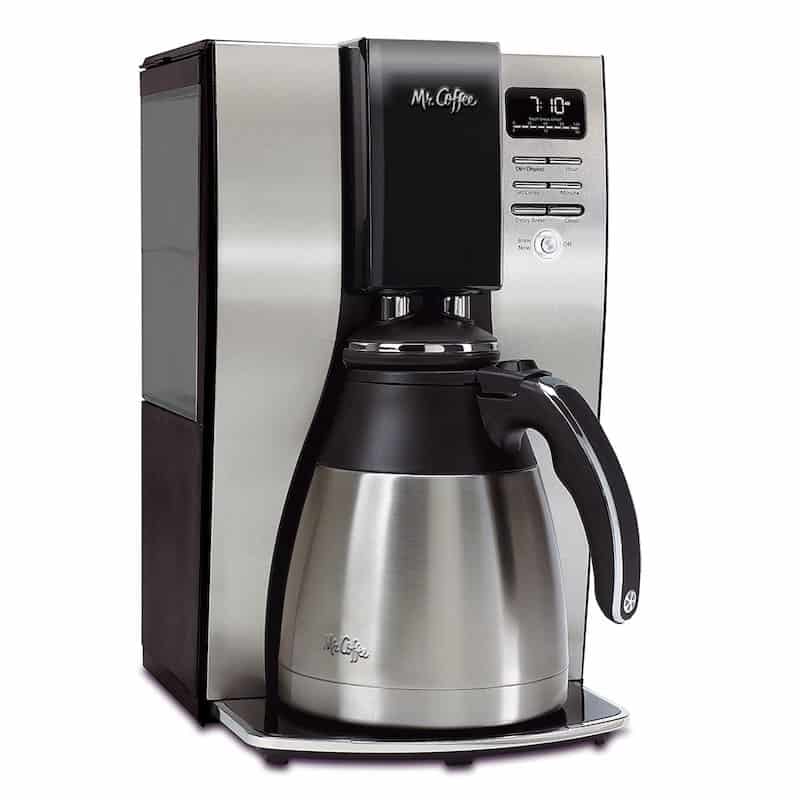 The "Optimal Brew" feature is intended to extract the fullest flavor from your ground coffee as possible, combining a brew temperature of 205 degrees Fahrenheit and a comprehensive brewing process that will result in the full-bodied coffee flavor.
Its carafe is double walled, holding the flavor of the coffee as well as its temperature. It does not use a warming plate, preserving the taste and smoothness of the finished coffee.
Several programmable features like a delay brew will start making coffee in the morning without your input. Mr. Coffee Optimal Brew coffee maker System has a grab-a-cup auto pause feature that lets you obtain a cup coffee before the brew cycle completes.
Its water filtration disk will remove impurities and chlorine that can potentially affect the taste of the coffee.
The thermal carafe preserves hot temperature for several hours once the coffee has finished brewing. Permanent gold filters help enhance flavors and eliminate environmental concerns posed by traditional coffee filters.​
The Mr. Coffee Optimal Brew coffee maker System has a highly modular design, with its rectangular water reservoir easily sliding in and out of the chassis. For those who only want a cup of basic coffee, you will find that the Mr. Coffee Optimal Brew coffee maker System will do that very well – its "brew now" button is found on the front of the machine.
The coffee maker removes all the guesswork, allowing you to fill the water tank with the amount of coffee that you want to end up with, with the reservoir holding up to 10 cups of liquid.​
Pros
Its convenient cleaning cycle will remind you when it needs to be deep cleaned to ensure great tasting coffee.
A fresh brew timer will tell you how fresh the coffee is before you need to make a new batch.
Cons
The Mr. Coffee Optimal Brew coffee maker System produces a lot of steam during the brewing process. Most of the steam will come out of the vents on the top. If you have a nearby overhead cabinet or platform, then the moisture may warp or damage kitchen structures.
---
Hamilton Beach 49980A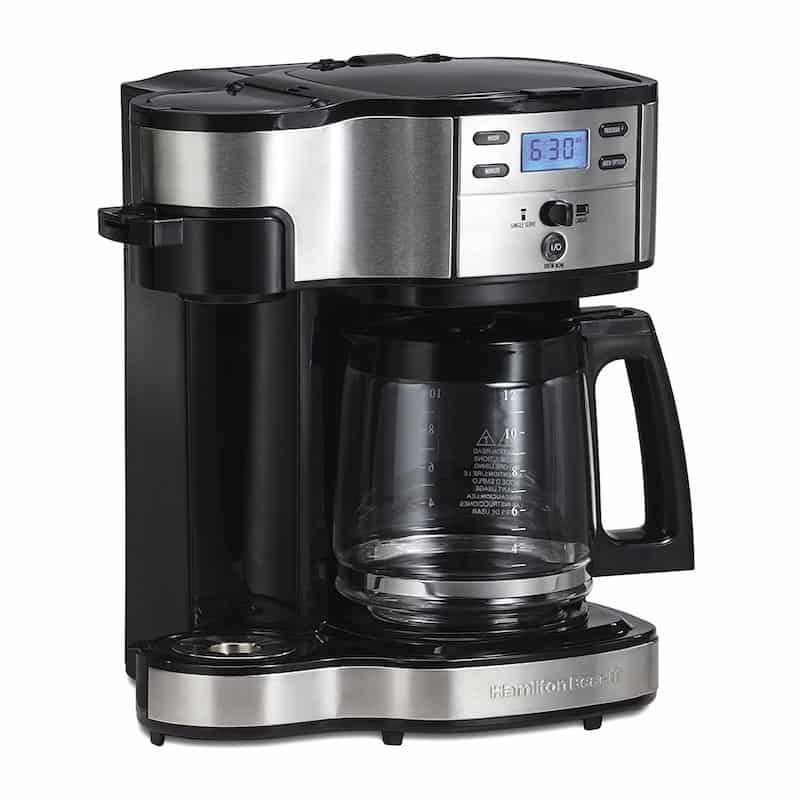 Hamilton Beach 49980A is made for occasional drinkers and caffeine aficionados alike, with the system fixed with all of the latest programs while still being relatively affordable. This low maintenance coffee maker can brew a basic cup of coffee or a premium roast in minutes, with the stainless steel chassis providing a single serving or 12 cups for a larger party.
Hamilton Beach 49980A is uniquely designed to have two separate departments, with one water tank designed for single-serve and an auxiliary tank for multiple cups.
A delayed option lets you have a cup of coffee at the ready in the morning. No worries if you're in a rush in the morning – the machine will automatically shut itself off within two hours.​
Pros
Soft pods remove the guesswork of getting the perfect cup of coffee. This feature has a pod holder that brews any brand of soft pod coffee, while still delivering the experience that you expect from freshly ground coffee.
Single serve brewing option.
Cons
There is no permanent mesh filter in the carafe. You will need to purchase a permanent mesh filter compatible with Hamilton Beach 49980A.
---
Mr. Coffee DRX5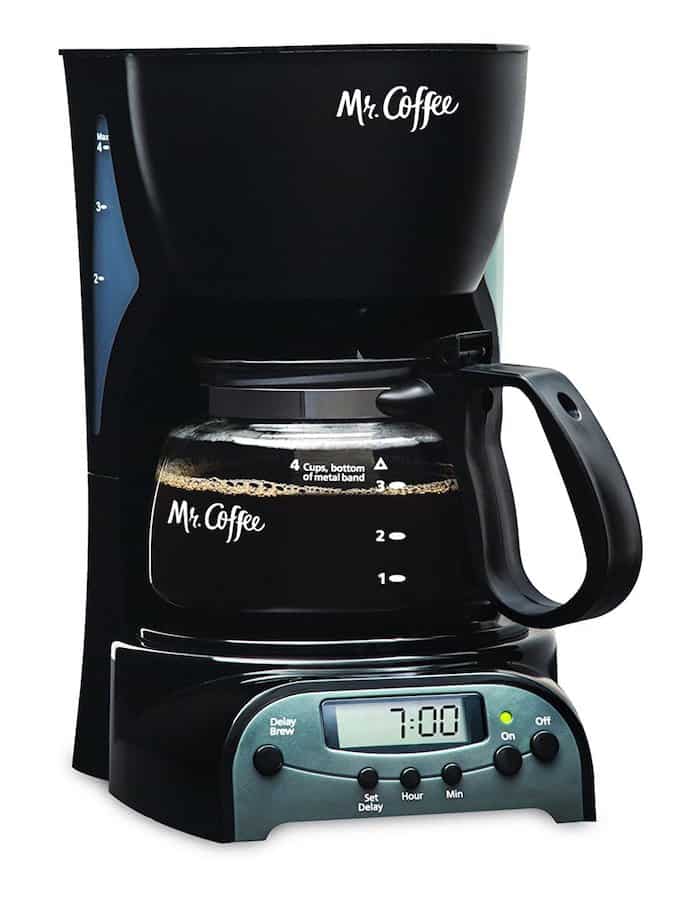 Mr. Coffee is a brand that is known to focus on affordability while not skipping out on the bonus features that you want. It is one of those machines you can set on the kitchen counter and forget about it, only requiring the occasional cleaning and decalcify procedures.
The Mr. Coffee DRX5 coffee maker gives you the advanced action to delay-brew your coffee, enabling you to wake up to coffee waiting for you. The auto pause and grab a cup option allows you to get a cup of coffee before the brew cycle is finished, with the machine halting the brewing process so you can pour a cup and then complete the process once you reinsert the carafe into the chassis.
A delay timer also allows you to set the brew time so you can wake up to freshly brewed coffee, with a dual water window that lets you visually monitor water levels to ensure that there is no overflow, which tends to happen with some coffee makers. The coffee filter basket is easily removed and lifted from the chassis for easy cleanup.
The 4-cup drip coffee maker also has a safety auto feature that will turn off the machine an hour after the brewing cycle has finished. Four cups of coffee per batch is enough for you and several members of your household. Thankfully, the hot plate is a nonstick surface.
Pros
Grab-a-cup feature that halts the brewing process so you can serve a cup of coffee without making a mess.
Price
Cons
There is no light indicating that the delay setting is turned on, a feature that was appreciated with earlier models. The Mr. Coffee DRX5 coffee maker has a display setting that can also be a bit hard to see since it is not backlit.
---
Best Drip Coffee Maker Buying Guide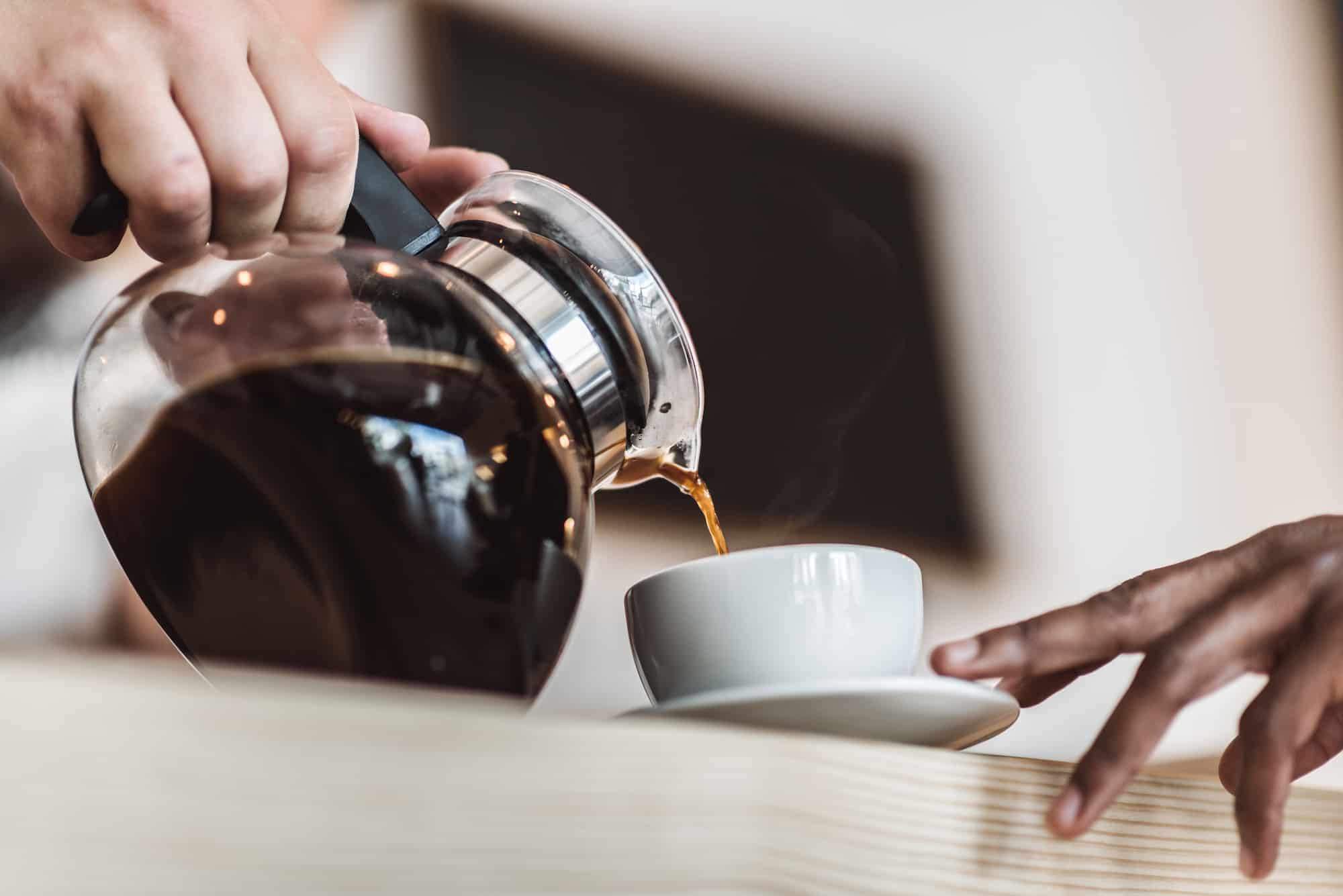 A cup of coffee is more than just part of your morning routine – it is a pleasurable experience, therapeutic to some, and has helped 83% of the adult population get a jump start on their day. Its smell and aroma are iconic and has been a mainstay in many cultures.
Ideally, the process of making coffee should be a smooth experience that does not require much input. However, in the fast-paced world, a good cup of coffee requires some preparation. Thankfully, many modern drip coffee makers remove most of the hindrances and help to do most of the hard work for you.
A drip coffee system is far superior to an instant coffee maker. For some, the smoother, less intense taste and aroma of a drip coffee system is a lot more palatable than the bitter coffee that tends to be produced by a French press. Not only that, but a drip coffee system is versatile – you can ground up your coffee beans to use in your system, and you can also buy premade blends.
There are several factors that you need to be aware of when selecting the best drip coffee system. Not only that, but you also need to be cognizant of its size and design, as you want a system that won't be an eyesore in your kitchen, especially if it is a machine that you're going to be regularly using.
Carafe Construction​
The carafe is the container that holds the finished product before you pour it into your mug. It is more than just a carrier of your finished coffee; it is also an insulator that can inadvertently enhance and alter the taste of the coffee. The carafe will typically be constructed from stainless steel or glass – with pros and cons to each material.
Thermal carafes are made with stainless steel, and tends to be the standard due to their ability to sustain high temperatures. It's the ideal container to keep the coffee hot and as well as extend the period of time before it goes rancid. Thermal carafes are highly insulated, with some of the brands toting four hours of hot coffee.​
Glass carafes are not as insulated as stainless steel thermal containers and will need to stay on a hot plate. You will need to be cognizant as to how long the glass carafe stays on the hot plate, as high temperatures can ruin the flavor in the coffee.​
Depending on the brand and its settings, the temperature of the hot plate can be programmed to help preserve the coffee. A heating mechanism will turn off the hot plate at a particular time, giving you more leeway.
One of the overlooked features of the glass carafe is its naturally visual cues. Unlike a thermal carafe, a glass container will allow you to see how much coffee has been poured, and if you need to make more coffee for your guests.
Features to Look for Your Next Drip Coffee Maker​
Programmable coffee makers exist to make the brewing process as painless as possible. Outside of maybe grinding your coffee beans, the drip coffee system will use optimal water temperatures of around 205 degrees Fahrenheit or 96.11 degrees Celsius for maximum extraction of the ground coffee beans. The best automatic drip coffee maker will seamlessly reach this temperature within minutes of the brewing process.
A good drip coffee machine also has programmable settings that let you delay-start the brewing process. This type of brewing method is ideal for those who want to wake up in the morning and not play around with the coffee maker– instead, you wake up to a cup of coffee at the ready.
The actual size of the coffee maker also matters, with some households appropriate for a small coffee maker. Pick a coffee maker that does not have many moving parts, with some brands only having the water tank in the carafe being demountable. This means that there are fewer parts that can be potentially lost, broken or need maintenance.
Certification to Be Aware Of: The Specialty Coffee Association of Europe, Special Coffee Association of America, and the European Coffee Brewing Center are esteemed organizations that have set forth stringent requirements to mark a coffee maker as the best of its class.
These organizations consider how long it takes you to brew the coffee, the social impact of the coffee maker, as well as the roasting ability of the coffee maker. The best coffee maker will be BPA free and certified. An SCAA certified coffee maker, for example, will be able to deliver water at optimum temperatures throughout the whole brewing process, without compromising the integrity of the coffee at any point.​
Conclusion
Many coffee makers are available to fit your budget and lifestyle. Consider the options and programs that you want, as well as its size when selecting the best drip coffee maker.
The Mr. Coffee brand of coffee makers is a straightforward machine that is affordable. If you want something with more power that will consistently make a fantastic cup of coffee, consider the Zojirushi coffee maker with four warming plate settings that will let you make iced as well as hot coffee. Not only that, but it's a coffee maker that makes a statement on your counter.
These recommended machines are celebrated for their ability to make a cup of coffee - what you need to be cognizant about is the amount of coffee that you need, budget, as well as available space in your kitchen. All of these products will produce fantastic coffee and will be able to handle all types of blends and coarseness of the ground coffee.​
---
Subscribe to our Newsletter
Receive coffee tips and inspiration directly into your inbox.