Top 7: Best Coffee Scales of 2018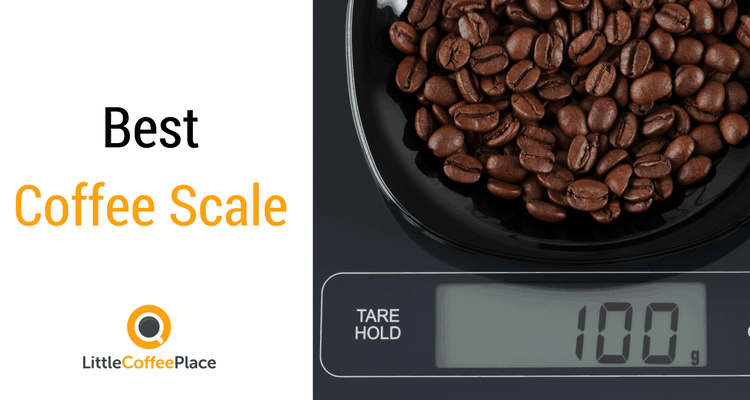 No, your coffee doesn't need to go on a diet. But every decent chef knows that a kitchen scale can work wonders.
If you already have a scale, it might work fine for coffee too. But some models have features designed specifically for the coffee connoisseur.
Read on to see what you might be missing.
Top Rated Coffee Scales
| Coffee Scale | Sensitivity | Timer | Price |
| --- | --- | --- | --- |
| Acaia Coffee Scale | 0.1 gram | Yes | |
| Brewista Smart Scale II | 0.1 gram | Yes | |
| Nourish Digital Coffee Scale | 1 gram | Yes | |
| Hario Coffee Drip Scale | 0.1 gram | Yes | |
| HuiSmart Digital Coffee Scale | 0.1 gram | Yes | |
| Etekcity Digital Kitchen Scale | 1 gram | No | |
| aiPao Pocket Kitchen Scale | 0.1 gram | No | |
---
What You Should Know About Measuring Coffee
For most coffee drinkers, the scoop is the go-to tool for metering out their coffee beans. Many recipes tell you how many tablespoons of coffee per cup. In fact, it's right there on the bag for a lot of your mass-produced coffee.
So why should you chunk that standard practice to the side and start measuring by weight?
Because consistency is the key to great coffee.
Do you really need a scale for coffee?
It depends.
Do you want to be able to recreate the perfect cup you poured yesterday? Or do you want to avoid that bitter mess you accidentally crafted the morning before?
A kitchen scale is not an absolute requirement for great coffee, but it enables you to precisely measure ingredients in order to reproduce great results (and avoid the subpar ones).
While much of coffee brewing is an art, some steps are best left to science. Because science gives you the chance to repeat experiments, controlling various inputs, in order to determine what method yields the best results: in this case, great coffee.
Why A Scale Is More Consistent Than A Scoop
What exactly is a heaping tablespoon? And a level tablespoon? Rounded? Should you scoop whole bean coffee or only ground?
While you might feel confident in your ability to scoop the same amount each time, you are likely off by a bit. And that bit adds up scoop after scoop. Check out this experiment by Serious Eats to see how much a scoop can vary.
Bakers use scales to precisely measure ingredients because they understand that volume can be misleading. The same applies to coffee and water.
Instead of guessing whether your scoops are heaping, rounded, or just a bit hilly, use a scale. Thirty grams is thirty grams, no matter how fine the grind or how heaping the spoon.
How A Kitchen Scale Can Improve Your Brewing, No Matter The Method
The most obvious case for using a scale is in a manual brew. You can put your brewer, with filter, on the scale and press the tare button to reset it to zero. Then add your ground coffee.
You'll know exactly how much coffee you have, which will tell you exactly how much water you need to add. So hit the tare button again and add your water. The entire process can happen on the scale if you have the right model. And if you record your results, you can reproduce it for the next cup.
For a French press, you can brew in a similar manner. Use the tare to reset after placing your press on the scale, and once more after adding your grounds. Again, you'll know how much water to add, and you'll be able to measure it.
If you're making drip coffee, just add your filter to the scale then measure your coffee precisely. For an espresso, tare the portafilter, then fill as usual. Weigh your coffee and proceed. In these methods, you can consistently control your coffee amount even if you don't weigh your water.
What Makes A Good Coffee Scale?
You're not looking for the scales of justice here. You need something a little more precise (and useful). For that, you'll want digital, no questions. A good scale will also provide accurate and dependable results.
For scales, simple can work, but you, you'll probably want to look for these features:
A tare function: Without it, you're going to have to perform some extra math in the kitchen.

Precision: A scale that measures to the ounce is useful for many applications, but you want to get more granular for coffee. You'll want accuracy to at least one gram, and one tenth of gram if possible.

Timer: Especially useful for manual brews. If your scale has a timer, that's one less gadget you'll need in your process.

Auto-off: This is actually a feature you probably want to avoid. The auto-off will save you some battery life, but it could be frustrating if your scale turns off in the middle of your pour over, while you're waiting for your grounds to bloom.

The right size: This will depend on your needs and brewing method. Smaller scales are more portable and easy to store. A larger scale can accommodate larger brewers. They will also allow you to use your scale for more applications in the kitchen.
On the surface, it may seem like all scales are the same. After all, you just want to weigh some coffee with them. But if you're going to spend the time and money to get a scale, you might as well choose one you'll love.

Here are a few favorites that will help you start brewing better coffee day in and day out.
---
Coffee Scale Reviews
---
Etekcity Multifunction Digital Kitchen Scale
If you are looking for a more general purpose digital scale for measuring coffee, this inexpensive model by Etekcity is a good start. It will handle weights from a gram to eleven pounds, so it can do more than coffee.
The scale is sleek, with a metal surface and etched buttons. It will look good on the counter, but at a compact 5.5" x 7.1" it slides easily into a drawer as well.
Unlike many scales in the roundup, the Etekcity model is a bit shy on the features. It does have a tare function, and it can switch between different measurement units.
There is an auto-off feature that will power the scale down after two minutes. You can tap the scale to remind it that you're still around, but it isn't very convenient. There also is no option for a timer.
If you would rather invest your money into other tools for your brewing process, this scale will do the job for many applications.
Pros
Inexpensive compared to other scales
Has a sleek and modern look
Cons
Accuracy only to 1 gram
Auto-off function could cause problems with some brew methods
No timer
---
aiPao High-precision Pocket Food Scale
As the smallest model in the batch, the AiPao scale is a great option for the coffee brewer on the go. You can pack this petite unit (4.13" x 5") in a bag with no problems. And since it runs on 2 AAA batteries, you don't have to worry about access to electricity if you're out camping.
The AiPao is also accurate to a tenth of a gram, making it an excellent choice for the precise measurement needed for coffee brewing.
Since it's on the smaller side, though, you might have trouble loading your entire brewer onto it. It does come with trays that can help extend the surface area a bit, but you'll have to be careful when balancing everything.
While the scale has an auto-off function, you can change it to run longer or even turn it off. Unfortunately, there is no timer on this unit.
Pros
Compact and portable
Accurate to .1g
Easy to clean surface
Inexpensive
Cons
Might be too small for some brewing methods
No timer
The display is a bit small
---
Takeaway
As with many coffee accessories, the best scale is the one that works for you.
One nice facet of coffee scales is that they aren't likely to break the bank. And if you need to save before splurging on the perfect scale, many of the inexpensive models will still improve your consistency and make your life easier.
If you look for a model that provides the accuracy and features that you need, and that looks great on the counter (or tucks away easily into a drawer), you're bound to be happy with the results. Especially compared to that unreliable scoop.
---